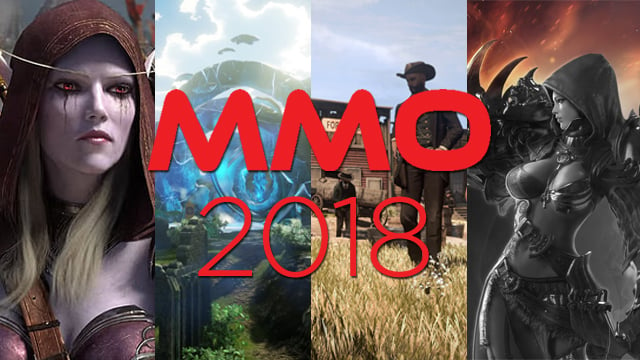 The MMO market has been growing intensely in the last few years, and it looks like 2018 will be no exception. Over a hundred new releases are expected to enter the market next year, but we've chosen only the best ones that you should be aware of.
Many of these games are in either closed or open testing stages, while others are still deep in development. A few of the familiar titles that should have been released in 2017 were delayed and will see the light of the day only next year.
MMORPGs are obviously the most popular among all the massively multiplayer online games, but you will find a few unusual titles in this selection as well. So, if you're looking for something fresh, then check out these 11 most anticipated MMO releases of 2018.
---
World of Warcraft: Battle for Azeroth
Developer: Blizzard Entertainment
Platforms: PC
Release date: TBA 2018
After the massive success of the Legion expansion for World of Warcraft, Blizzard made an announcement about their next expansion during this year's BlizzCon -- Battle for Azeroth.
The new expansion will bring lots of cool changes to the game, the most important of which are as follows:
your character's cap level will increase to 120
no more separate PvE and PvP servers; instead, players will choose through a menu which mode they want to play
new artifact -- Heart of Azeroth
two new Alliance and Horde islands
six new races
ten new dungeons
two new raids
new RTS mode -- Warfront
As usual, the announcement of Battle for Azeroth was followed by an exceptionally well-made cinematic trailer, which you can watch above.
---
Life is Feudal: MMO
Developer: Bitbox Ltd.
Platforms: PC
Release date: January 2018
Life is Feudal: MMO is a survival simulator set in the Middle Ages. The MMO version of the game is not too different from the original Life is Feudal. It includes the same role-playing system based on stat cap and skill cap, a rich crafting system, and characteristic socio-political development. The difference is the scale, which in this case is much bigger,
The world map covers 21 square kilometers, with the open possibility of further growth. The size of the map also influences the number of players that can take part in the game, which will most definitely result in an even harder level of difficulty.
If you like to play survival MMOs set in medieval times with deep crafting systems and gorgeous graphics, then Life is Feudal: MMO should be just right up your alley.
---
Wild West Online
Developer: 612 Games
Platforms: PC
Release date: TBA 2018
Wild West Online is an upcoming open-world MMO that takes place in the 19th century Old West. Players will be able to create their own gangs and engage in bank robberies or bounty hunting. The saloons will be open to all visitors, and there will also be an opportunity to play card mini-games.
But that's just the tip of the iceberg. If none of the above activities interest you too much, then you can always do some gold mining, recipe crafting, or farming instead -- this game will feature lots and lots of opportunities for all types of players.
---
Lost Ark
Developer: Smilegate
Platforms: PC
Release date: TBA 2018
If you've been carefully following the MMO scene for the last couple of years, then you've surely heard about Lost Ark already. This epic MMORPG was supposed to leave the closed beta testing this year, but it looks like the developers needed another one to bring the game to its desired state.
The delay is not surprising at all, as Lost Ark is one of the most ambitious MMO projects ever. The game will introduce 18 different classes, with each one having its own unique combat system.
On top of that, the world of Lost Ark will have no limits in terms of exploration; you can go as far up as you wish or as deep as you desire.
---
Ashes of Creation
Developer: Intrepid Studios Inc.
Platforms: PC
Release date: TBA 2018
Ashes of Creation is a new dynamic MMORPG that will react to every player's actions. The developers of the game stated that they wanted to reduce the static elements of the gameplay to a possible minimum, and hopefully they achieved what they wanted.
You will have the opportunity to build a house in any part of the open world and to then make it grow into an entire settlement. You can also cultivate a piece of land, hunt animals, craft items, etc.
The game will have a system of quests that change in real time, which may include the siege of a castle involving several hundreds of players from all over the world.
---
The Crew 2
Developer: Ubisoft (Ivory Tower)
Platforms: PC, PS4, Xbox One
Release date: March 16, 2018
The Crew 2 will now not only include racing challenges in cars but also on motorbikes, motorboats, and even in airplanes. Ubisoft decided to add a new level to the genre of racing games and give every player absolute freedom of action.
The open world of The Crew 2 will cover the entire vastness of the US, with all of its diverse landscapes. All players will have an opportunity to explore the land, sea, and sky without any boundaries.
Street racers and professional riders, off-road explorers, and freestyle fans can gather from all states, from one coast to another, and compete in a whole variety of racing disciplines.
---
Ascent: Infinite Realm
Developer: Bluehole
Platforms: PC
Release date: TBA 2018
One of the publishers of PUBG is preparing to release a new MMO in 2018 -- Ascent: Infinite Realm, which was previously known under the working title "Project W."
In this upcoming game from Bluehole Studios, players will enter an amazing world of technology and magic. Battles will take place not only on the ground but also in the air. You will be able to use a variety of battle techniques, build houses, join raids to pillage dungeons, customize your vehicles, and participate in PvP battles.
A:IR will have five basic classes: Assassin, Mystic, Gunner, Warlord, and Sorceress. Heroes will be allowed to fish, farm, manage furs, attack air ships, take part in public activities, and destroy huge monsters together.
---
Escape from Tarkov
Developer: Battlestate Games
Platforms: PC
Release date: TBA 2018
If you like hardcore multiplayer online shooters that combine FPS, TPS (third-person shooter) and RPG elements, then be sure to check out Escape From Tarkov next year.
The events of the game take place on the territory of the city of Tarkov, where you will take on the role of a mercenary fighting against players of another private military company.
The developers promise a full-on realistic shooter with complete freedom of action and character control.
---
Dual Universe
Developer: Novaquark
Platforms: PC
Release date: TBA 2018
According to the game's official plotline, humanity will find itself in a position where it must develop a way to leave Earth after a powerful neutron star is set on a collision course for the solar system.
This irreversible event will test humanity's readiness, and thousands of ships depart to different sides of the galaxy to ensure the survival of the species at all costs. Thus, the players will play as one of the colonists trying to find a way to survive in new alien environments.
The creators of Dual Universe were inspired by such projects as EvE Online and Space Engineers. So, if you like those types of games, then Dual Universe is definitely something worth looking forward to.
---
Durango
Developer: What! Studio
Platforms: Android, iOS
Release date: January 2018
Durango is a promising new mobile MMORPGs from Korean developers What! Studios. Players will need to survive in a world with dinosaurs, and some of them can even be tamed and saddled.
You will also be able to go hunting, fishing, and resource gathering, which will provide your character with animal hides, blood, water, and food. By teaming up with other players, it will become possible to hunt together for large animals and also resist the aggression of NPCs and players from other clans.
---
Dark and Light
Developer: Snail Games
Platforms: PC
Release date: TBA 2018
Dark and Light is an online sandbox survival RPG that has an absolutely massive, fully explorable world of 40,000 square kilometers. It is inhabited by a large number of races involved in various dangerous adventures.
The reputation system plays a significant role in the character progression, which will ultimately allow you to buy your own land and build a city there. Also, there is a dynamic weather system in the game that influences the events of the world in a significant way. For example, merchants will close their stores during heavy storms.
All this should make Dark and Light one of the most significant MMO releases of 2018.
---
That is it for the most anticipated MMOs of 2018. Hopefully you have found a project or two that have you interested. Stick with GameSkinny for more upcoming game news and information, including our take on the most anticipated RPGs of 2018.
Which upcoming MMO do you want to play the most? Leave your opinion in the comments section below.