The world of the shoot 'em up genre has long been embedded within the indie development world. Most big-name studios don't bother spending a lot of time developing or marketing such games, though they occasionally launch them for cheap via Steam or the Play Store. Fans of the genre must rely on their favorite developers for new games, content, and updates to previously released shmups.
Being such a small genre, there aren't nearly enough of the games available via Steam – the largest digital distributor of games. Sure, there are a couple of options, but many games have veered off and turned into a psuedo-shmup, introducing dungeon crawling and loot gathering.
Here are the five best shmups currently on Steam:
Beat Hazard
Beat Hazard allows the player to experience their own music in a completely new way. You can insert your entire music library into the game and then shoot your way through the beat of the song.
The longer you survive, the more powerful your spaceship will become in the long run. The music you have come to love over the years will be the power you require to boost your ship further.
Of course, such a game is designed to be competitive with other players on the leaderboards. You can tackle head-to-head, hop into 2 player competitive game modes, or play local 2 player cooperative.
One of the best features of the shmup is the fact that even iTunes is supported, which is where most people store their music files these days.
Geometry Wars 3: Dimensions Evolved
Geometry Wars 3 has been called the "perfect game" by more than a handful of experienced game critics. In some ways, those critics could be right. The game is truly massive as a shmup, with over 100 levels – including 40 brand new levels for this third release.
Of course, not everyone is going to feel the same, but that doesn't mean they cannot enjoy it all the same.
You won't be alone in this shooter, though, as the developer has implemented companion drones to help with all of the combat and chaos. These include:
Attack

Collect

Ram

Snipe

Defend

Sweep
You're probably thinking that single-player could get boring, right? Well, great news! Geometry Wars 3 features both cooperative and online competitive game modes to experience.
Deathsmiles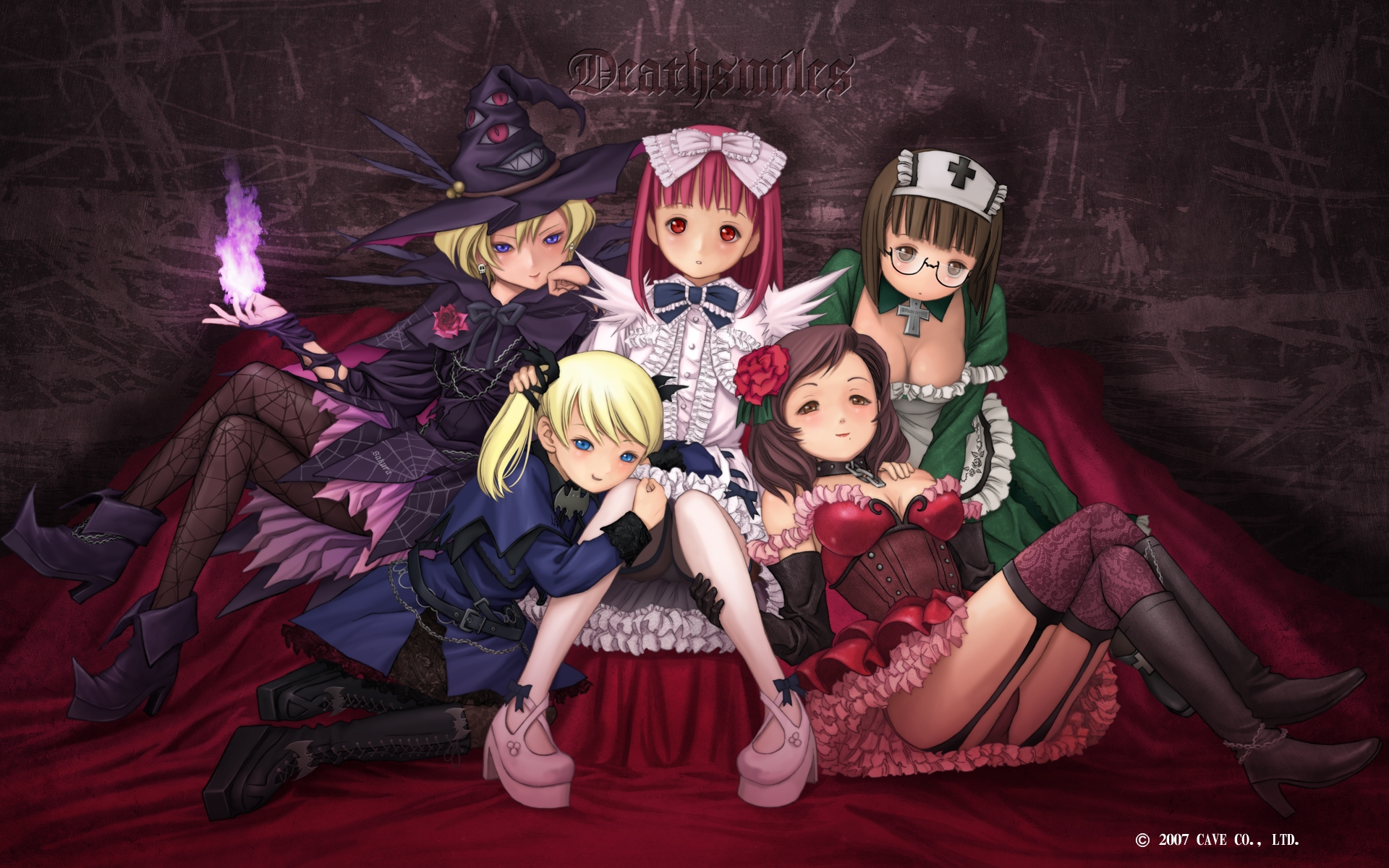 Deathsmiles is a unique, and quite interesting, shoot 'em up where players take on the role of one of five Angels tasked with defending their magical land of Gilverado from an invasion by the demonic forces of Hell. That sounds like a cheesy premise to an anime, and that could very well be the influence here – as seen by the art style, specifically.
There are six different game modes, numerous enemies, including demons, ghosts, man-eating plants, and giant cattle, and a Gothic setting for fans of the macabre.
What truly sets this shmup apart from the rest, however, is the freedom to select your path and difficulty. Deathsmiles has a nonlinear approach to the game, so you can choose which stage you want to complete first.
Mushihimesama
Mushihimesama, which means Bug Princess in English, is a shmup set in a fantastical world. There a huge bug-like creatures known as Koju rambling around, and the player is tasked with stopping these monstrosities from destroying mankind.
The game boasts a beautiful world with HD sprite graphics, a variety of unique bug monsters, 5 main stages to complete, and unique boss encounters to tackle. Of course, the weapons are a major part of any shoot 'em up, so expect to customize 3 different weapon types and 2 different option types along the way to maximize your firepower.
A game like this allows the player to get amped up as they take down the next biggest foe, but game music helps that immensely. Mushihimesama features a one-of-a-kind soundtrack from composers Manabu Namiki and Masaharu Iwata. It is truly unforgettable.
Blue Rider
Blue Rider is a traditional shmup that was only recently released on Steam by developer Ravegan. The indie shooter features 9 unique biomes to fight your way through — each one packed to the brim with a wide variety of enemies.
Players can customize their arsenal and make their own strategies up along the way, allowing you to play how you want. If one strategy does not work, come back to the level with a fresh mindset and knock those opponents out quick.
Of course, being a shmup, the game is quick. You need to think fast on your feet and never let that trigger up. And when it comes to that trigger, the developer is promising "explosions, explosions and… more explosions!"
These are just a taste of what the shmup genre has to offer on Steam. There are others available, but for those looking for some of the best – or just for the chance at starting out strong – then these are the five to kickstart your shooting journey.
About the author