An experienced player can put every weapon available in Fortnite's Battle Royale mode to good use. However, there are some weapons that are universally considered superior to all others. If you're a new player, and you wish to know what are the top 9 weapons in FBR, then take a look at the list presented in this guide.
When analyzing the capabilities of the weapons in every game, and not just Fortnite, you need to consider such stats like DPS, damage, range, and impact. So keep these numbers in mind when making choices about what weapons to put in your stash.
---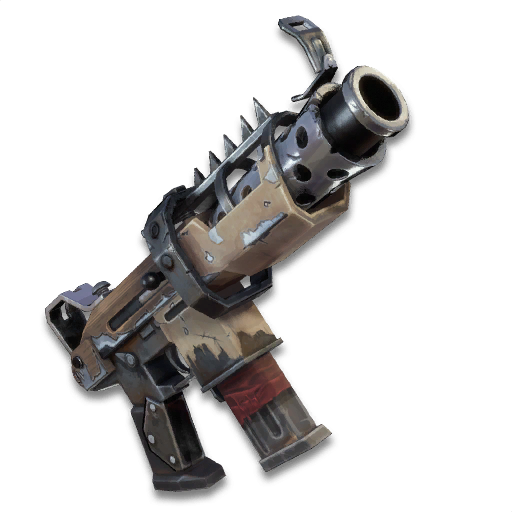 Epic Tactical SMG
DPS: 234
Damage: 18
Firerate: 13
Reload: 2.2
This little buddy is one of the most powerful weapons in the game, and can even be put in one row with the Legendary SCAR. No other weapon can really be compared to the magnitude of the Tactical SMG's power.
The headshot damage multiplier on this type of SMG eqauls 2.5, which means that you'll be able to headshot your opponents like never before. But that's not even its main strength -- the biggest advantage of the Tactical SMG is an extremely high firerate. You'll just burst your enemies down within seconds!
---
Legendary Heavy Shotgun
DPS: 77.0
Damage: 77.0
Firerate: 1
Reload: 5.7
The new Heavy Shotgun has a higher rate of fire and range than the Pump Shotgun. This means that you can easily one-shot your enemies if you're precise enough.
You could argue that Tactical Shotgun is better in terms of DPS, but the point of the Heavy Shotgun is that you can deal more damage on a longer range, which is simply not possible with the Tactical one.
---
Scoped Assault Rifle
DPS: 122.5
Damage: 35
Range: 1
Impact: 28
Undoubtedly, Scoped Assault Rifle is the most overpowered weapon in the Fortnite. It is currently available only in Rare rarity, and it is the most precise weapon you can get in Battle Royale.
It doesn't work well in close range -- but it is a sniper rifle after all, and it's not intended to work that way. Besides the obvious reasons, if you need a clear shot in the distance, you will get it with the help of the SAR.
---
Semi-Auto Shotgun
DPS: 100.5/105
Damage: 67/70
Range: 3072/3072
Impact: 304/320
The Semi-Auto Shotgun is available in two rarities in FBR: Uncommon and Rare. There is also a Pump Shotgun version that serves slightly different purposes.
Regardless of the rarity of the SAS you'll be using, it is a better weapon than the Pump Shotgun, which has a much lower DPS of 63/66.5. Sure, the Pump variant may be a better weapon at close range, but that is exactly why SAS wins in the comparison -- it is simply a much more versatile weapon.
---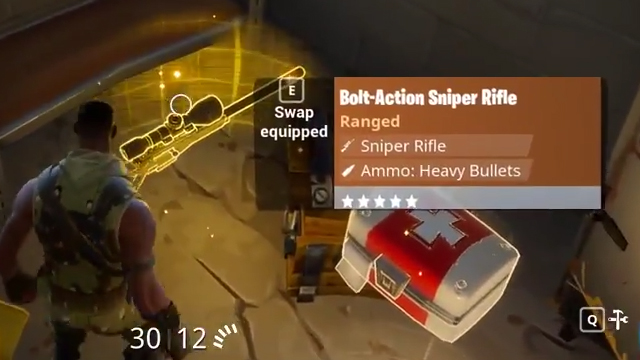 Bolt-Action Sniper Rifle (AWP)
DPS: 34.7/36.3/38.3
Damage: 105/110/116
Range: 1/1/1
Impact: 360/378/396
AWP is a really powerful and very accurate sniper rifle with a bolt-action mechanism that results in a reliable but slow rate of fire. Also, it is the most damaging type of sniper rifle in Battle Royale mode yet.
Don't let the DPS numbers mislead you and let belive that it is not the case. Actually, it has such low DPS numbers due to its bolt-action nature, but it is still better than the semi-auto sniper rifle.
---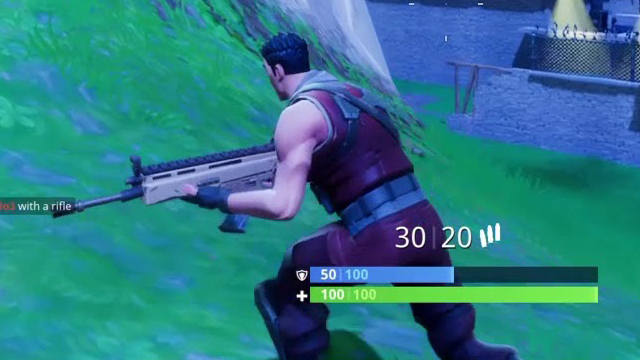 Assault Rifle (SCAR)
DPS: 203.5/214.5
Damage: 37/39
Range: 1/1
Impact: 29/31
Assault Rifles are the bread and butter of any shooter game, and this relates to FBR just as much. This weapon should be in your first slot, and you will begin with the Common variant, and hopefully be able to upgrade it to its maximum Legendary SCAR version.
The Epic and Legendary versions of AR have way more damage than their Common and Uncommon counterparts. ARs are typically very versatile weapons, and with so much damage they are ought to be in every player's stash.
---
Legendary Minigun
DPS: 214
Damage: 19
Firerate: 12
Reload: 4.5
Here is a perfect weapon for sqaud tactics in Battle Royale. The Minigun was never really supposed to be effective against other players, but when you need to quickly pull down an enemy squad's tower, then one of your teammates should definitely have a Minigun for this reason exactly.
One could use Rocket Launcher as an alternative, but Minigun is far more precise in this regard and can take out a wall or just create a breach in the defenses of the other team for your squad to move forward and finish everyone off.
---
Legendary Suppressed Pistol
DPS: 189
Damage: 28
Firerate: 6.75
Reload: 1.23
In case you want to be truly invisible without any kinds of hacks or glitches, then you need to get a Suppressed Pistol. It is extremely silent and deals enough damage to take out an enemy at close range.
You can hide in the bushes and take out other players one by one without them even noticing. Another advantage of this type of weapon is high accuracy, so when you shoot it, you know that you will hit the desired target for sure.
---
Rocket Launcher
DPS: 82.5/87/90.7
Damage: 110/116/121
Range: 1/1/1
Impact: 2000/2100/2200
There is a great debate whether the Rocket Launcher or a Grenade Launcher is an overall better weapon. But it all comes down to damage stats -- where Rocket Launcher wins significantly.
Yes, there are six rounds of ammo in the GL, while RL has only one. But when you need to smash the opponent's buildings into smithereens, you want to do the job as quickly as possible, and for that RL's one-shot is more than enough.
---
What is your personal top 5 of weapons in Fortnite's Battle Royale mode? Let the world know in the comments below.