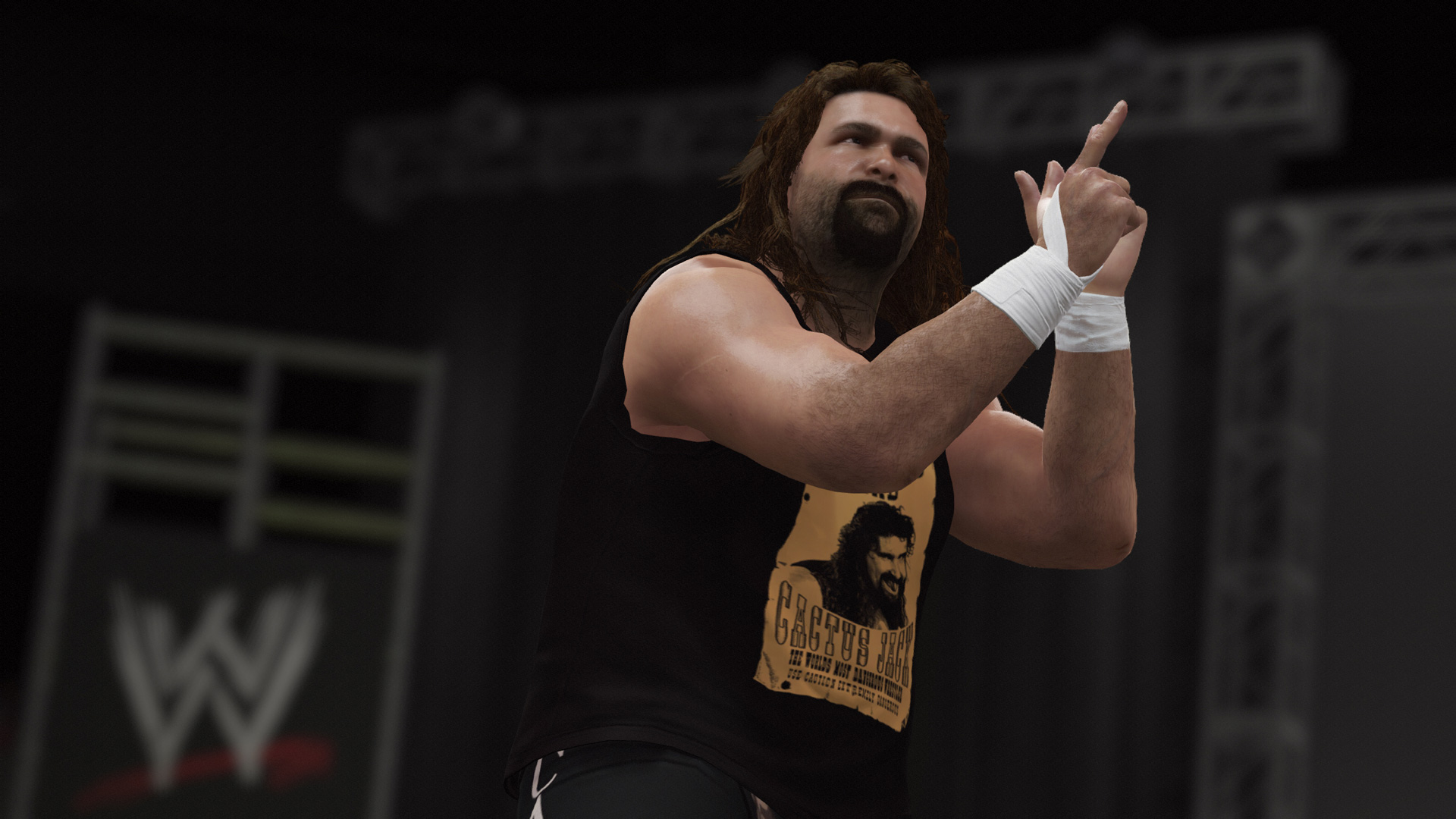 WWE 2K17 is set for an October release with a Goldberg pre-order and a cover star to be announced Monday. While we do not know a whole lot about the game just yet, we know that it will be the successor to the excellent WWE 2K16 and will hopefully build further upon that game's improvements.
Of course, there is a long line of WWE games to come before 2K16. Certain games in both the main series and side series have become timeless, despite huge changes in the WWE since then. This has usually occurred when they have had tremendous features and Superstars that the WWE Universe never gets tired of playing with. Perhaps something unique has separated a game or two from the pack as well.
So, here it is: The five best old school games about beating somebody up and pinning him to the mat. (Or about vehicular chaos ... )
---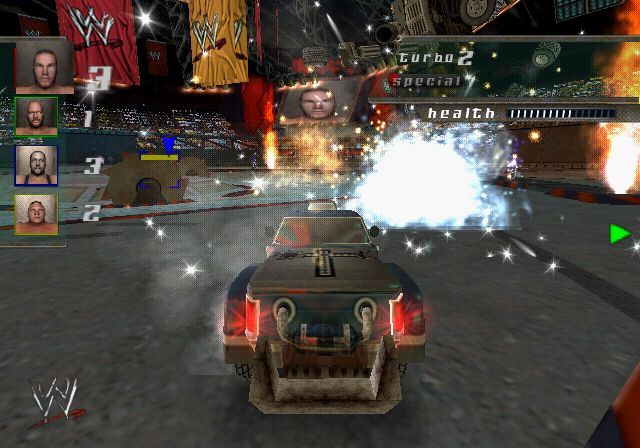 5. WWE Crush Hour
A unique game that involved WWE Superstars taking part in vehicular warfare, WWE Crush Hour was quite the departure from anything the WWE Universe had seen before.
Ironically, the game was a sort of foreshadowing of the WWE Network, which would come to fruition some eleven years later. The game's plotline was that chairman, Mr. McMahon had gained control of all television networks and was creating a demolition derby-type show starring superstars.
The Rock, Undertaker, Kane and others had their own custom cars, each of which boasted powerful weapons to take out opponents. In true WWE spirit, cars also had special moves, allowing the competitors to finish one another off just as they would in the ring.
The game had a cool novelty to it, and it was a lot of fun to be able to use well-known characters in a very different context.
Image Source: IGN
---
4. WWE All Stars
Ever wanted to put a WWE Legend against a current WWE Superstar? WWE All-Stars offered you the chance to do just that.
The All-Stars roster featured 15 Legends and 15 Superstars, as well as several downloadable characters, battling it out for supremacy. Players could go for championships held by D-Generation X, Undertaker and Randy Orton in Path of the champions mode. They could also experience some of the ultimate dream matches in fantasy warfare mode.
What made this game special was not only the presence of Superstars of both today and yesteryear, but also the great game modes and the unconventional gameplay style. In many ways, the game exemplified WWE's status as a larger-than-life form of entertainment.
Instead of looking realistic, as the current WWE 2K series, character movements were deliberately exaggerated. This went doubly for signatures and finishers, which had dramatically cartoonish, yet completely awesome animations.
Many people think of John Cena as WWE's Superman. Well, in WWE All Stars, 25+ years of Supermen collided. It was a dream for fans who love the company's theatrical nature.
Image Source: Destructoid
---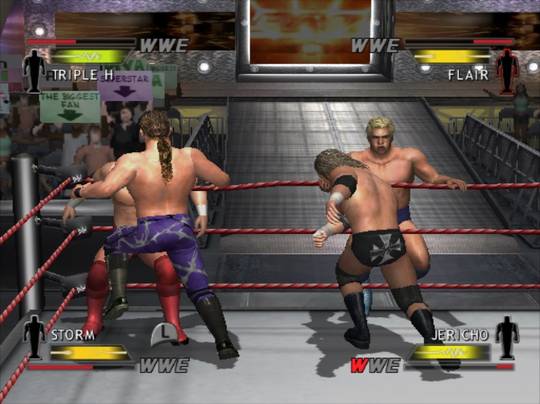 3. WWE Day of Reckoning
Okay, before we get too much further here, let me drop the bombshell: I have omitted WWE No Mercy from this list. Before you tell me I should never have an opinion again, let me explain why.
No Mercy was a great game, but its greatest strengths were done better elsewhere. Day of Reckoning, for example, had a better gameplay engine - one of the best of any WWE game. It was fluid, fast-paced and exciting, allowing for chaotic multiplayer and still staying true to WWE's essentials. -- We'll get into the games that outdid No Mercy with branching story modes a little later.
Not to say that Day of Reckoning's story mode was any slouch. It was more linear, but with a very compelling narrative.
In a precursor of sorts to the WWE 2K series' career mode, you got to create your own superstar and take him from dark matches all the way to the main event. Along the way, you join either Evolution or the New Ministry, and your career takes off from there. Not to give away too much, but this results in a pretty awesome payoff at one of WWE's biggest stages.
The satisfaction of taking your superstar through the ranks in such a well-written story, coupled with the consistently fun gameplay, makes Day of Reckoning the game most worth playing outside of WWE's main series.
Image Source: GameFAQs
---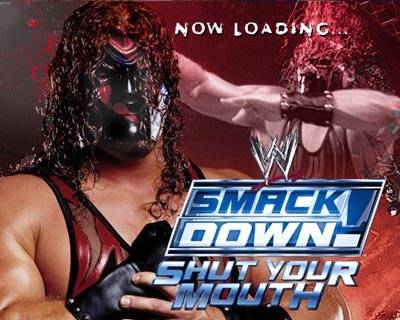 2. WWE SmackDown! Shut Your Mouth
So, those who follow WWE programming might be aware that there is a WWE Draft coming up in a few weeks. The Raw and SmackDown rosters will split for the second time in history, with a now-live SmackDown's move to Tuesday capping off the festivities.
Certainly, this is an exciting time for WWE. Younger gamers might not remember how cool the first ever WWE Draft was way back in 2002, when co-owners Mr. McMahon (SmackDown) and Ric Flair (Raw) alternated picks to fill out their respective rosters. WWE SmackDown! Shut Your Mouth captured that excitement perfectly.
The game's season mode allowed you to select one of the two owners and make picks on behalf of his brand. Essentially, you had the opportunity to create this new WWE landscape before your very eyes. After the draft's conclusion, you would progress as normal with your chosen WWE superstar on whichever brand had selected him.
Another awesome season mode feature was the ability to walk around backstage. You could go to the owner's office and make a request or visit one of many other rooms throughout the arena. You even bought your unlockables at an actual WWEShop vendor! Talk about the full WWE experience.
Image Source: GameFAQs
---
1. WWE SmackDown! Here Comes the Pain
Ah, we have reached the top of the mountain.
This was an incredibly packed game in a number of departments.
The roster was incredible: The Rock, "Stone Cold" Steve Austin, Triple H, Goldberg, Brock Lesnar and Eddie Guerrero, just to name a few. It was also John Cena's first of many WWE games appearances.
The game also introduced the elimination chamber match type for the first time. This was huge, as the match had just been implemented on WWE television and was perfect for multiplayer. The match type has remained a staple of WWE games ever since.
The gameplay was simply excellent. It was simulation style, yet moved quickly enough to keep things interesting – much like recent editions of the WWE 2K series. This game also set the standard for today's diverse movesets with its new grappling system.
Where the game really shined was its season mode, one of the best of all time – and yes, even better than No Mercy's. The game featured many interesting branching storylines, providing choices that affected the outcomes of different events. While it removed the roaming nature of SmackDown! Shut Your Mouth, you could still run into people backstage and have conversations lead to confrontations.
SmackDown! Here Comes the Pain was the defining WWE game of the PlayStation 2 generation and still holds up today as one of the all-time best in the series.
So this ends our list of the five best WWE games.
Do you agree or disagree with our choices? Let us know in the comments section below.
Image Source: GameFAQs