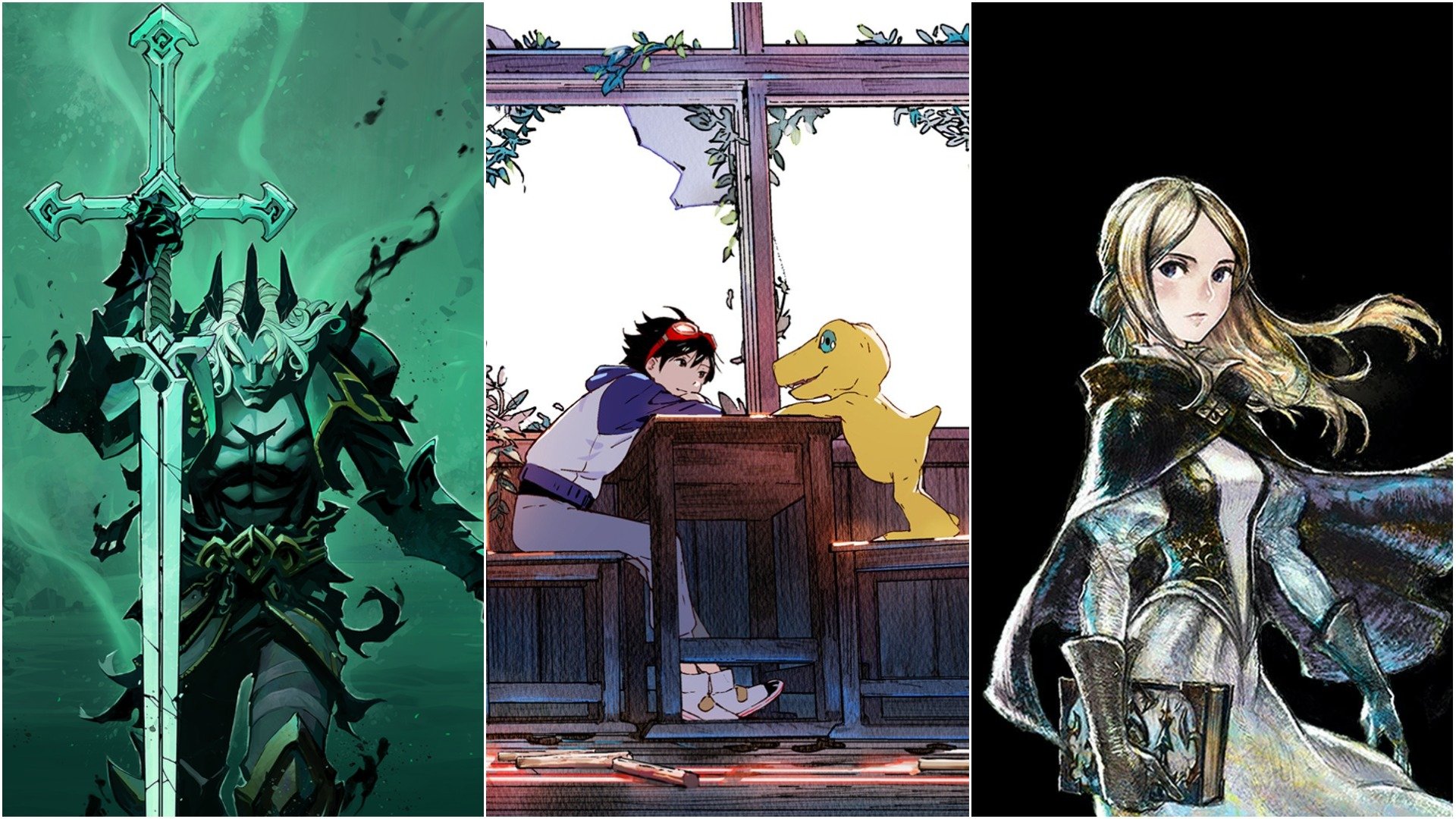 There are so many promising RPGs launching in 2021 that those with turn-based gameplay can be made into a list all on their own. (We have a separate one for other notable titles coming soon).
2020 gave us turn-based gems like Yakuza: Like a Dragon, Wasteland 3, and Ikenfell. So, what is there to look forward to this year?
Bravely Default II is one of the most talked-about releases under that category at this point, but there will be plenty more to see in the coming months. Read on to see 14 new upcoming turn-based RPGs that you should keep an eye out for.
---
BRAVELY DEFAULT II
Platforms: Switch
Release Date: Feb. 26, 2021
No surprise here. If you're looking to scratch that turn-based RPG itch as soon as possible, Bravely Default II is your best option. The release date is right around the corner, and this will be the series' first entry on a home console.
This sequel tells the story of Seth, Gloria, Elvis, and Adelle. Together, they're known as the Heroes of Light. Series veterans will be pleased to know that these heroes have many Jobs, as the signature customizable Bravely Default class system returns.
If you want to get a little taste of what to expect, you can download the five-hour demo right now on the Nintendo eShop.
Bravely Default II launches on Feb. 26, so fans of the first two entries won't have to wait much longer to get their hands on the full game.
---
Ruined King: A League of Legends Story
Platforms: PC, PS4, PS5, Xbox One, Xbox Series X|S, Switch
Release Date: TBD 2021
League of Legends currently has over 140 Champions, each with unique lore, personalities, and more. With a roster size that size and the game's everlasting popularity, it really should come as no surprise that a few spin-offs are in the works.
They were inevitable, really.
Of those 140 characters, Ruined King has players following just Miss Fortune, Illaoi, Braum, Pyke, Ahri, and Yasuo. It's a turn-based adventure that will take place in Bilgewater and the Shadow Isles as the mysterious Black Mist approaches. It's currently set for an "early" 2021 release, though no exact date has been shared yet.
---
Digimon Survive
Platforms: PC, PS4, Xbox One, Switch
Release Date: TBD 2021
Digimon is back once again. This time, it feels like pure nostalgia coated in a fresh, new coat of paint. Digimon Survive even borrows small story beats from the original anime.
Saki, Takuma, and their friends are spending time at a summer camp when boredom forces them to venture out into the wild. They eventually end up in a different world after walking through a mysterious shrine. And of course, they meet Digimon once they arrive.
Digimon Survive is a tactical RPG that provides both turn-based combat and choice-filled "Drama Parts" containing Persona-style social bond systems.
The game is presented as a somewhat ominous trip to the digital world, with "death and danger" waiting for the children as they attempt to return home.
---
Cris Tales
Platforms: PC, PS4, PS5, Xbox One, Xbox Series X|S, Switch, Stadia
Release Date: June 2021
Time travel is always a cool and interesting mechanic in games — unless it becomes overly complicated. Cris Tales is aiming to keep things relatively simple with gameplay features that allow players to see into the past, make decisions in the present, and watch the future change on-screen all at once.
Cris Tales tells the tale of Crisbell. That's a bit of a tongue-twister, but the young heroine sets out on a journey in the land of Crystallis in order to stop the Time Empress.
The game was originally slated for a 2020 launch, but after two delays, here's hoping that it hits its current summer 2021 release window.
---
Black Book
Platforms: PC, PS4, PS5, Xbox One, Xbox Series X|S, Switch
Release Date: Q1 2021
A lot of us know about the bigger names in the land of RPGs, but what about some of the smaller, indie turn-based RPGs coming in 2021? Kickstarter game Black Book falls into that category.
Developer Morteshka and publisher HypeTrain Digital have come together to create a narrative-driven card combat RPG set in a world where mythical creatures and humans live alongside one another.
Black Book's setting is rooted in Slavic folk tales, with players following a sorceress named Vasilisa as she aims to obtain the mysterious Black Book — an artifact said to grant any wish.
The game doesn't have a release date just yet, but it's set to launch in the first quarter of 2021.
---
Pathfinder: Wrath of the Righteous
Platforms: PC
Release Date: June 2021
This is another RPG that started out with a successful Kickstarter campaign, and developer Owlcat Games intends to give fans exactly what they crowdfunded this summer.
Pathfinder: Wrath of the Righteous is a classic CRPG that draws players into the demon-infested realm of Sarkoris, where they'll be tasked with fighting back hordes of creatures in a righteous crusade.
As the game progresses, players will be faced with plenty of choices as they're literally given control of the Fifth Crusade — a fierce push against the demons.
If you're a Kickstarted backer, you can even get some hands-on time with the game in the backer-only beta ahead of its official launch.
---
King's Bounty II
Platforms: PC, PS4, Xbox One, Switch
Release Date: August 24, 2021
Here's another RPG that puts real emphasis on player choice. King's Bounty II wants fans to feel as though there's weight to every decision that they make.
The game has players assume the role of one of three main characters, each with their own unique tale to tell. All three stories are full of non-linear plot points, tough moral choices, and a number of classes to choose from. All of this is in a world that mixes realism and fantasy.
---
Darkest Dungeon 2
Platforms: PC
Release Date: TBD 2021
Darkest Dungeon came out back in 2015, and now, Darkest Dungeon 2 is "welcoming" players back to a new, nightmarish dungeon, six years later.
Developer Red Hook Studios hasn't provided much info on the sequel just yet, but the turn-based roguelike RPG will be available in Early Access on the Epic Games Store at some point this year. Hopefully.
Darkest Dungeon 2 will be exclusive to the EGS throughout its Early Access run, and no console plans have been finalized just yet, even though the original is available on PC, PS4, Xbox One, Switch.
---
Shin Megami Tensei V
Platforms: Switch
Release Date: TBD 2021
Here's another entry with little to no details whatsoever provided by the developer. ATLUS announced Shin Megami Tensei V last summer during a short Nintendo Direct that focused solely on third-party releases.
Since then, there's been no buzz at all surrounding the game. Even today's 50-minute long Nintendo Direct had no mention of it whatsoever. That being said, there'll still be plenty of chances for ATLUS to surprise fans with more info on the fifth mainline entry in the SMT franchise throughout the year.
The only thing that we know for sure at this point is that SMT V will have a simultaneous worldwide release, which is a welcome surprise for an ATLUS game.
---
Wolfstride
Platforms: PC
Release Date: TBD 2021
Wolfstride seems so over-the-top in such a good way. It's got plenty of style in all 39 seconds of its only trailer. Developer OTA IMON Studios and publisher Raw Fury haven't shown off very much of the game yet, but it's still an RPG that you should look out for this year.
The main trio of characters includes an ex-Yakuza, a rookie combat pilot, and a grizzled mechanic. They come together to form a team for the Ultimate Mech Tournament. It sounds like a wild anime plot you'll be able to play through.
When you aren't upgrading/customizing your mechs or competing, you'll be exploring Rain City as you build relationships with its citizens. There's more to this game than meets the eye, and with that art style, you'll want to see all of it.
---
Disgaea 6: Defiance of Destiny
Platforms: Switch
Release Date: Summer 2021
This is a bit of a weird entry because Disgaea 6 already launched in Japan on January 28, 2021. With that said, Nippon Ichi Software recently released a character trailer to build hype for the game's western launch, while also providing some details for non-Japanese fans.
It's been six years since the last Disgaea game, and in this entry, the plot focuses on a zombie named Zed and his sister Bieko. The sibling's journey through the Netherworld after a God of Destruction threatens their way of life.
Disgaea 6 offers gameplay features that could help ease new players into the long series, just in case you were thinking of starting at the sixth entry. With Auto, Retry, and Replay options for combat, battles can be as easy or as difficult as you want them to be.
---
Loop Hero
Platforms: PC
Release Date: March 4, 2021
If you're into card games and roguelikes, then Loop Hero is definitely one of the RPGs that you should be looking out for this year. It's a deck-builder with an interesting twist.
Each level has a pre-determined path that the hero must take in order to complete it. The path is made up of multiple tiles, and the player decides what goes on in each tile by using cards that the game deals.
The cards can contain monsters, power-ups, buildings, and much more. To succeed, you'll need to cleverly plot a path in order for the hero to survive each loop. If Loop Hero has you even the slightest bit interested, you can try it out for yourself through the demo on Steam.
---
Fuga: Melodies of Steel
Platforms: PC, PS4, Xbox One, Switch
Release Date: TBD 2021
Delays have been coming for plenty of games recently, and unfortunately, Fuga: Melodies of Steel is no exception. With an original release window of late 2019, it eventually got delayed to 2020, then again to 2021.
The game is being developed and published by CyberConnect2. These days, the company is best known for their Naruto: Ultimate Ninja Storm series, but Fuga is a turn-based RPG set in wartime, so there are almost no similarities between the two.
Fuga: Melodies of Steel follows the story of children living in a war-torn land. In true anime fashion, the children stumble upon a tank that they soon use to fight back against the forces that have invaded their home. Hopefully, we'll learn more about it soon.
---
Rogue Lords
Platforms: PC, PS4, Xbox One, Switch
Release Date: TBD 2021
Rogue Lords is one of those games where you're unquestionably playing as the "bad guys" in the story. As the title suggests, it's a roguelike in which you literally take control of the Devil and his forces of evil.
Your party will be full of characters like the Headless Horseman, Dracula, Bloody Mary, and more as you aim to terrorize brave mortals known as Demon Hunters in this somewhat humorous plot. It's one fans of both horror and RPGs will want to keep an eye on.
There are plenty of RPGs, turn-based or otherwise, launching in 2021. This list doesn't exactly name all of them, so let us know in the comments below if we missed anything you're really looking forward to!