A flurry of patches have arrived for Fallout 76 since the launch of the Wild Appalachia update, and we're going to get at least one more by the end of the month.
While recent patches have focused on adding new quests and legendary vendors or tweaking the player vending machine system, the impending June update will see a major overhaul to the entire combat system.
In addition to big changes making combat faster with fewer reductions in speed through animations, the update will also see a handful of mouse and controller sensitivity options implemented that players have been asking for lately.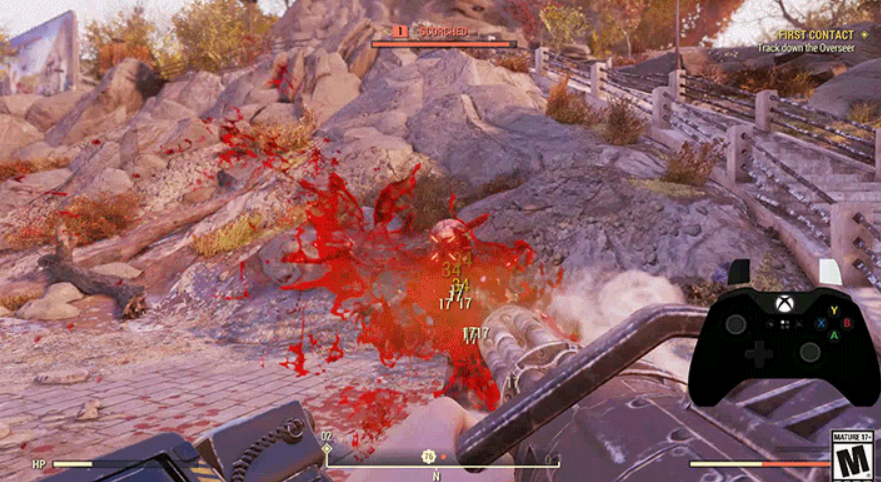 The show damage numbers toggle in action
While there's no release date yet for Fallout 76 Patch 10, these are the major additions we can look forward to when it arrives later this month. It reportedly will:
show damage numbers during combat toggle (set to "off" by default)
cancel the holster and draw weapon animation by pressing the fire button
greatly reduced time to look down iron sights or zoom with a scope
targeting reticle added to a wide variety of weapons, from the Gatling gun to the auto grenade launcher and even the paddle ball
sprinting will be available immediately after firing a ranged weapon, and the reload animation can be canceled by sprinting
temporary sensitivity reduction for sprinting players using controllers will be removed
VATS will immediately close if any hit is a killing shot
invert X and Y axis option will be added
horizontal and vertical sensitivity can be changed independently of one another
Ready to see what Bethesda has in store next (and probably hoping for some Elder Scrolls VI news)? You'll want to tune into the Bethesda E3 conference this coming Sunday, June 9 at 5:30 PM PT. We'll be covering it as well, so check back at Gameskinny this weekend for all the highlights!
About the author