The NBA Season is already months in, and basketball fans have been getting their hoop fix with NBA 2K17. The NBA Live series on the other hand, focused on their mobile entry this season, but said they are committed to the console space and promised a release in early 2017.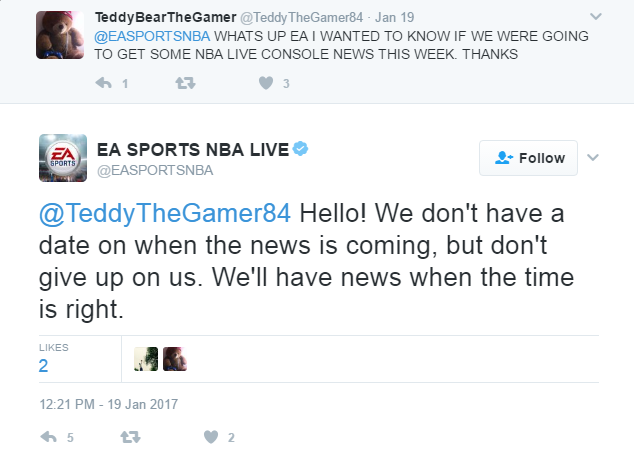 There is no official announcement regarding NBA Live 17, but the NBA Live Twitter account replied to multiple users inquiring about the next entry. They did not release any actual information, but are encouraging gamers to stay tuned for an announcement.
Gamers on the internet are impatient though, and with some digging around they've found a game classification from EA Korea referencing a game called The Drive to NBA Live for the Xbox One. Twitter user TrapSwish posted an image of what appears to be the logo for the new game.
The NBA 2K series dominated the past few years of virtual basketball, especially with a lack of competition between 2010 and 2013. The revival of NBA Live with NBA Live 14 was panned by critics everywhere, forcing EA to send out an assurance letter to its fans for NBA Live 15. Although the subsequent games improved upon NBA Live 14's mechanics, the games were never able to go head-to-head with the 2K series.
If EA is playing its cards right, this new entry could be something to show fans they aren't wasting any time. The developer could add its famous Frost Engine to the game, release a free demo, or even release an NBA Street mode in their new game.
What do you think? Is it worth EA's time to compete with the 2K series? Who do you want to see on the cover of NBA Live 17? Let me know in the comments!
About the author