PlayStation trophies have been around since the PS3. Over the past 12 years, the digital accolades have become part and parcel of the PlayStation ecosystem, with entire websites cropping up to keep track of trophy leaderboards. Other sites, such as PlayStationTrophies.org, have carved a niche by providing in-depth trophy guides and roadmaps for hunters going after every platinum.
To say Sony's answer to Microsoft's achievement system has been a success would be an understatement.
Sony has made changes to the trophy system in some small but important ways heading into the next generation of systems. Announcing the news on the PlayStation Blog, Toshimasa Aoki, SIE's Director of Product Management, said new trophy levels and icons were inbound. The changes started rolling out on October 7.
Sony has also implemented a new way to calculate a player's trophy level. Before, trophy levels were on a 100-point scale. The new scale goes from 1-999.
According to Aoki:
Following this update, your trophy level will automatically be remapped to a new level within this new range based on the trophies you've earned to date.

For example, if your current trophy level is 12, your new level will jump to somewhere in the low 200s.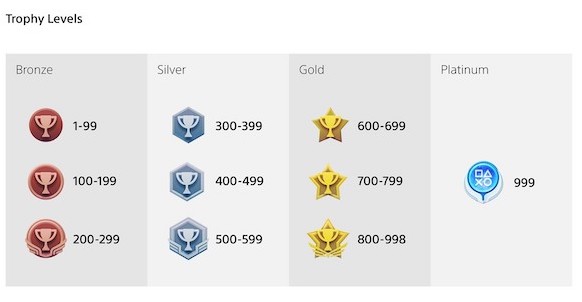 New trophy levels have been split into four overarching levels, with the first three of those having three sublevels. The fourth is reserved for those that reach trophy level 999. Each sublevel also has a distinctive badge attached to it, as seen in the image above.
Bronze Level
Silver Level
Gold Level
Platinum Level
Trophies and levels will, of course, carry over from the PS4 to the PS5, just as they did from the PS3 to the PS4. Sony is making sure that legacy trophies still count to a player's overall score.
The same post on the French PlayStation Blog originally contained information regarding trophy tracking for some games, as pointed out by Twitter user Nibellion. That information has since been removed from the blog post, but some have replied to Nibellion's post showing (unverified) emails from PlayStation touting the feature.
Trophy tracking would be a welcome addition to the trophy system, though until Sony officially announces its existence, trophy hunters shouldn't get their hopes up.
With a little more than a month left until the launch of the PS5, Sony is still releasing information about its next-gen system, including a recent hardware teardown that looked at various features, including the fan and stand.
We still don't know what the PlayStation 5's UI looks like, so perhaps more information on trophies will be shared alongside that info in the coming weeks through one last showcase.
Stay tuned to GameSkinny for more on PlayStation, including a slew of reviews for PS5 launch titles like Demon's Souls and Spider-Man: Miles Morales.
[Source: PlayStation Blog, Twitter]
About the author