Since Subnautica Below Zero released on Steam Early Access near the beginning of this year, developer Unknown Worlds has released several expansive updates for the game. The latest additions come in the form of the Spy Pengling Update, which is available now.
The eponymous spy penglings are actually research robots. Players can use them to get up close and personal with Planet 4546B's fauna. The Alterra remote unit is capable of scanning and archiving both flora and fauna without disturbing wildlife. It also comes with arms and four storage slots for picking up and storing crafting supplies while on research missions.
You can even take super spy pengling selfies if that's your bag.
In addition to the new research robots, the Spy Pengling Update also brings new biomes and creatures to Subnautica Below Zero. The imposing Tree Spires biome features the tentacled Vent Garden, a "leviathan-class fauna." It's so large other creatures can be found within it.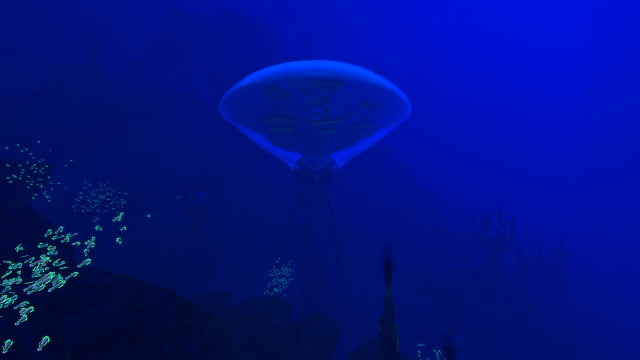 Image source: AnomalyDetected, Subnautica Below Zero Wiki
The Lily Paddler is also a new type of fauna, and it can be found in the Lillypad Islands. While the creature is typically docile, it can entrance survivors, "causing confusion and disorientation." As of this writing, the Lillypad Islands biome is not completely finished, although Unknown Worlds does not give a specific timeframe for its completion.
New weather effects, such as rain and explosive lightning have been added to the game as well. The developer says that these will "become more common," though what that exactly means remains unclear. On top of that, Below Zero's northern regions are also getting colder. Now the frigid temperatures are represented by visible ice on players' dive masks; warm drinks and warming gear, as well as certain flora types, can reverse the game's new cold effects.
Lastly, and perhaps most interestingly, Below Zero now has a teleportation system. Anyone who has spent any time in Planet 4546B's waters knows that travel can sometimes be slow.
Now, players can attach a new teleportation module to the Seatruck (added two updates ago) and build a Precursor Tether. These devices allow for teleportation between the Seatruck and "distant sites." Because everything comes at a price, travel does, however, cost one Ion Cube.
For more Below Zero updates, those interested can keep tabs on the game's production via its official Favro board. The standalone expansion to Subnautica is currently available on Steam for $19.99.
About the author