NetherRealm Studios isn't done adding to the complete list of Mortal Kombat 1 characters and Kameos just yet. The closed online stress test for MK1 (also known as Mortal Kombat 12) has ended, which let fans and fighting-game pros try out the four-character beta that was previously available at Summer Game Fest. We've got a long summer full of reveals ahead of us for MK1. Here's what we know so far about the Mortal Kombat 1 roster and the rumors surrounding who will make the cut.
The Known Mortal Kombat 1 Character Roster: How It Fits the Timeline
MK1 picks up from the good ending of MK11's Aftermath DLC, which saw the characters fighting against Kronika, an Elder God and the Keeper of Time, and the slightly annoyed mother of Mortal Kombat X's antagonist Shinnok.
Kronika was defeated in the end, and Liu Kang, who'd been enhanced by Raiden giving up his power to him, ended up in possession of Kronika's Hourglass. That left it up to Liu Kang to reconstruct the timeline as the new God of Thunder and Fire.
In MK1, we're seeing the New Era that Liu Kang built. It's a peaceful place where the Realms aren't at war, but now it's come under attack from multiple fronts. This includes the appearance of Shang Tsung, who's somehow alive again after being erased from existence in MK11.
At the time of writing, it looks like MK1 has taken a back-to-basics approach. The variation system from MKX and MK11 is gone; the aerial combos from the PS2 / Xbox era games are back; you can once again use Fatal Blows when you're at low health; and we're back to building and spending meter for enhanced moves as we did in MK9 and MKX.
The Main MK1 Roster So Far
The online stress test for MK1 only had four playable characters:
Kenshi
Kitana
Liu Kang
Sub-Zero
For lore nerds, pre-match banter has confirmed that MK1's Sub-Zero is the original, Bi-Han. In the MK games' previous timelines, Bi-Han would go on to become Noob Saibot, while his role as Sub-Zero was taken over by his more heroic brother Kuai Liang in MK2.
The Summer Game Fest gameplay trailer featured several other characters who didn't make it into the test or playable SGF demo, which included:
Johnny Cage
Kung Lao
Mileena
Raiden
Scorpion
Shang Tsung (pre-order bonus)
The first Kombat Kast livestream for MK1 aired on the morning of July 6. While the Kast itself was primarily dedicated to gameplay for Johnny and Scorpion, it came alongside a new Lin Kuei-themed trailer (above) which revealed two new characters:
It's also worth noting that the Lin Kuei trailer confirms that the Scorpion in MK1 isn't Hanzo Hasashi. Instead, it appears to be Kuai Liang, who held the identity of Sub-Zero from MKII through MK11.
On July 21, at the 2023 San Diego Comic Con, the MK1 developers hosted "Resetting Mortal Kombat," an hour-long panel from the developers. During that panel, a new trailer debuted, which discussed a new clan of warrior priestesses called the Umgadi. It also served as the reveal for 3 new characters:
On July 29, during an MK11 tournament livestream from DreamCon in Austin, Texas, a new trailer was released that included a few more details about MK1's story. This included the first look at Liu Kang's second Fatality, as well as the story and debut of another character:
During the last day of the 2023 Evolution Championship Series tournament in Las Vegas, on August 6, NetherRealm's Tyler Lansdown came onstage with FGC YouTuber Sajam to reveal the Banished trailer, which served as the debut of three more playable characters:
Reptile
Havik (MK: Deception)
Ashrah (MK: Deception)
Ed Boon showed up during the opening-night show at Gamescom in Germany on August 22 to debut yet another trailer, which included a longer look at MK1's new version of Raiden, as well as the official reveals for:
Sindel
General Shao (the New Era's version of Shao Kahn)
With no real fanfare, a new trailer dropped on the afternoon of September 6 to reveal that Megan Fox (Transformers, Jennifer's Body) will voice another long-absent MK character:
Nitara (MK: Deadly Alliance)
Later on July 21, the official Mortal Kombat Twitter account released another short trailer, which served as a reveal for all the fighters who'll be in the Kombat Pack 1 DLC:
Quan Chi
Takeda
Ermac
Peacemaker (as played by John Cena, from the DCEU show of the same name)
Omni-Man (Image Comics' Invincible)
Homelander (as played by Antony Starr, from The Boys)
These competitors were previously mentioned by name in a leak earlier this year, when Amazon Italy accidentally posted some early marketing copy.
MK1 Kameo Fighters
Mortal Kombat 1 introduces a new feature, Kameos, which are MK's take on the concept of assist characters.
You pick a Kameo to serve as your active character's partner, and can use them to launch one of three attacks or as a combo breaker, all of which trigger a short recharge timer. In addition, your Kameo brings at least one unique Fatality to the table, many of which so far have been classics from past MK games, and will launch a Fatal Blow alongside your own.
Only 3 Kameo Fighters were available for the stress test:
Jax Briggs
Kano
Sonya Blade
Several additional Kameos were shown in the Summer Game Fest gameplay trailer but weren't available for the stress test:
Goro (a new design)
Kung Lao (MKII)
Kurtis Stryker (MK3)
Sub-Zero (1992 edition)
The July 6 Lin Kuei trailer featured gameplay footage that added a few more Kameos:
Cyrax (MK3 cyberninja)
Sektor (MK3 cyberninja)
Frost (Deadly Alliance version)
Scorpion (1992 edition)
The July 21 Umgadi trailer quietly featured another new Kameo, which is a real surprise:
The August 6 Banished trailer had a slightly stealthy Kameo appearance:
Sareena (MK: Mythologies/Armageddon)
It's worth noting that Kameo Sareena appears to spend most of her time in her true demon form, which can be confusing for anyone who isn't a serious MK lore nerd.
On August 22, the Rulers of Outworld trailer included first looks at two more Kameos:
Motaro (the Centaurian sub-boss of MK3)
Shujinko (the protagonist of MK Deception's Konquest mode)
MK creator (kreator?) and NetherRealm Head Ed Boon said on stage at SGF that some characters can be selected as both a fighter and a Kameo, mentioning Sub-Zero as an example. As such, a character being on the Kameo list doesn't mean they won't also be playable.
So far, it's notable that most of the Kameos shown so far are throwbacks and/or out-of-continuity. Jax, Sonya, and Kano are all dressed in their original costumes from MK2 and MK 1992, respectively. Kung Lao as a Kameo wears his MK2 outfit, and Kameo Sub-Zero and Scorpion are back in their quilted blue look from 1992.
The first wave of DLC in Kombat Pack 1 will reportedly include a new batch of Kameos. According to a promotional email from WB, as well as an early leak via Amazon Italy, the DLC Kameos are:
Ferra (the smaller half of Ferra/Torr from MKX)
Johnny Cage (rumored to be played by Jean-Claude Van Damme)
Khameleon (a female ninja, first seen in Mortal Kombat Trilogy)
Mavado (MK: Deadly Alliance)
Tremor (MK: Special Forces & MKX DLC)
The Rumor Mill: MK1 Characters We Could See Join the Roster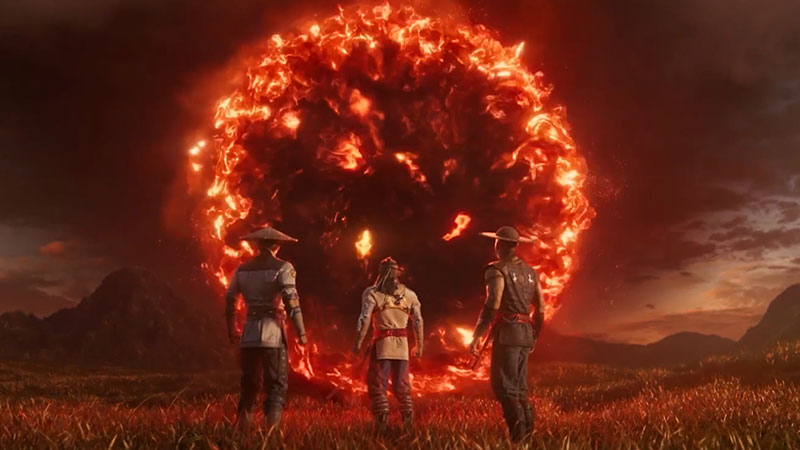 As with any other major release in 2023, there have been a few leaks about MK1, in addition to rumors and hearsay. This includes an accidental reveal via Amazon Italy, which put up the wrong version of the MK1 pre-order form, along with the usual "anonymous insiders" posting on places like Twitter, Reddit, and GameFAQs.
Obviously, I'd advise that you take everything here with a grain of salt, but it's always fun to see what rumors do and don't pay off. For some reason, every new MK game has somebody who really wants Reiko to come back.
Rumored MK1 Characters
According to rumors / leaks, the other returning characters that you could see on the main MK1 roster include:
Rain and Smoke were c(k)onfirmed on July 6 in the Lin Kuei trailer, while Darrius made a surprise appearance in the Umgadi trailer on July 21. The August 6 Evolution trailer also featured a gameplay sample that quietly debuted Sareena as a Kameo.
In addition, a short excerpt from MK1's story mode was shown at the MK panel at SDCC 2023, which featured Li Mei going up against Reiko and Motaro.
Nitara got a trailer to herself on September 6, which also confirmed the rumor of Megan Fox's involvement with MK1.
Reportedly, even people who've gotten an early copy of the game have not yet discovered who the 24th character is on MK1's roster, who may only be activated/added with a day-one patch.
Rumored Kameo Characters
Additionally, there could be just as many Kameo Fighters as playable characters, which are rumored to include:
That's what we know about the Mortal Kombat 1 character roster right now. We'll continue to update this article as more information comes in about MK1's characters and kameos.
About the author