Bugsnax is one of the most bizarre video games I've ever played. Frankly, I'm not entirely sure how to describe it, which is troubling given my profession.
On the one hand, it's a surrealist adventure puzzle game in which you're sent on an expedition to research walking, sentient foods in the form of bugs amidst a mysterious disappearance, but on the other hand, it's like a weird fever dream of someone that passed out at an all-you-can-eat buffet.
It's all filtered through this lens of whimsical adventure that not-so-subtly implies there is more going on here than meets the eye. Despite the cheery attitudes of the denizens and seemingly innocent visual aesthetic, I couldn't help but feel absolutely creeped out every second I was playing Bugsnax.
This isn't a true horror game — not even close — but it's got that sort of "off" feeling that will likely stick with me longer than any actual horror game could ever dream to.
Bugsnax Review: Hilarious Writing in an Unsettling World
Instead of knocking out errands for strangers, you're hunting and capturing the little creepy crawlies and then feeding them like food to the island's denizens, Grumpuses.
A big part of what makes Bugsnax so creepy is what you end up doing almost immediately after arriving on the island. The game quickly devolves from a mystery thriller into a series of fetch quests and errands like any modern video game. Except in this case, instead of knocking out errands for strangers, you're hunting and capturing the little creepy crawlies and then feeding them like food to the island's denizens, Grumpuses.
After eating a Bugsnack, a Grumpus then has a body part transformed to resemble the Bugsnack. For example, after eating a Fryder (a spider with french fry legs), a character's arms suddenly become delicious french fries. It takes the phrase "you are what you eat" to a whole new level.
It's what immediately gave me pause when I first started playing Bugsnax. There's something about the way they smile and laugh with such cheery music playing in the background. It's as if the game is trying so hard to overcompensate in its portrayal of happiness to overcome how unsettling it really can be.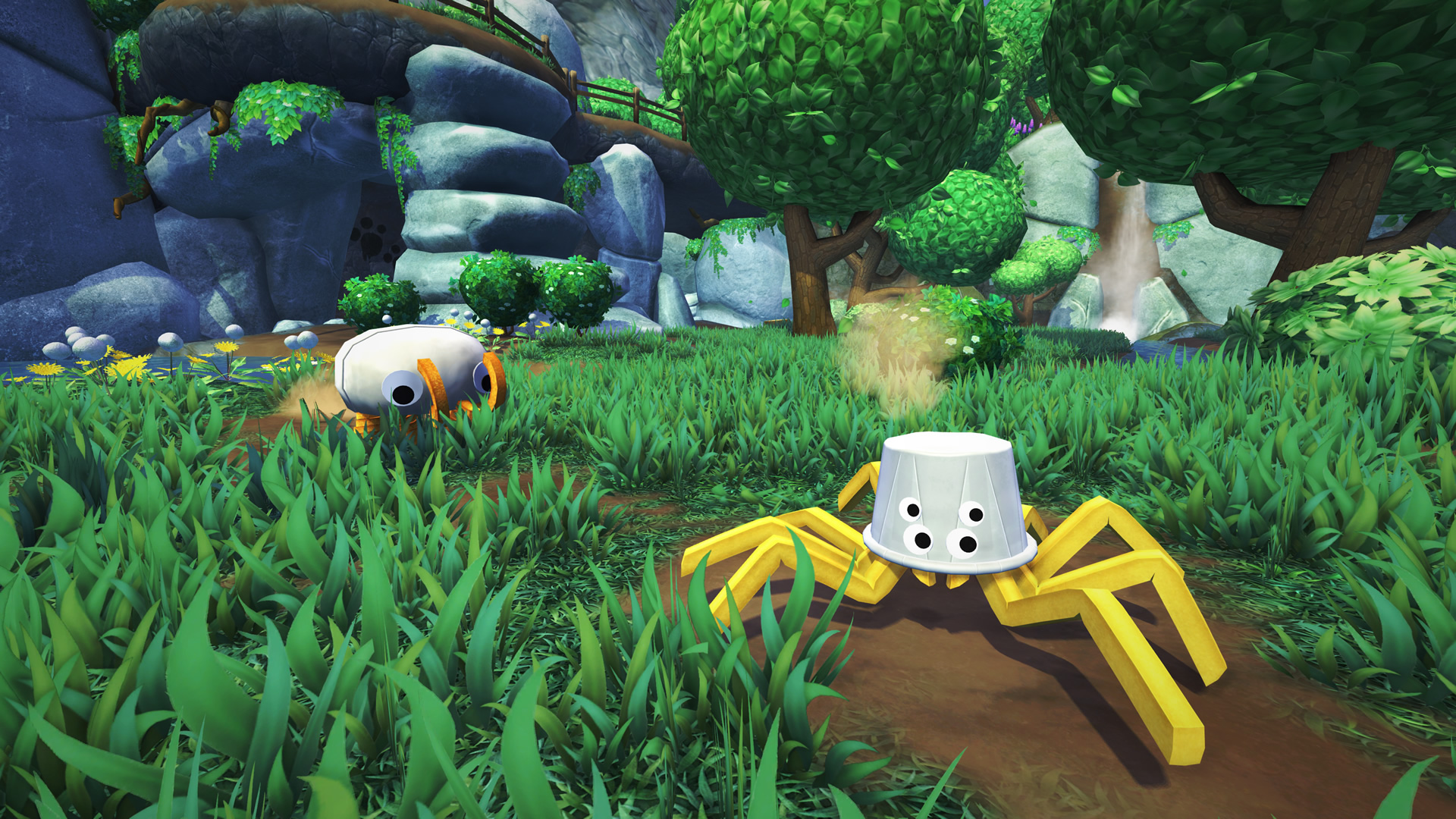 Most of Bugsnax could be summarized as trying to lure various Bugsnax into traps, but it gets very complicated later on. Knowing how certain Bugsnax interact with one another is super important. For example, the bull-esque Bunger will charge and head butt anything that smells like ketchup, so you can catch them in peace.
The plot in Bugsnax revolves around you, a journalist, sent to report on the wondrous world of Bugsnax found on Snaktooth Island. But once you arrive, the intrepid explorer that invited you, Lizbert Megafig, is nowhere to be found. Her sudden vanishing is a bit morbid to begin with, so the premise of devouring helpless bugs in the shapes of various food items doesn't exactly help.
As curious as the world is, though, most of the time I spent playing Bugsnax, I couldn't help but feel like it would have been better as a different genre or perhaps even as not a video game at all. The actual act of playing Bugsnax is by far the least appealing part.
I adore the vibrant world, creative premise, and unnerving underlying implications, but I couldn't help but feel like I'd have been more engrossed if it was just an animated series or more dialogue-driven adventure game. The strength here is the world and its characters, not the game mechanics.
Bugsnax also has one of the catchiest soundtracks you'll hear in a game all year.
Your character controls very floaty, and it's more than a little bit cumbersome to constantly juggle various pieces of equipment while in the middle of a hunt. In the past, the developers have cited games like Pokemon Snap and Ape Escape as inspirations for Bugsnax, but both of those boil down their ideas to an entertaining core to build upon. Bugsnax seems to try too hard to gamify itself in ways that it would have been better served to embrace non-gameplay elements.
All that being said, Bugsnax has a semi Adventure Time vibe going for it. On the surface, it's very light-hearted and colorful, with an aesthetic that seems appealing to kids, but underneath it all, there are some real layers and depth to be found both conceptually and in the game itself.
I particularly enjoyed how nuanced the puzzles became over time and how the game quickly evolved beyond just setting traps. You eventually get various different condiments and sauces for your slingshot to lure different types of bugs into traps, and intersecting patrol paths for bugs gets more and more important the further you get. A few of the puzzles can be pretty challenging and obtuse by design, which is a tad frustrating at times.
Bugsnax also has one of the catchiest soundtracks you'll hear in a game all year, especially the theme song performed by artist Kero Kero Bonito. The quality of the writing and voice acting is also equally top-notch. It's tough to get through a play session without at least a handful of real belly laughs, especially if you appreciate the semi-awkward situational humor on display here or lots of great food puns, like me.
Bugsnax Review — The Bottom Line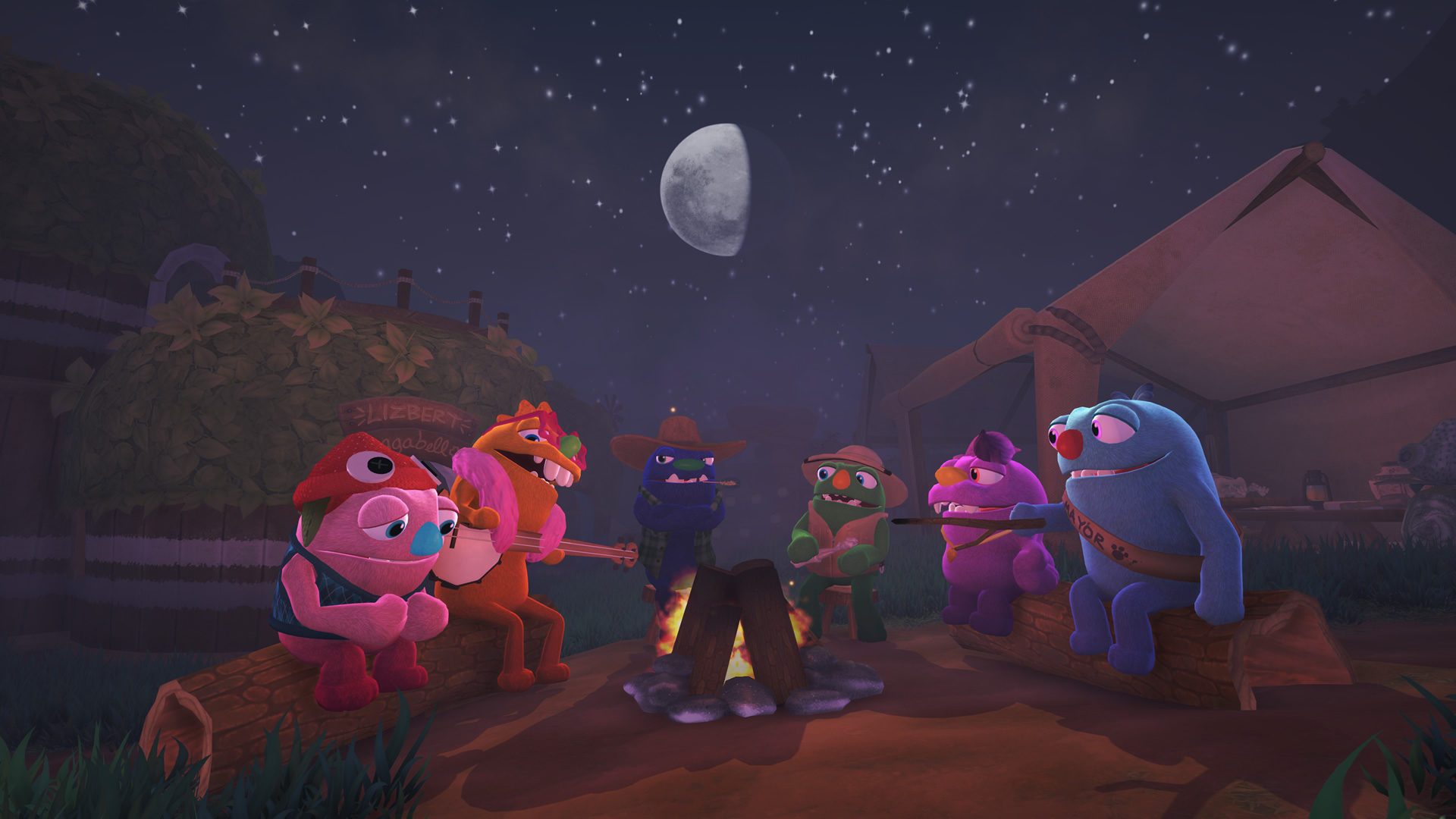 Pros:
Hilarious writing is endearing
Charming visuals and music
Clever premise is oddly unsettling
Cons:
Game mechanics are a bit tedious
Some puzzle solutions aren't very clear
Setting and premise may have worked better in a different genre or media format
In a world where big console launch exclusives such as Spider-Man: Miles Morales, Demon's Souls, and Godfall are all vying for your attention, quirky indie games like Bugsnax rarely get much of the spotlight, but luckily, Sony seems to have supported this one from an early stage. I can say with supreme confidence that if Bugsnax looks like a good time to you based on its trailer, you'll very likely come away satiated after you've had your fill.
Bugsnax takes around seven to 10 hours to finish, depending on your speed, ability to crack puzzles, and the amount of exploration you do. Getting all the achievements or trophies could likely take even longer.
Bugsnax isn't the best version of the game it could have been, but it's still a really fun adventure.
[Note: Young Horses provided a PS5 digital copy of Bugsnax for this review.]
7
Bugsnax Review: Hilarious Writing in an Unsettling World
Bugsnax is memorable for its writing, world, and creative premise, but its more gamified elements somewhat spoil a delicious meal.
What Our Ratings Mean
About the author