RGB lighting is already everywhere: your mouse has it, your keyboard has it, and your headset has it. Hell, even your CPU fans probably have it. Unsurprisingly, monitor backlighting is also in fashion, and it has been for some time. It is, after all, a natural progression into the all-RGB future.
Corsair isn't the first company to provide options for adding an aesthetic glow to the backside of your monitor. And it won't be the last. But with the iCUE LS100 Smart Lighting Kit, Corsair brings to its RGB catalog an arsenal of LEDs meant for emitting ambient light outside of your tower, on almost any surface you can think of.
Corsair iCUE LS100 Smart Lighting Kit Review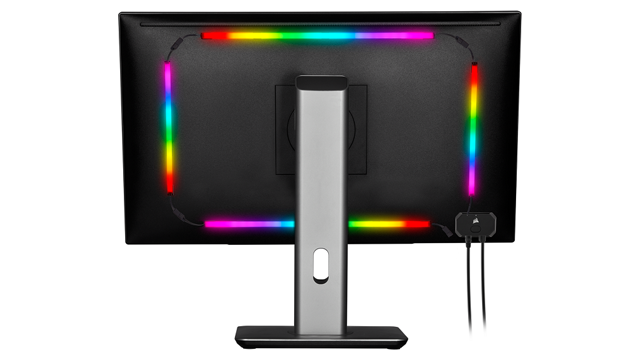 The LS100 starter kit comes with a small controller switch, four flexible RGB strips, cord extenders, cable guides, mounting magnets, a power supply, and a USB cable. The two light strips come in two sets of different lengths. There are two 450mm light strips with 27 LEDs each and two 250mm light strips with 15 LEDs each.
The manual that comes with the lights has a short tutorial on how to attach the lights to the back of your monitor (or two if you have a dual setup). For most, the starter kit will be enough for both single-monitor and dual-monitor setups.
If you need more length, Corsair also separately sells expansion kits for both the 450mm strips and the 250mm strips. Each expansion kit comes with two lighting strips (450mm x2 and 250mm x2, respectively), which can be connected in series by themselves or with the provided cord extenders for greater flexibility and reach.
Attaching the light strips to a monitor is relatively easy and only takes a few minutes. The adhesive magnets and cord guides provided by Corsair do the job, but the downside is that you'll have to attach the magnets to your monitor in the first place — and they aren't easy to get off once they're on.
That means you'll need to plot out your placement beforehand and make sure you put them in the right place the first time.
The controller also connects to the monitor by way of two adhesive magnets. On the top, it has an on/off button. On the back, it has a power port and a USB port, and on the front, it has two ports for the LED light strips. Importantly, those two ports only power one set of four light strips each for a total of eight light strips. You cannot hook eight light strips to a single port.
For single-monitor and dual-monitor setups, that shouldn't be a problem. But, if you're like me, and want to attach the light strips to the underside of your desk, it can pose some unique challenges. Though, I wouldn't say they are particularly daunting challenges as even a small amount of ingenuity gets things set up relatively quickly.
iCUE LS100 Smart Lighting Kit Performance
Admittedly, the LS100 is the first lighting kit I've ever reviewed. Consequently, I don't have experience with other kits from Razer, Daybetter, or Minger, for example, and I can't directly compare the luminance or brilliance of those kits to this one.
Having said that, I consider the LS100 light strips to be adequately bright out of the box; they get the job done. They provide a nice ambient glow to the room or wall without being a distraction (a small complaint I have with my Logitech G560 speakers).
Using Corsair's iCUE software, you can pretty much do anything with the LS100 light strips you can do with any of Corsair's RGB mice, keyboards, or headsets.
You can set up a single color and effect or several colors and effects across each set of strips per channel. iCUE has 20+ configurations, including staples such as static and colorwave, as well as audio lighting and text lighting. Audio, of course, provides ambient lighting based on the frequency of the sound source. Text provides the best white light brightness for reading text.
The audio visualizer is probably the standout as it works with any speakers. Smartly, you don't have to have special speakers or have them plugged into the LS100 controller. A typical setup will allow them to work without a hitch. I simply turned the functionality on through iCUE and turned my speakers up. The lights responded to the sounds immediately.
You can also select each individual LED on the strips for unique color patterns — if you have the patience. Having such granular control opens up possibilities, but I don't see the average user relying on it much.
Of course, you can also choose the speed, direction, and opacity of the effects and LEDs. You can choose the time interval for effects such as wave and ripple, and as expected, you have access to the entire 16-million color RGB spectrum.
Corsair iCUE LS100 Smart Lighting Kit Review
— The Bottom Line
Pros
Easy to install, with full kit of attachment accessories
Large amount of lighting effects through iCUE
Audio visualizer works with any sound source
Cons
Magnets must be attached to monitor, and they're not easy to get off
Controller power supply is a bit bulky and heavy
Lightstrip couplings can be hard to disconnect
Overall, Corsair's LS100 Smart Lighting Kit is a solid product. At $119.99, the starter kit isn't cheap, especially when compared to other light strips like the Razer Chroma and especially Daybetter. But you also get iCUE with the LS100s, including dozens of minute lighting options. The LS100 expansion kits are also competitively priced and offer several length options.
It also comes down to style and aesthetic. Unlike some other lighting options, the LS100s resemble thin, tubular glow sticks than a strip of lights. Depending on how you use them, it's something to consider.
It's also worth considering that the LS100 sync with other Corsair products, such as the K95 Platinum or the Harpoon gaming mouse, forming a cohesive ecosystem running through iCUE.
If you're considering RGB lighting for your monitor or desk, it's worth putting the LS100s on your list of considered products.
[Note: An LS100 starter kit and two LS100 expansion kits were provided by Corsair for the purpose of this review.]
8
Corsair iCUE LS100 Smart Lighting Kit Review: Lush Luminescence
Corsair's LS100 Lighting Kit adds brilliant, easy-to-install RGB to your monitor and room, even if it is a tad more expensive than the competitors.
What Our Ratings Mean
About the author