Cozy Grove is unabashedly made to be Animal Crossing-like, more so than any game out there. You're a young Spirit Scout who accidentally finds herself trapped on the very peculiar island of Cozy Grove full of character, delight, and ghosts bears. Lots of ghost bears.
If you took Animal Crossing and just indie'd the hell out of it, you'd get Cozy Grove. Made by the Quantum Astrophysicists Guild and Spry Fox, it's a game that shares the developers' distinctive aesthetics.
Spry Fox is perhaps most notable for Triple Town, which several years post-launch is still easily one of the greatest match-3 games ever made. It mixes matching with town-building, and most importantly, displays the developer's love of bears that has lingered through most of their games.
Cozy Grove Review: Animals Crossing Over
In Cozy Grove, however, that bear love is kicked up a notch. Here, the bears are fully fleshed out, if ghostly, characters with distinctive and endearing personalities, problems, and drives. As a spirit scout, it's your duty to help them along to the other side. On the most basic level, this involves much of the same tasks that make up the bulk of Animal Crossing. You go around the island every day looking for things.
You dig holes, shake up leaf piles, chip at rocks, go fishing, and shake trees to find resources, money, food, and other items. Resources can be made into tools, which can be upgraded with more resources. You can build all sorts of amenities to make the island more pleasant for the ghosts, flora and fauna, and yourself.
Fencing, lamps, lanterns, tables, chairs, and scads of other items, both useful and odd, can be created. Metal ore can be refined. Raw foods can be cooked into recipes. Sticks and various woods are used for all kinds of inventions. In short, the game plays nearly identically to Animal Crossing but feels much more narratively driven.
Cozy Grove reveals new sections of its island as you help the spirits, but this is a set world. While items and creatures that pop up each day might be random, the story beats and overall landscape are pre-determined. This is definitely on a smaller-scale compared to Nintendo's version, but players should still expect to get weeks worth of gameplay out of it.
This is because, much like Animal Crossing, only so many things happen on any given day. A bear might request something that requires multiple ingredients and recipes, for instance, that could take several days to gather. Some of those elements could even be only accessible after helping another bear. New holes to dig up, leaf piles to check, and other hidden goodies appear every day and often throughout the day.
Then, there's fishing. This being an island, the tides bring in a variety of fish rated from common to rare. There are shells to collect on the beaches, fruits and nuts to gather around trees, mushrooms, spuds, and plenty of other food-specific things that can be sold, cooked, used raw, and combined to make other dishes.
The vendor on Cozy Grove is a large fox who magically appears and sets up his caravan. He takes coins and gems, depending on what you're buying, and offers an array of items. You can also sell him things and upgrade his shop for enough money, which is found both by searching the island each day and helping spirits. When you help a bear, they add more light to their area, which increases the yields of fruiting trees (among other perks) and usually results in more coins.
There are smaller spirits and imps running around the island who tend to flee at the sight of you, but also frequently need something (which appears as a thought bubble above their head). So, if one wants a potato, you can throw the spud at it, whereupon it will gleefully leap at the potato and gobble it up, yielding further rewards.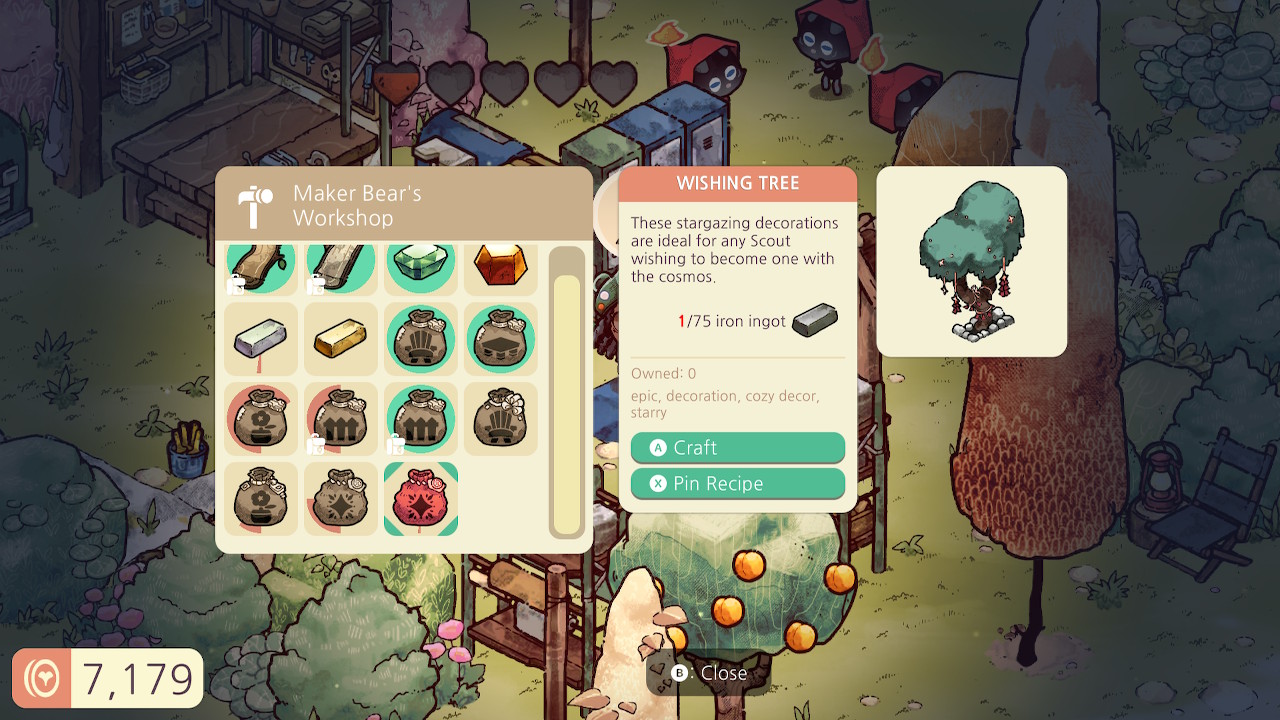 There's a hilariously bleak postmaster who gives you mail and tasks every day, a chef bear, builder bear, hippie recycling bear, and plenty of other endearingly strange denizens of the island. The goal is ultimately to uncover Cozy Grove's history by helping them over the course of weeks and there is, strictly speaking, a story ending, but you can keep going after as well.
An important aspect of helping bears is that they give you spirit wood, which you feed to your talking, sentient campfire. This increases the fire's glowing powers, unlocks more of the island and ghosts, and generally serves as the main goal for pushing the story forward. There are only so many potential logs you can get on any given day and the fire will tell you when you've found them all that day.
Cozy Grove is distinctive for its beautiful hand-drawn visual style and lovely, calming soundtrack. The game is absurdly charming, with its adorable cast and landscape designs, but the story itself offers a deep layer of complex and frequently darker themes. These bears are lingering here because their lives were unfulfilled in some major way, and revealing their backstories is incredibly satisfying.
Another major advantage is that Cozy Grove is cross-platform. So, players on PC, Xbox One, Series X|S, PS4, PS5, and Switch can all experience the distinctive Animal Crossing-like gameplay on their preferred platform. Sadly, there's no cross-save.
Cozy Grove Review — The Bottom Line
Pros
Lovely hand-drawn art style and soothing ambient soundtrack

Fascinating characters with surprisingly deep stories pushes the gameplay along

Things to do every day and reasons to come back the next day

A more intimate and personally engaging take on

Animal Crossing

Cross-platform!
Cons
Gameplay is definitely blatantly copying the overall

Animal Crossing

mechanics

Nowhere near the extensive level of building and customization of Nintendo's AAA-beast

No cross-save to play your island on multiple platforms
If you've played Animal Crossing, Cozy Grove will feel instantly familiar. It leans heavily into that strange daily life of hunting and gathering-meets-personalized decor style gameplay.
There's no major earthmoving or huge home construction, true, but instead, players are given an island sandbox where the gameplay is tied far more heavily into a personally meaningful narrative.
[Note: Spry Fox provided the copy of Cozy Grove used for this review.]
9
Cozy Grove Review: Animals Crossing Over
Cozy Grove presents island life sans crass Capitalistic Raccoon Overlords, and is a lovely experience through and through.
What Our Ratings Mean
About the author