There are very few games like the original Dark Souls.
In the seven years since its release, Dark Souls and its immediate sequels have permeated the gaming zeitgeist to such an extent that Souls-borne is now a recognized subclass of RPG. Despite the games that have come after it, the release of Dark Souls remains an undisputed watershed moment for gaming. It's the game that made "git gud" a subculture and gave an entirely new meaning to the phrase "****ing hard."
It's good news, then, that the ethos of what made the original so timeless is at the core of Dark Souls: Remastered. Or in other words: praise the sun this remaster isn't a dud.
Dark Souls Still Holds Up
OG Dark Souls players will find that almost everything in the remaster is exactly as they remember it: enemies are in the same locations, bosses are just as difficult, and exploration is just as important.
But the word "remaster" itself entails change — and not every tiny detail of Lordran is the same. The most noticeable differences come on the graphical front, while others can be found in the game's PvP elements. Some, for better or worse, firmly fall into the neither-positive-nor-negative category of "meh."
If you were worried Dark Souls: Remastered wouldn't run at a buttery-smooth 60fps at 4K (or more technically, 1800p upscaled/60), you can put your concerns to a fecund bed. From the game's opening sequence to its end, it's obvious that Dark Souls: Remastered takes full advantage of current-gen power.
In my roughly 40 hours with the game, I still have yet to encounter any noticeable framerate drops. In fact, gameplay is so silky that I've not run into so much as a stutter. Less janky graphics don't remove some hit detection issues inherent in the game's design, but it does mean more confident ripostes and backstabs — and better animation reads on pesky enemies like balder knights, painting guardians, and infested ghouls.
Thankfully, it also means that notoriously intensive environments like Blighttown, The Depths, and other formerly sluggish hells finally have their shit together. Where the game once struggled to hit 30 frames (or where it clawed to reach even half that threshold), Dark Souls: Remastered doesn't miss a beat.
Some may say the improvements fundamentally change areas such as Blighttown, making them "easier" when compared to their original versions. But more appropriately, I think the increased frames make these areas a bit more fair and entertaining for both old and new players alike.
Don't be mistaken, the scaffolding leading to Blighttown is still mercilessly treacherous; the tight alleyways of the lower Undeadberg are still murderously tedious; and the cramped corridors mazing through The Depths are still ruthlessly insidious. It's just that now combat feels better balanced, with lag, tearing, and artifacts things of the distant past.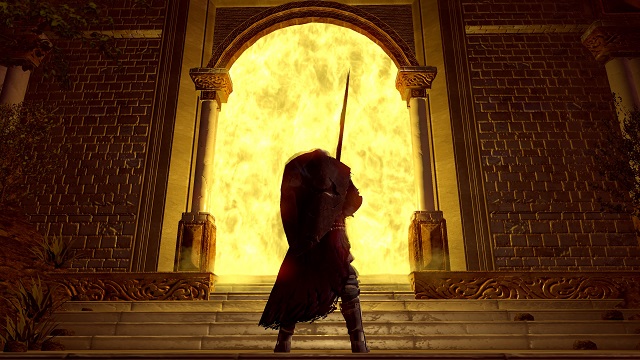 Another improvement that makes Dark Souls: Remastered a more enjoyable experience comes in the form of volumetric lighting.
Naturally, Dark Souls is, well, a dark game, one where both light and dark work in concert to develop the atmosphere of each distinctive area. And while the original was no slouch when it came to rendering light and particles, Dark Souls: Remastered enhances those effects to a great degree.
Bonfires burn with new intensity, souls glitter in brilliant blue-white light, and spells like Great Soul Arrow illuminate dark surroundings in dazzling eldritch light shows. Most noticeable of all are the improvements to outdoor lighting, where sunlight scatters across environments more vibrantly than ever before, repainting familiar vistas into beautiful new tapestries.
But just as gorgeous as the environments of Dark Souls: Remastered can be, there's also a strange counterbalance at play: not everything looks better. Watch any comparison video, and you'll see that some of the game's renderings simply looked better on the PlayStation 3, a strange thing to say about any game — let alone one in the Souls series.
And depending on your display, Remastered might look a bit (or a lot) over-saturated. Since 4K televisions typically default to high contrast settings, you'll find that areas of Blighttown are now drenched in a sickly green or that areas of Anor Londo are bathed in fiery red. In other areas, bonfires can look like they've been put through too many Instagram clarity filters, which ain't really a good look.
Playing on a TCL 50″ 4K HDR, it took about an hour or so for my eyes to fully adjust to the remaster without changing my default settings (which work fine with games like Horizon: Zero Dawn and God of War). Sure, you can easily tweak your display's contrast settings, but if you don't have multiple options for all your inputs, you'll find yourself doing one of two things: changing them back and forth every time you play or just getting used to it, neither of which are completely ideal scenarios.
Git Gud or Die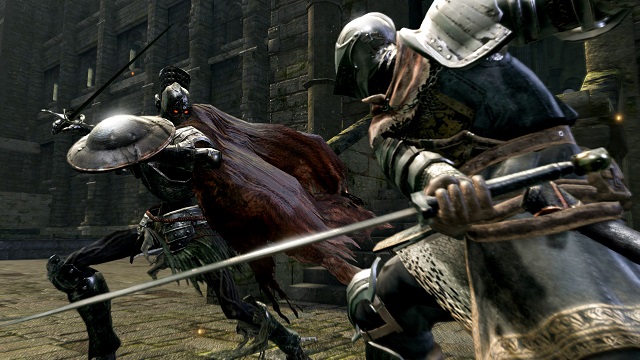 If you've never played a Souls game, then this might be a tricky place to start. This is a hard game, but not in a particularly nefarious way. You will die, and you will question the very basis of your sanity as you find new ways to give up your perpetually escaping humanity.
Exploration can be difficult. If you're used to a minimap (or any map at all), you'll quickly discover that memorization is not only key to getting around but also to surviving. You will backtrack. You will grind. And you will get frustrated. But the beautiful thing about Dark Souls is that it teaches you patience and perseverance in spades. Every death leads to better understanding.
Perhaps unlike any other game, Dark Souls will make you a better gamer.
If you're returning to Lordran, you'll not only notice the additions above, but also a few quality of life upgrades. Now you can change factions at covenants, use multiple items at once, and scale menus to see them better. All of these things bring Dark Souls: Remastered more in line with both Dark Souls 3 and other games in the current generation.
If you're a PvPer, you'll be glad to know that matchmaking is better than ever before. Dark Souls Remastered implements DS3's password system and tweaks to balancing make sure that OP players won't simply invade and wreck you because of their gear.
Dark Souls: Remastered might not completely hold up these days, with some areas and design choices showing their age when compared to Dark Souls 3 or Bloodborne. And it's a shame that the developers didn't take the time to revamp and/or finish some of the areas, such as the still-terrible-looking Lost Izalith. But whether you're new to the series or not, Dark Souls: Remastered's misery-soaked world is a testament to vision and execution.
Dark Souls: Remastered is the best way to play a modern classic.
[Note: The developer provided the copy of Dark Souls: Remastered used in this review.]
8
Dark Souls Remastered Review: Praise the Sun
The embers of Dark Souls might not burn as bright seven years later, but Dark Souls: Remastered proves this is still one of the best RPGs of the modern era.
What Our Ratings Mean
About the author