Since I received a PlayStation 5 review unit, I've had the pleasure of enjoying games like Spider-Man: Miles Morales, Astro's Playroom, The Pathless, Bugsnax, and a few others I can't talk about yet, and they've all looked extremely nice visually. But Devil May Cry 5: Special Edition is the only PS5 game so far that's really made me audibly gasp every few minutes entirely because of its style.
For those unaware, Devil May Cry 5 released in March 2019 for PC, PS4, Xbox One. The Special Edition dropping this week on next-gen consoles ups the visuals with a host of options, adds Vergil as a playable character with new story elements, and includes various other bonus modes and difficulty options.
This is the best version of the game to play and, arguably, the best overall Devil May Cry game made to date.
Devil May Cry 5: Special Edition Review — More Stylish Than Ever
With DMC 5 Special Edition, you get to play through every mission as Vergil — and it's glorious.
Vergil was introduced as a playable character in Devil May Cry 3: Special Edition and was then added in Devil May Cry 4: Special Edition. Notice a trend here?
If you're like me and not a diehard Devil May Cry fan, luckily, there is a short subtitled series of animations that explain all of the events from the past games leading up to Devil May Cry 5. It's only a few minutes long but does a great job of outlining who Dante, Nero, and Virgil are in the grand scheme of things, so you don't necessarily need to have played any of the past games to jump in headfirst here.
Honestly, every game should have something like it, especially if it's a sequel launching on a new platform like DMC 5 is on PS5 and Xbox Series X|S.
Other than the visual and performance enhancements, which I'll cover more a little later, there are three main additions: Turbo mode, Legendry Dark Knight difficult, and the inclusion of Vergil, Dante's twin brother, as a playable character.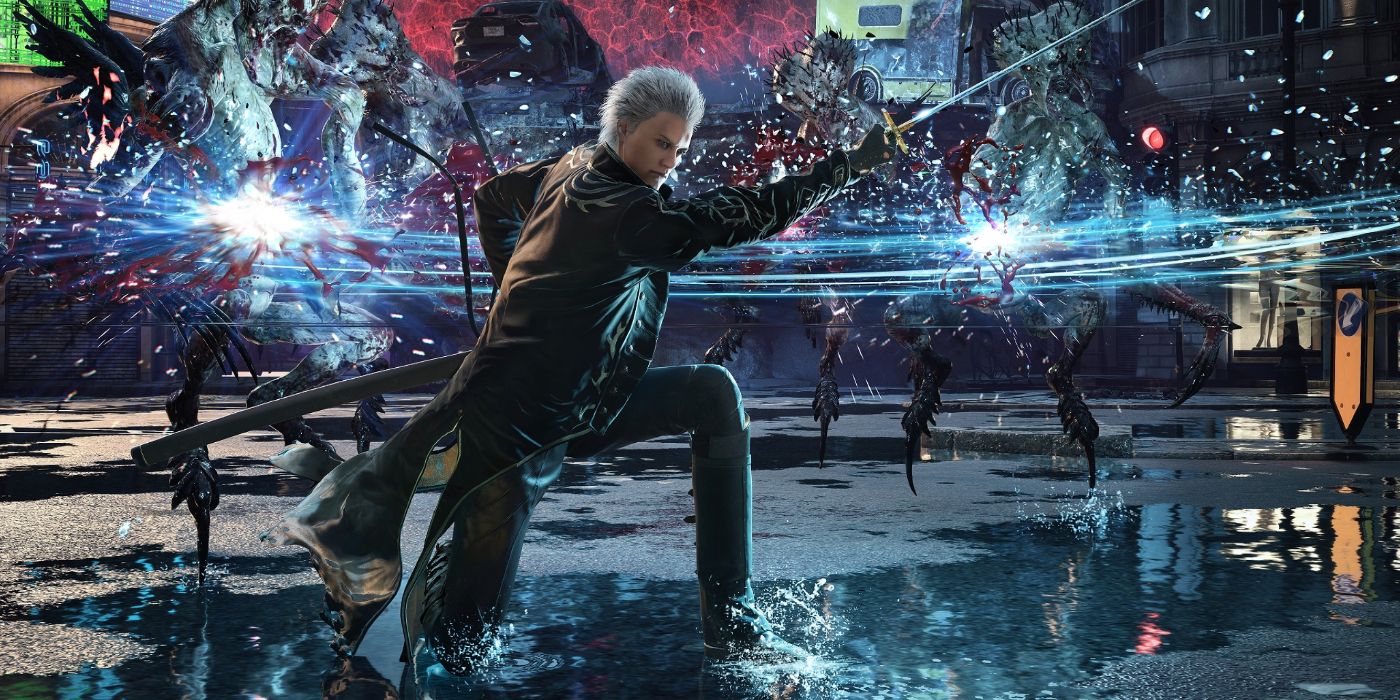 Similar to the Special Edition version of Devil May Cry 4, Turbo Mode ramps up the intensity by making the entire game run 20% faster. Alternatively, Legendary Dark Knight mode absolutely floods the screen with enemies almost all the time. It's a great way to get a thumb workout in, and it really tests your reflexes.
Let's talk about Vergil specifically, though. One of the biggest issues with the base game was that you were forced to bounce between Dante, Nero, and V through the campaign, regardless of if you wanted to switch characters or not. This was a bummer, for me, because I'm not a big fan of how clunky Nero feels, especially at first. With DMC 5 Special Edition, you get to play through every mission as Vergil — and it's glorious.
What I love about his moveset is just how fast and lethal it is. Everything revolves around his katana, and he's so ferocious in combat it gets my blood pumping every time he starts slashing. I particularly love how he can shift and teleport between enemies nearly instantly to close gaps and keep combos going.
Virgil is almost like a combination of the other three characters into one super-powerful demon slayer. I really, really hope he gets his own entire game sometime soon.
Style and Substance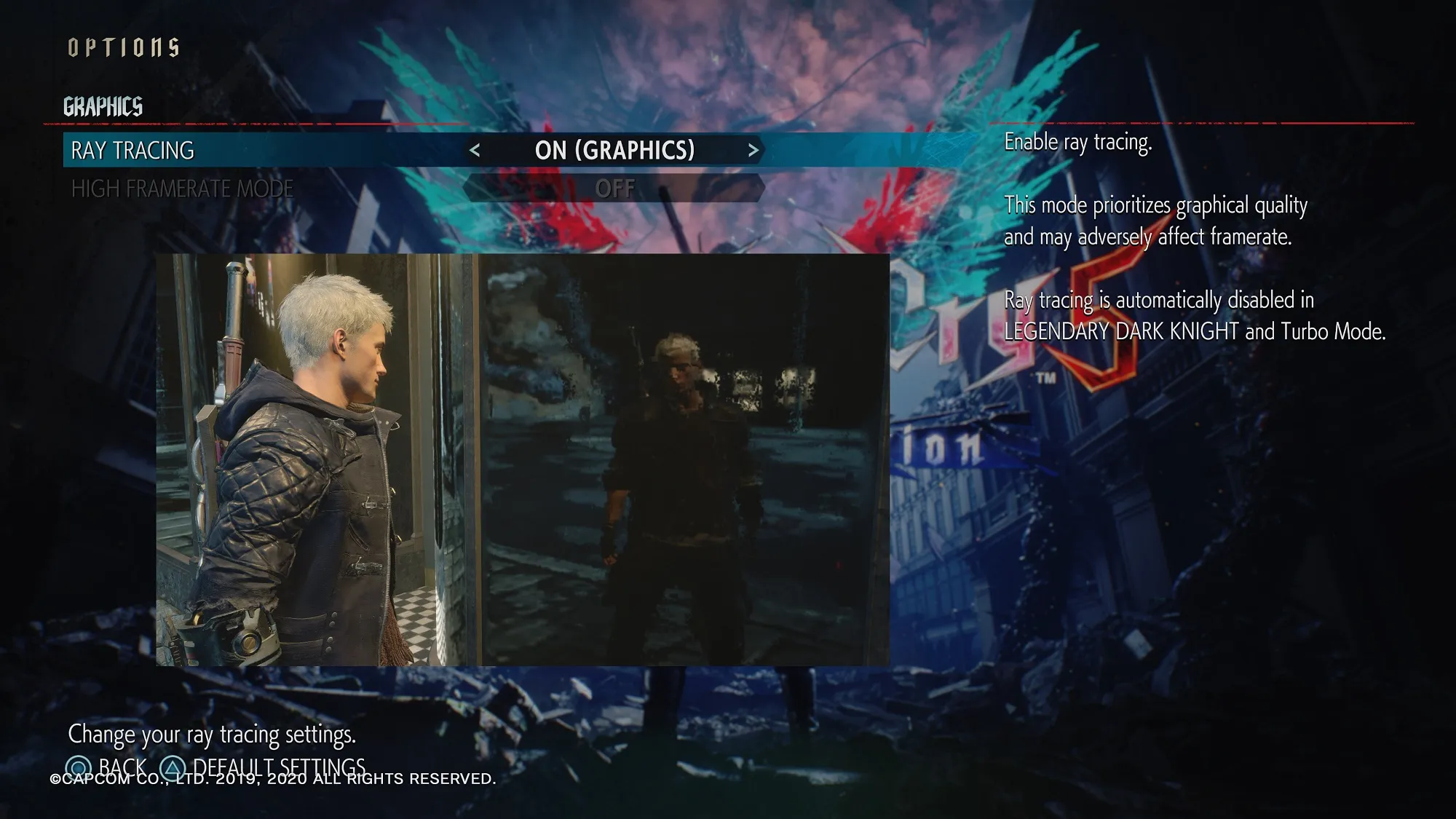 Even though it's technically just an expanded port, DMC 5 SE shows that Capcom went the extra mile to really deliver on the fidelity side of things. You can use ray-tracing in either 1080P at 60fps or 4K at 30fps. And if you've got a TV capable enough, you can even bump DMC 5 SE all the way up to 120fps with its "high framerate mode." Unfortunately, my TV only goes up to 60fps, so I couldn't test that functionality.
However, the game seems to detect whether or not your TV can hit that mark independent of your console settings.
Another big benefit of DMC 5 SE on the PS5 — and this cannot be overstated — are the ultra-fast loading times.
I spent most of my time using the lower fidelity mode or even turning off ray-tracing altogether because, as beautiful as this game is, it felt I needed to pause and enter Photo Mode to really appreciate the enhancements.
Reflective puddles and amazing lighting effects are great, but when you're busy fighting hordes of relentless demons, you typically need to focus on the combat more than the water reflections. That's why getting a faster framerate took priority for me.
The video below does a great job of demonstrating how much the added graphics options can make a difference if you're into that sort of thing though.
Another big benefit of DMC 5 SE on the PS5 — and this cannot be overstated — are the ultra-fast loading times. When you queue up a mission from the main menu, you're inside the game, slashing away at demons, within a matter of seconds. You barely have time to reposition yourself, let alone have enough time to check Twitter or take a bathroom break, before you're ready to go. For a game as fast-paced as DMC, the less you have to wait the better.
All that being said, the format for releasing this edition feels odd. If you paid $60 (or more for the Deluxe edition) just a year ago, Capcom is asking for another $40 for what is, basically, the same game.
That's not to mention the fact that DMC 5 Special Edition, with all of its enhancements and new features, is not available at all on PC, nor is that version getting patched to include the new features. It's inexplicable why Capcom would gate off content in such a way, especially from PC players that very likely have gaming setups on par with or surpassing the PS5 and XSX.
Thankfully, though, Capcom is releasing Vergil as DLC on December 15 for last-gen and PC versions of the game for just $5. However, this doesn't include any of the other new modes or technical enhancements.
Devil May Cry 5: Special Edition Review — The Bottom Line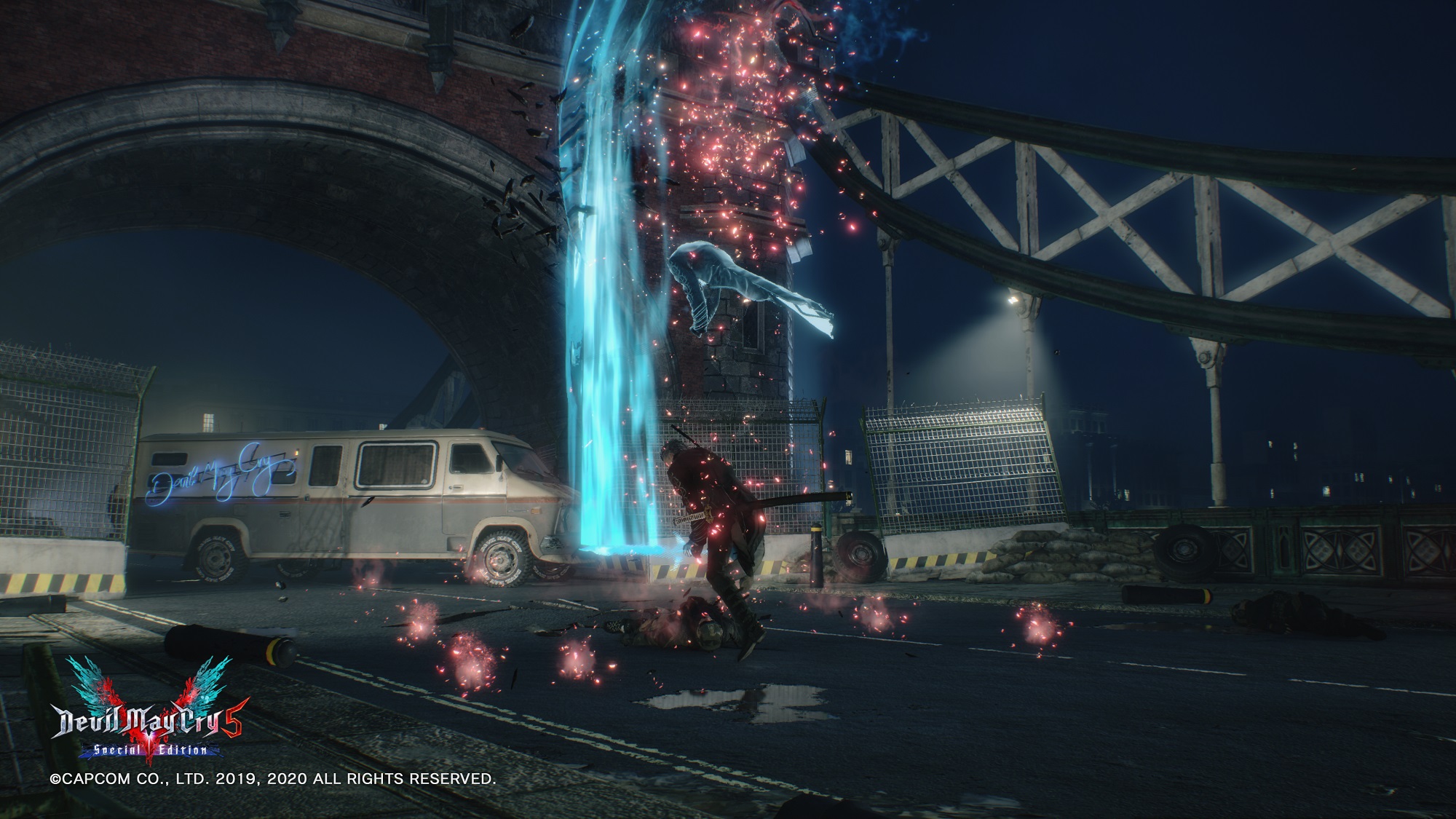 Pros:
Visually stunning and makes great use of next-gen hardware
Excellent gameplay

—

Vergil is a blast to play and easily my favorite character
Lots of options for tweaking visuals and performance settings
New game modes offer a solid challenge for experienced fans
Cons:
Bizarre pricing and new content platform release strategy, completely excluding PC players
Vergil's campaign is still basically the same experience
Little reason to purchase if you've played DMC 5 already
Assessing a re-release of an already excellent game is difficult when it doesn't add a ton — or if it has a weird pricing and release strategy. On the one hand, there isn't much new here other than a new playable character with a handful of new cutscenes from his perspective. The new game modes are neat for replayability, but it's still just all remixing the game and not delivering much that's truly new.
But on the other hand, it's such a great game that it's hard to complain. If you haven't played DMC 5, then you absolutely should pick this up, no questions asked. If you have played DMC 5, then it might not be worth it. However, Vergil is the most fun character to play and absolutely makes the game even more intense and badass due to his excellent moveset.
Fingers crossed he gets an entire game all his own sooner rather than later.
Devil May Cry 5 may not have a whole lot that's truly new to offer, but what it does add and change manages to elevate an already excellent action game into the upper echelon of the entire genre.
[Note: Capcom provided a digital download code of Devil May Cry 5: Special Edition on PS5 for this review.]
9
Devil May Cry 5: Special Edition Review — More Stylish Than Ever
Devil May Cry 5: Special Edition makes a great game even better with a new character, new modes, and overhauled visuals for next-gen consoles.
What Our Ratings Mean
About the author