The authors of This War of Mine came back with another story, full of pain, human suffering, but not without a glimpse of hope. Frostpunk, a new project from 11 bit studios, is a very different game than This War of Mine, and yet it follows the same philosophy — making complex decisions and living with their consequences.
Tragic events become the catalyst for character development and the deep base for an exciting story. If you previously played This War of Mine, there you could witness a small group of people who found themselves in a very difficult situation, and their lives depended on your decisions. But Frostpunk goes even further than that!
The Story and the Setting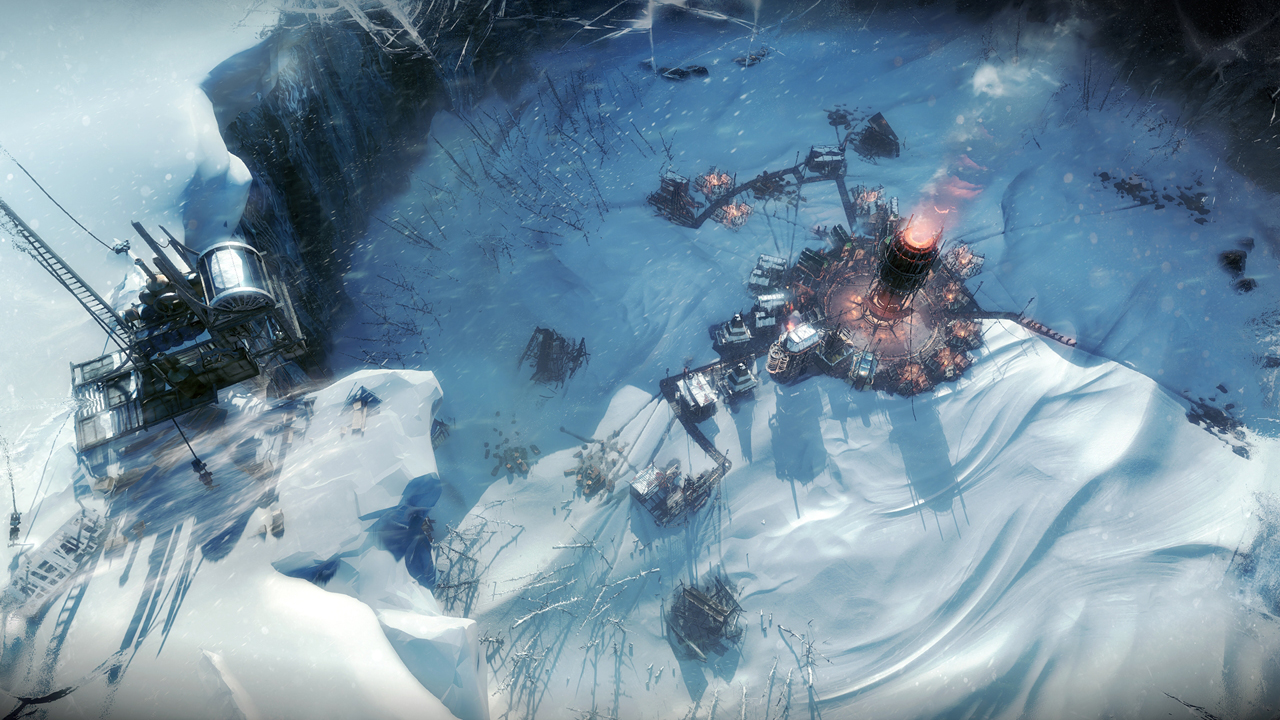 Frostpunk reveals an alternative history of the 19th century. In the game's version of 1886, a terrible storm befell the whole world and covered every single inch of it with ice and snow. Millions of people moved south in search of salvation, but found only chaos and death. Great Britain decided to go the other way and organized several settlements inside the ice craters. The source of life was found in giant thermal generators capable of heating entire cities.

The next storm came from the south a little later and knocked out most of the world's population. Some people managed to escape, including a modest group of refugees who stumbled upon one of the abandoned generators. Thinking that this was the best chance to survive, they decided to stay and build a new home. This is where your role as a survival manager begins.

As you may have guessed already, Frostpunk is a survival strategy game that involves lots of building. The setting is quite unique and features frozen landscapes in combination with steampunk aesthetics. The gameplay is very much similar to Surviving Mars, a current indie Steam hit, and it looks like Frostpunk has everything necessary to be a worthy competitor.

The Survival Aspects of the Gameplay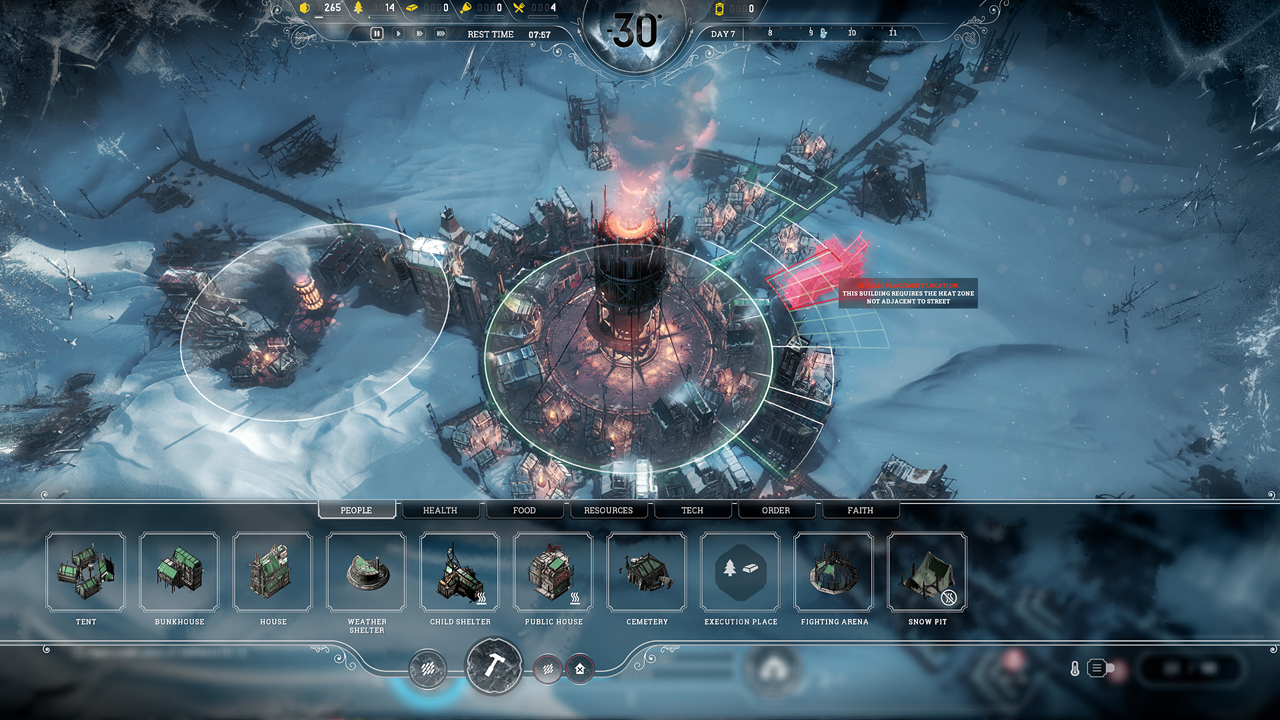 It's no secret that the level of difficulty in Frostpunk is pretty high, which means that the player needs to put forth a lot of effort in order to survive. To begin with, you need to start the generator. It requires coal, so the first concern of the new mayor of the settlement is the extraction of resources. Wood and steel will come in handy very soon, so a few free hands should be sent to fetch them.
Your people will have a hard time working in the conditions of such merciless cold. Then, you need to make sure that your workers have a roof over their heads and food supplies, not to mention medical care. The game throws you into the thick of the problems from the get-go.
You start building small shacks so that your people don't freeze under the open sky. An emotional connection with the residents of the settlement really grows on you through smart visual design. You can even zoom in really close, just enough to examine each settler and see how much they tremble.
At that moment you realize the harsh truth about this game: all these characters must survive through your decisions, and there is actually a huge chance that you will fail. This thought strikes you so hard that it becomes a bit depressing, but then you really begin to think everything over.
This is the point where the freedom of choice within the gameplay leads you to certain decisions, such as turning off a generator for some time in order to save some coal. The workers will have to wait for more comfortable houses just to keep enough wood for the construction of a hunting hut, which is a necessity if you want to keep them fed, and so on and so forth….

The Book of Laws

Hard times require unpopular decisions, and you will have to make them regularly. As a new mayor you will have the power to sign laws, among other things. As a rule, you have to choose between two options: soft and inefficient, or tough but effective.
For example, you will have to decide how to deal with the deceased ones. You can build a cemetery to let people say goodbye to their loved ones, but the construction of the cemetery will draw a lot of resources, and all the posthumous ceremonies take up precious time. On the other hand, you can dump bodies in a corpse disposal, but be prepared for some bad reactions in this case.
Frostpunk sets these incredibly difficult goals: on one hand, you must survive, and on the other, you just can't let people fall into despair. It's incredibly easy to provoke a riot in these circumstances. When discontent grows, local people start to make certain demands, threatening with a strike.
Too many hungry workers begin requiring drastic measures. You can brush it off or promise to feed all those suffering in a couple of days. But if you don't follow through with your promises, it will turn into a real catastrophe!
Final Verdict
Both in technical execution and gameplay design, the game is practically flawless. You won't see such complex decision-making processes in any other strategy game that is on the market today.
In order to survive, you need to constantly develop and grow. The research of new technologies will increase the efficiency of mining resources and medicine, as well as provide other benefits for your little civilization. Every new day brings new choices. Over time you become accustomed to the constant struggle and sense of responsibility.

Frostpunk is not only an endless survival for the sake of survival. You will find out the reasons behind the new Ice Age as the story takes you further out into the world. Frostpunk is a hard but fair game. It's incredibly complex and may create an illusion of great moral pressure. But that's the beauty of it!

[Note: A copy of Frostpunk was provided by 11 bit studios for the purpose of this review.]
About the author