Adult Swim has given viewers a great nightly channel, bringing adult classic shows like Family Guy, King of the Hill, and American Dad to late night cartoon television, while also giving us originals like Rick and Morty, Space Ghost Coast to Coast and Aqua Teen Hunger Force. And all those 3am hour specials, which are completely weird and sometimes terrifying.
But Adult Swim has also given us some great games — both classic browser games like 5 Minutes to Kill (Yourself) or Candy Mountain Massacre Revenge, and more modern games like Rick and Morty Pocket Mortys or Animation Throwdown. But nothing compares to the beauty that was just released, titled Small Radios Big Televisions.
Story and Gameplay
While there isn't much of a story, the game places you in a giant facility with cassette tapes, exploring areas and collecting gems which can be used to open new locations in the facility. This is a puzzle game, and some puzzles may seem too complex or just hard to perform in places. And while there are some issues with that, the puzzles are satisfying once finished.
Most of the amazing gameplay comes in once you obtain cassette tapes, which take you to a certain area depending on what the tape is titled — tapes saying "Forest" or "Coast", for example, transport you to that area. This element goes farther by putting the tapes in a type of containment, so you have to nearly break them to reveal more secrets.
Art Style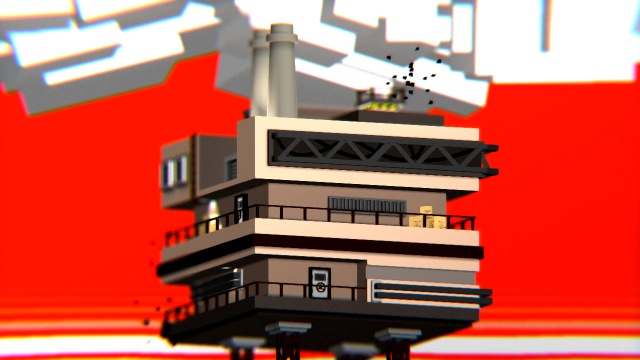 The art style used for Small Radios Big Televisions is almost like a painting with how beautiful it is. The game on the outside has a sort of hand-drawn 2D art style mixed with simplistic 3D animation as you turn the facility to examine it. But once you get inside, everything is either very dim or very brightly lit, with an aesthetic that makes one think of Valve games.
While the art style does seem overdone in some spots, the game mixes the two elements perfectly and makes a fantastic overall aesthetic that is visually perfect.
Controls
While there are some slight issues with the controls depending on what platform you play on, most of the time the controls run smoothly. You are really only given a few prompts for the game — looking around, the main action button, the map, and the ability to pull out your cassettes and radio.
There are some parts where the controls for looking are a bit touchy, causing some puzzles that require dragging certain objects around to behave erratically, which could cause some frustration here and there.
Music and Sound
The music is possibly one of the best things about this game. With simple sounds for your surroundings, the music really makes you feel exactly what you are meant to feel based on the level.
Overall
Overall, the game itself is a shockingly fantastic game from Adult Swim. From gameplay to graphics, this game is possibly one of the better indie games released this year, and is recommended for anyone seeking a beautiful, challenging puzzle game!
9
How Perfect Is Small Radios Big Televisions?
Adult Swim had made some fantastic games in the past, but nothing can even compare to Small Radios Big Television!
What Our Ratings Mean
About the author