I'm a real stickler when it comes to keyboards. Because I spend 8+ hours a day typing at warp speed (often with a sandwich in one hand), I need a keyboard that's fast, responsive, durable, and functional. Most keyboards that I've tried will check a few of those boxes, but not all of them. In a market that's increasingly ridden with "innovations" like hyper-granular RGB customization and sharp-edged, space-saving chassis, I was beginning to think that the mechanical keyboard of my dreams didn't actually exist.
But then I got my hands on the HyperX Alloy Elite. This flagship entry in HyperX's relatively new keyboard lineup is nice to look at, and even nicer to play with. After running it through the ringer for weeks of furious typing and frustrated gameplay, this keyboard has proven to be a trooper. With a thoughtful, refined design and unmatched simplicity of use, the Alloy Elite has taken its rightful place as my favorite gaming keyboard on the market right now.
Unboxing
Packaged in HyperX's iconic red-and-black fare, the Alloy Elite comes with the keyboard itself, a detachable wrist rest, a set of textured keycaps (silver for W/A/S/D and red for Q/E/R/F), and a handy keycap switcher to change out the stock keys with.
While this is just about standard for most keyboard unboxings, I quite appreciated the inclusion of the keycap switcher — almost as much as I appreciated the textured keycaps themselves. Anyone who has tried to remove keycaps for replacement or cleaning knows how aggravating it can be to do so by hand. So having this little tool was a huge boon in that regard, and something that I'd like to see more keyboard manufacturers do for all the money we throw at their products.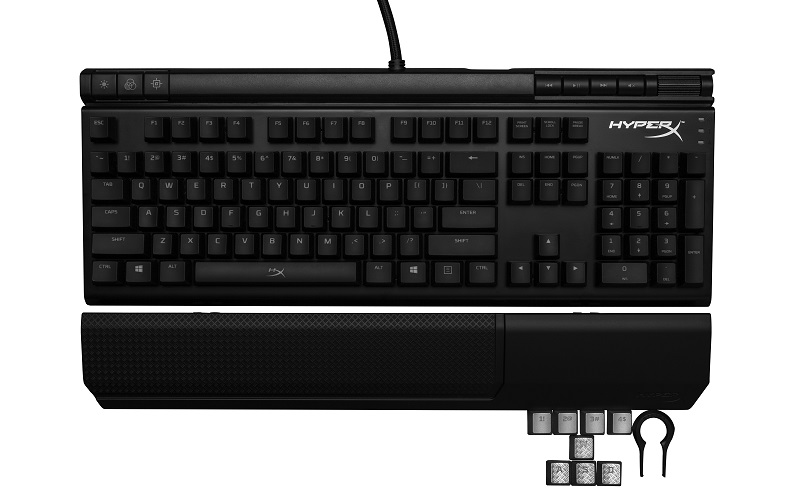 Design
The Alloy Elite sports a solid black aluminum body and a plastic detachable wrist rest that's partially textured on the left side. The keys themselves sit on your standard Cherry MX switches (blue, brown, or red), and include a 10-key numpad as opposed to its tenkeyless sibling, the Alloy FPS. If you choose to install the extra keycaps provided, your home gaming keys will have a slightly textured feel that sets them apart from the smooth caps on the rest of the board.
Like most HyperX products that feature any sort of lighting, the Alloy Elite eschews customizable RGB and offers only its brand-standard red for backlighting. This might be a turnoff for some gamers who are pickier about their color palates, but the coloration is both sleek and highly visible on full brightness. (And an RGB version of this keyboard is already in the works.)
In lieu of a full software suite, the key lighting can be controlled with two setting buttons on the board that let you cycle through a few different lighting schemes and brightness settings.
In addition to the light controls and the standard game mode key, the top bar of this keyboard also features four media buttons (play/pause, rewind, fast-forward, and mute) and a nifty scroll wheel on the far right that lets you control your volume. On the underbelly of the board, you'll find two feet that let you prop up the keyboard for a different angle. And it's all connected to your computer via a highly durable braided cable.
For all these features, there is no proprietary software to accompany the Alloy Elite. Keeping in line with HyperX's tradition across all its headsets and the Pulsefire FPS mouse, this keyboard is 100% plug-and-play. While some mod-happy gamers might find this a little archaic, it's one of my favorite things about this keyboard and nearly any other HyperX product. I'm not the type to dig deep into barely perceptible customizations (like you can on the Corsair K95), so being able to connect this board to my PC and never having to fiddle with it again was a huge plus.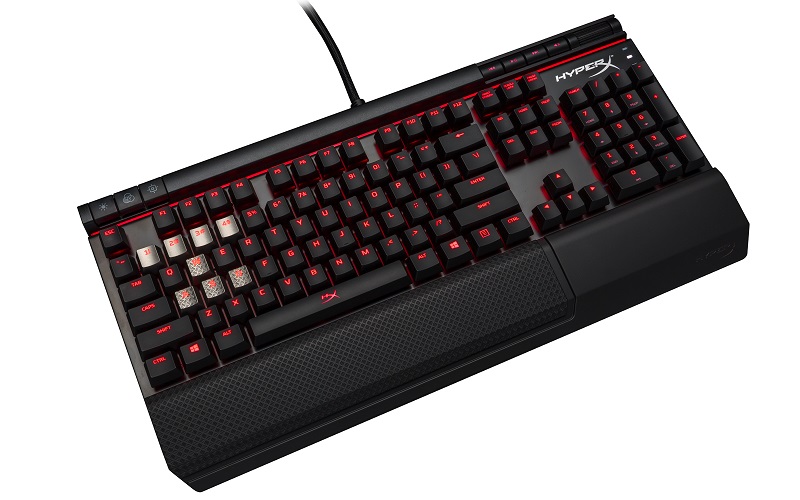 Performance & Comfort
Whether I was typing up articles or trying to hit killshots in SMITE, the Alloy Elite kept up with every keystroke I made. The Cherry switches have an excellent response time (as usual), and I could press as many keys as I wanted at once without losing any input.
That said, light-handed gamers will want to be careful with what switches they choose. These keys require a solid amount of pressure to register, and probably won't be great for typing if you have feather-light strokes. Fortunately for me, I slam on keys as though I'm trying to resuscitate them, so typing with the Alloy Elite was no problem (and felt nice to boot).
Quality feedback aside, the textured keys were also a nice touch. Though they sometimes distracted me while typing, they were a huge boon in-game. With the raised ridges to anchor my fingers and indicate where my home keys were, I found myself misfiring abilities far less often than I would when blindly trying to reposition my hands.
There are only a few areas in terms of overall comfort and performance where the Alloy Elite falls short. My biggest gripe was with the placement of the F12 key in relation to the backspace bar. Because of how narrow the space is between the function row and the top row of standard keys, I found myself hitting F12 a lot when I only wanted to hit backspace. While this was a negligible issue at first, constantly activating the F12 DevTools command in Chrome while trying to fix a spelling error did get really tedious.
Other than that, my only complaints have to do with the body of the board and the volume of its key feedback. While I'm used to loud mechanical keys, the Alloy Elite seemed to have some that were especially loud. The spacebar was the biggest offender — to the point that the poor editor who shares an office with me complained about it a few times.
Additionally, the wrist rest isn't very comfortable because of its plastic material and lack of padding. It also features a groove between its textured and smooth areas that seems to be good for nothing except catching crumbs. But I really only noticed discomfort if I typed and typed for extensive periods of time. Having a slightly higher angle at which the keyboard sat would have gone a long way here.
Functionality
The Alloy Elite is probably my favorite gaming keyboard of all time (just barely winning out over the Logitech G Pro), but it's definitely my favorite in terms of secondary functionality. The keys themselves perform exactly like you'd want them to, but peripheral functions across the rest of the board really put it a step ahead of its competitors.
The backlighting looks nice, and being able to fully control its limited range of settings right from the keyboard was a big plus. There was no need to agonize over specific color schemes or optimal lighting patterns — I could just cycle through until I found a scheme that worked, then move on. And having all the controls on deck made it a breeze to switch lighting setups without clicking away from my Paladins match.
Aside from that, I suppose it's time I admit it: the volume wheel in the keyboard chassis is by far my favorite design feature on the Alloy Elite. The simplified lighting controls and textured keys were close contenders, but the volume wheel really did it for me. I've never seen another keyboard that implements volume controls in this way, and the scroll wheel was much easier to use than a keyboard macro, dedicated button, or headset control.
Volume control was literally right at my fingertips both in and out of game — so I could give the wheel a quick swipe in either direction between auto-attacks to make sure I was hearing enemy ultimates or to tone down party chatter. It's a feature I never wanted until I had it, and I've had trouble using other keyboards since.
My only issue with the peripheral design features of this keyboard was the placement of LED indicators for Caps Lock, Num Lock, and Game Mode. Because of the key height in relation to the chassis, these indicators were extremely difficult to see at most angles unless you craned your neck (though I'm barely 5'2′, so maybe taller folks won't have the same issue). Some slightly different placement would have been nice to see, but overall I didn't find myself too concerned with this minor design hiccup.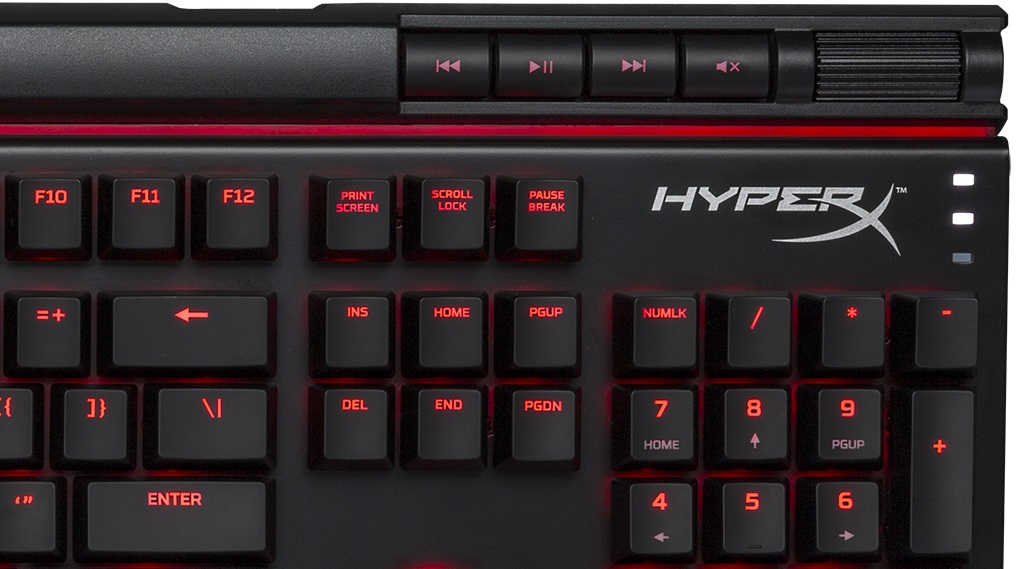 Verdict
In spite of a few issues with long-term comfort and some questionable design choices, HyperX really got it right with the Alloy Elite keyboard. It's well-built, responsive, and offers unmatched simplicity of use in both its plug-and-play design and its peripheral features.
If you're looking for a keyboard that gives you a full suite of customization options and all those other fancy features that drive up price tags for gaming keyboards, you'll probably want to look to Corsair or Logitech for your next board. (Or if RGB lighting is your only must-have, you can simply wait until the RGB version of the Alloy Elite releases at an undetermined time later this year.)
But if you're willing to let go of a few cosmetic enhancements for a well-rounded keyboard with a wealth of functionality and utilitarian details, the Alloy Elite will be right up your alley. When you're fixing volume and lighting schemes on the fly, you won't regret it.
The HyperX Alloy Elite gaming keyboard is currently available on Amazon for $109.99.
[Note: HyperX provided the Alloy Elite keyboard used for this review.]
9
HyperX Alloy Elite Gaming Keyboard Review: The Devil's in the Details
There may not be a ton of bells and whistles here, but certain design features of the HyperX Alloy Elite keyboard will make you sing.
What Our Ratings Mean
About the author