HyperX has done it again. They've been making a name for themselves with their comfortable-yet-affordable headsets, and the newly released Cloud Stinger is a worthy successor to that reputation. It boasts the same quality and wearability that you'd expect from any HyperX headset, but adds a few small features to take these cans to the next level.
Unboxing & Build
The Cloud Stinger has the typical HyperX aesthetic — jet black body with a red logo emblazoned on the side. It's got the steel skeleton you know and love, cased in a lightweight textured plastic to keep the set from being too heavy. Instead of a detachable mic like what you'll find on other models, this iteration uses an integrated swivel mic that's made from the same textured plastic as the rest of the exterior. There's also a handy volume slider hidden on the bottom of the earpiece opposite the mic.
The box doesn't come with much else — just a wonderfully long cord (seriously…it's SO long) with a Y-adapter that will let you split the headphone and mic jacks.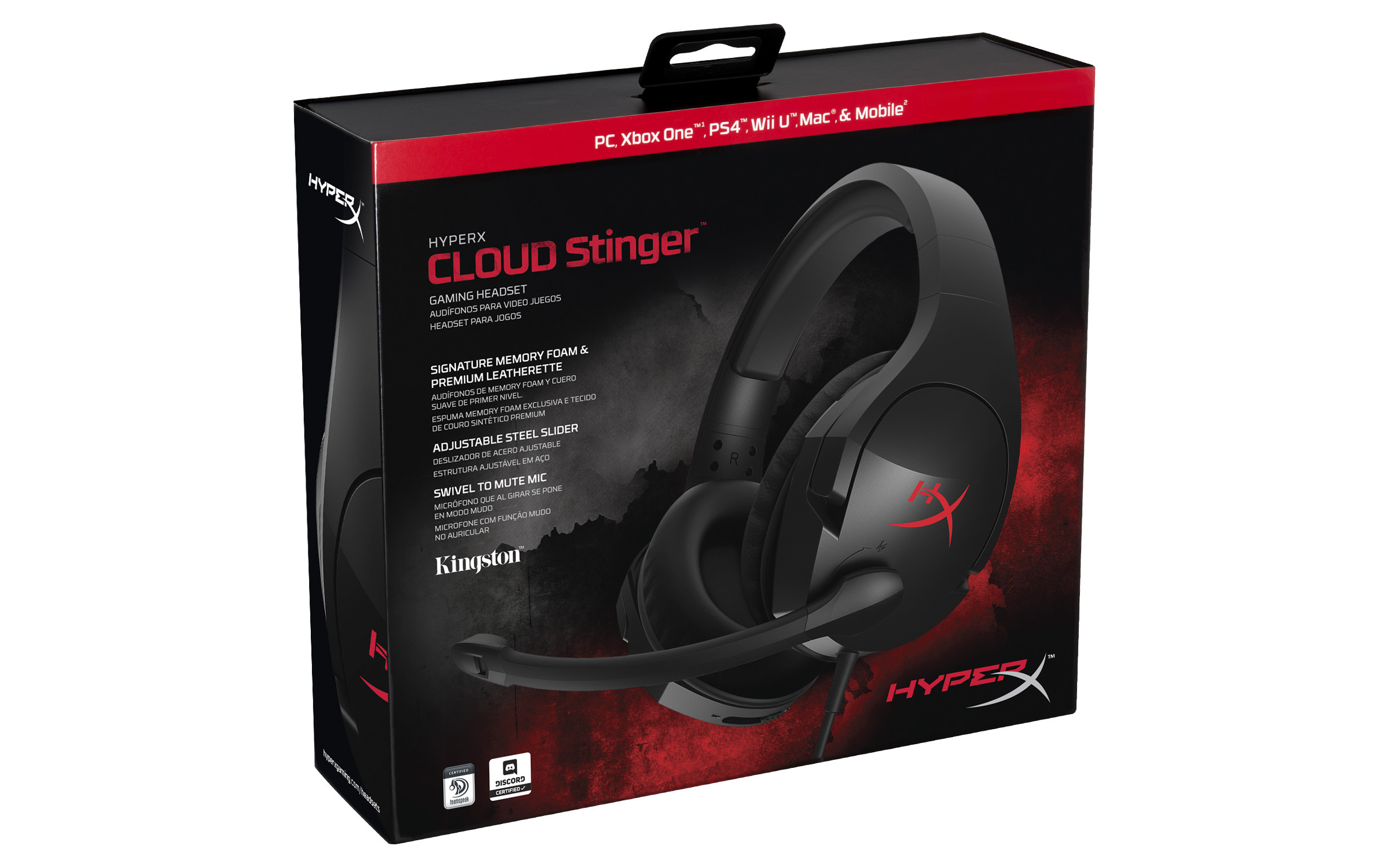 FeelsGoodMan.JPG
At first touch, the Cloud Stinger is so lightweight that it almost feels flimsy. Compared to a heavier model like my much-beloved Cloud II, it doesn't feel like it will stand up to normal wear and tear — especially with the swiveling earpieces. But in practice, it's just as durable as any headset I've owned. (And trust me, I'm not nice to my tech.)
The main selling point of the Stinger is how incredibly light it is, and HyperX isn't exaggerating on that front. I was able to wear the headset throughout the course of my 9-5 job without any issue — no painful indents, no uncomfortably tight spots, not even sweaty ears. (Sorry for that last image.)
I have to give special mention to the swiveling ear pieces. While at first they made the Stinger a bit awkward to handle, they turned out to be my favorite feature. The ease of movement makes the headset feel like a custom fit — just snug enough that I get great sound, but without the stiffness of fixed earpieces. In addition to making the set a bit more breathable, it also made it a hell of a lot easier to wear it in different configurations. I could slip one earpiece off without having to readjust the whole headset, or put it down around my neck and have the earpieces resting flat on my shoulders so I could comfortably turn my head to do other things.
Last but not least, the extra long cord was a nice touch — I enjoyed being able to roll my chair across my office without having to unplug. (Laziness FTW.)
Whether I was on the job or grinding out SMITE games, the Stinger stayed put and stayed comfortable.
Same Old (Great) Sound
There's one thing that thankfully hasn't changed much between the Stinger and other HyperX models I've used — it still boasts the full spectrum of sound quality that you'd expect from the brand. Deep bass tones reverberate without sounding buzzy, and higher pitches come through without getting too tinny.
The only complaint I really have about the sound — and it's a stretch to call it a complaint — is that the noise cancellation doesn't seem to be quite as powerful as on sets like the Cloud II. Because the earpieces swivel, they don't create the sort of vacuum seal that blocks out all noise. So a little ambient sound would leak through, but not enough that I particularly minded. I'd much rather have a comfortable, wearable headset that might let me hear my dog begging for a walk than one that's so soundproof it feels like a vice-grip on my head.
It was also nice to have the volume control slider on the side of the headset. Being able to adjust my volume on the fly while clicking furiously in-game or when I was trying to enjoy Netflix at a distance really made a difference. It's not a feature I would have necessarily thought to ask for on a headset, but now that I have it I'm not sure I want to go back to doing without.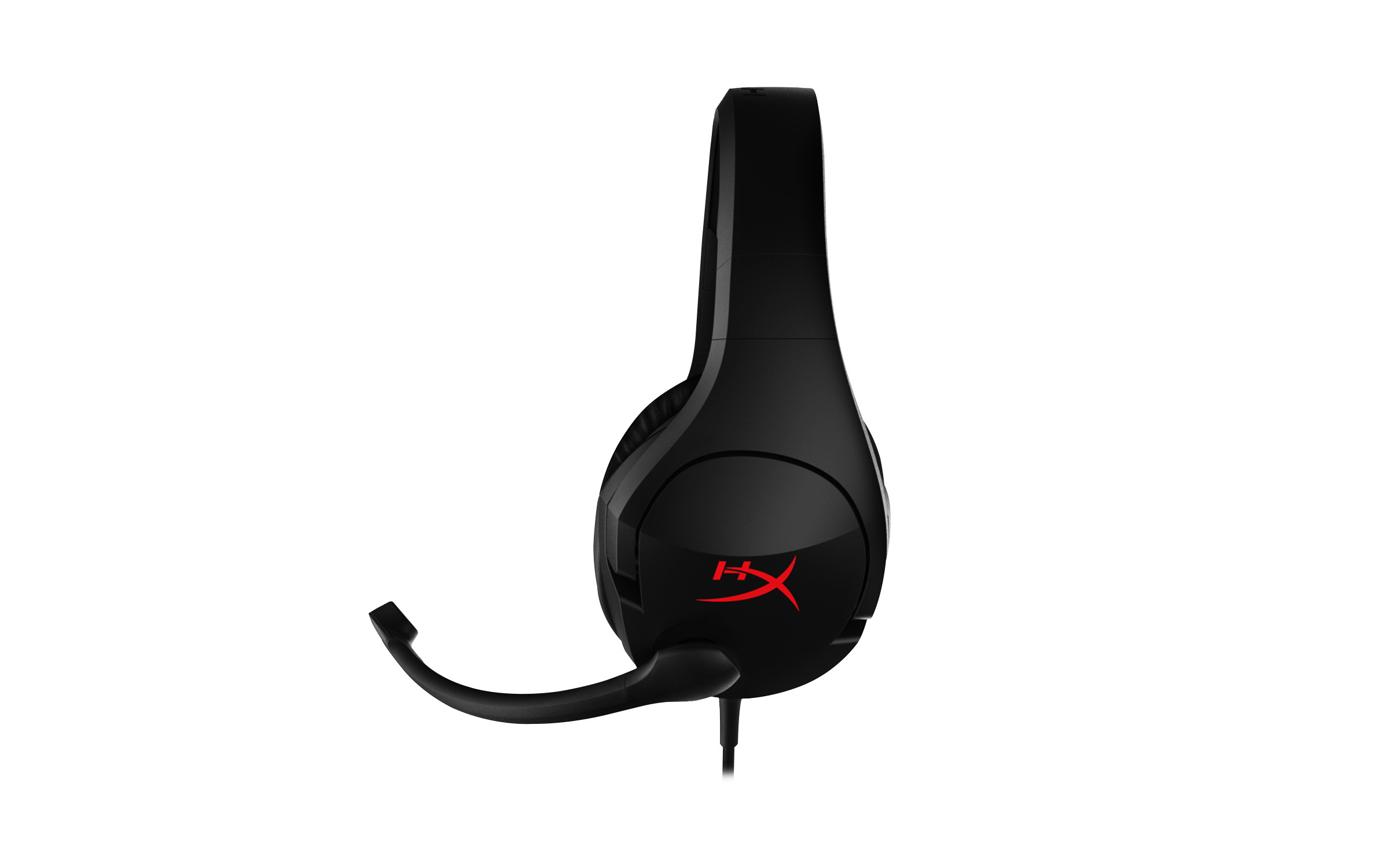 About that microphone…
The Stinger's microphone is a total 180 from the detachable mic on my Cloud II. Much like the body itself, the textured plastic made the microphone feel a bit less durable than I'm used to. But that feeling didn't last long.
It took some adjusting to, but I actually prefer this mic to the one on my Cloud II. Not only does it swivel and mute when slid up, but the arm is a little flexible so you can bend it to fit perfectly — a wonderful touch when compared to straight-armed mics. The microphone on the Cloud II was just a bit too flexible for me, and ultimately resulted in me playing with it until I broke it entirely. But the Stinger mic is the best of both worlds — fixed enough that it won't wear down too quickly, but still adjustable enough for maximum comfort and sound quality.
And speaking of sound quality, the Stinger mic produces just what you'd expect. When participating in Skype meetings or hopping onto Discord to chat with friends in-game, I had zero issues with audio cuts or excessive noise — and no one I asked reported having any issues hearing me clearly.
Verdict
The Cloud Stinger has only made me a bigger fan of HyperX than I was before. Whether you're a long-standing fan of the brand or just someone looking for a high-quality gaming headset, the Stinger is a great buy. Although it's lightweight compared to its predecessors, it still packs a serious punch. And adds on a few minor features that really take its functionality to the next level.
I would go so far as to say that the Cloud Stinger the best gaming headset I've ever owned. And with a $49.99 price tag, you honestly can't beat the comfort and quality that it offers. It's available now on Amazon and other online retailers — just in time for the holidays!
Note: HyperX provided a headset for the purposes of this review.
10
HyperX Cloud Stinger Review: A Worthy Successor to the Cloud Name
The Cloud Stinger feels like the HyperX you know and love, but with a few key improvements that put it a step above the rest.
What Our Ratings Mean
About the author