Let's Talk is a mixed audio and written series about talking — that much is clear. I talk about specific games, the impact a game can have on the community, about recent events, or how past events have shaped what is now. Read the article first or watch the video — it's up to you, but without further ado, Let's Talk about:
Forza Horizon 3 Review
The Forza series has always been among my favorite racing games, ever since Gran Turismo, dropped the ball with GT5 I fell over Forza 3. Developed by Turn 10, the focus was on making the driving feel good, and the physics being realistic, but also playable on controler — so some unrealistic physics tricks have been used. Back in 2012, Playground Games took up the challenge of making a spin-off open world Forza game, and they came up with something special. Forza Horizon (FH).
A sequel released in 2014, but now 2 years later, the third and biggest game in the Horizon spin-off series was released on September 27th 2016. But how is it?
Not much new, other than the WHOLE SETTING
Content wise, FH3 doesn't really have anything new. I mean if you forgot to look at the whole world. We have moved out of a slice of Colorado, USA in FH, and we have moved on from the mediterranean of a tiny part of Italy, and a chink from Southern France in FH2. We now have a massive chunk of Australia to explore, in the best looking Forza game to date.
There are three major locations, so not only is the area you drive around in massive, but is also the most diverse in the series. A desert area where just driving around is fun, a more built up city area where being accurate is key, and a lush rainforest where it feels more like a Hillclimb or Rally stage — my personal favourite area.
In each area you can plant a festival site, as you are now the boss — another series first. You can expand these locations as well, simply by getting the crowd in. You just have to win races, get skill points, and 3-star (to get the the most crowd possible) speed cameras, average speed gates, and drift zones. While I find the speed traps to feel a bit cheap, as you simply get a super fast car, or upgrade your car fully and you basically get 3-stars.
FH3 is an amazing game, but…
…I never got that hooked by it. Something which surprises me because on every level it's a game I really enjoy, and from a technical standpoint, to a gameplay, it's right up there with the best racing games. I feel that perhaps my love for the series has tumbled because how my tastes in driving games has evolved.
I feel like I have moved on from the mostly arcade, with some simulation influences — you can actually employ some realistic techniques in FH3, most notably you can do a very basic weight shifting for taking tight hairpins quickly. While the feeling of driving in FH3 feels amazing, games like Dirt Rally have just as good feel as FH3, but due to their very sim nature also make you work for that great feeling. So the likes of Dirt Rally, pCars, Assetto Corsa, and rFactor are all much more exciting to me now.
It's like the Souls series, I know they are good games, but they don't keep me hooked — simply, I don't want to be tortured, but while not terrible at the Souls games, the world is too depressing for me to carry on fighting to just explore. For FH3 it's simply that the game doesn't make you work for the great feeling of driving, it just gives it to you. I don't feel like I need to work towards getting good, or feeling like I've accomplished something like in Dirt Rally, as FH3 is just giving it to you for free.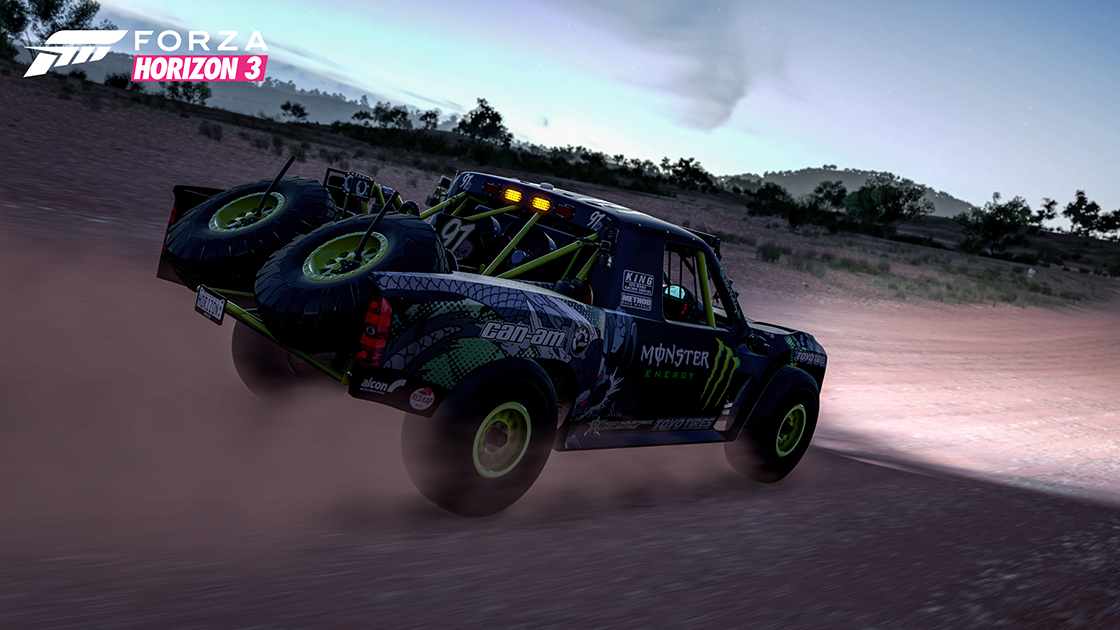 A me problem, doesn't mean a bad game
Cross-platform play is a little bit fiddly but works perfectly, as you have to use the Xbox Win10 app, and correcting from a drift when you overcook it feels a bit weird. Basically, I don't think opposite lock is realistically implemented, as I found I would often spin out the opposite way, as my car would wildly and suddenly flick around — but this is an arcade driving game, so thats understandable.
FH3 has a massive amount of content, and a beautiful world that you really do want to explore, but it didn't grip me. I didn't want to keep playing like with pCars or Dirt Rally for one simple reason. FH3 It didn't make me work to feel like a driving god, it just made me one.
Copy purchased by self.
8
Let's Talk: Forza Horizon 3 Review – Fun like a Dune Buggy, but Lacking Like a Reliant Robin
Forza Horizon 3 is a spectacular looking game, it plays great, and is fun. But I didn't click with it, why's that?
What Our Ratings Mean
About the author