For true gamers, a keyboard is so much more than a typing device. It's an adventurer's tool belt on an arduous journey, and it's a spellbook full of powerful incantations.
But most of all, a keyboard is an extension of ourselves — the primary means by which we communicate with the digital world. And because of that, it's vitally important that they work efficiently and naturally through each and every keystroke.
Corsair understands this. They've listened to gamers' feedback, they've (mostly) implemented that feedback. The result? A nearly flawless flagship keyboard. The Corsair K95 RGB Platinum is the obvious leader of the Corsair keyboard line. It's the kind of keyboard that would be at home on the bridge of the Starship Enterprise: something futuristic and innovative, yet altogether practical and logical.
Battle Tested and Battle Hardened

Corsair has always made keyboards that are popular with gamers (just check out their reviews on Amazon for proof). They're often tough, reliable, and durable — all things you most definitely want in a keyboard that's going to see hundreds of thousands, if not tens of millions, of strokes in its lifetime.
And with a guaranteed 50 million-plus keystroke lifespan (bazinga), the Corsair K95 RGB is sure to make it through those marathon SMITE sessions and frenzied Final Fantasy XIV raids for years to come.
At first, it might be hard to tell the difference between these switches and others, but spend a few minutes in a tense Battlefield firefight or SMITE arena battle and you'll rapidly see the difference (and speed) the K95's absurdly low 1.2 mm actuation distance and 45g pressure provides.
My, What Big Paws You Have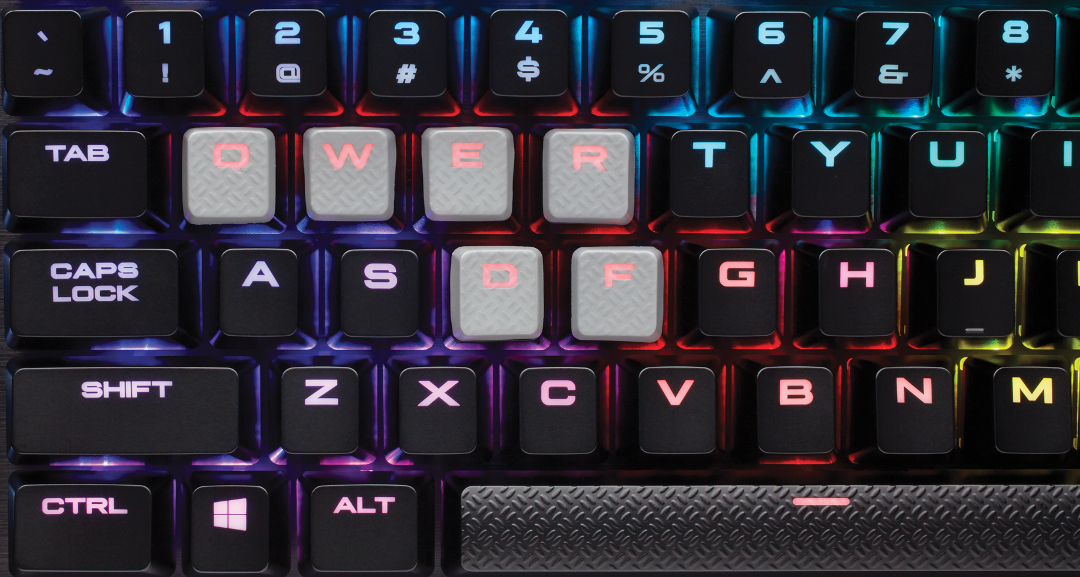 At twice the size of my everyday Logitech K360 wireless keyboard, the Corsair K95 RGB is a veritable beast. That means you're going to have to have some big paws to traverse its more than 100 keys.
And I'm not going to lie: reaching from WASD to the six fully programmable G-keys that run down the keyboard's left flank took some getting used to. In my first several hours using the keyboard, my hands cramped more than once. And after a few marathon sessions, my hands felt as if I'd spent an hour or two at the massage parlor – with me doing the massaging.
But in the end, the distance between key sections pays big dividends, especially in MOBAs and MMOs, where deft and accurate keystrokes matter. Once you get used to the separation distance between keys, each key is contoured to ensure that your finger never slips or slides to another — unless you specifically want it to.
And while we're at it, it's of note that the K95 comes packaged with FPS and MOBA key recaps. These are specifically manufactured to provide increased grip (which they most definitely do) and textured contouring for easy tactile recognition (which mostly works). It even helps that a key-puller is included, because God knows you're not pulling these well-made keys off the board with your fingertips.
Hey, Good Lookin'
Ok. Get ready. I'm going to gush for just a second.
Wow, does the K95 look stupid fly. I mean, this beautiful thing makes any game-room or PC setup look stellar. Against the backdrop of its sleek, black aluminum chassis (which is made of sturdy-as-hell aircraft-grade aluminum), the dynamic per-key lighting and LightEdge light bar lights up the room but is never intrusive or distracting during play. This is a huge plus because not only does the lighting imbue the keyboard with tons of character, but it also highlights keys for easy visual recall if need be.
As with the Corsair RGB Pro, the K95 uses the separately-downloaded iCUE software to help users fully customize their lighting preferences from 10 different presets. Personally, I prefer the spiral rainbow setting because it is the least disrupting sequence of the bunch. And for my personal tastes, settings such as "Rain" and "Color Wave" are a little too eye-diverting when playing in low-light situations.
But one of the coolest lighting features the K95 has is the Type Lighting feature, which allows users to designate a single color (from thousands of choices) for individual key presses. I found this to be one of the most helpful lighting presets when gaming in low-light situations.
Playing through stealthier missions in Metro: 2033, for example, this feature helped me not only better memorize where each necessary key was, but that I had, in fact, pressed the correct key or keys. Plus, it brings a cool and engaging aesthetic to the experience, as if I were pressing keys on a futuristic tool belt or datapad.
Overall, the color choices and construction of Corsair's latest board are all top-notch.
So What Else is There to See?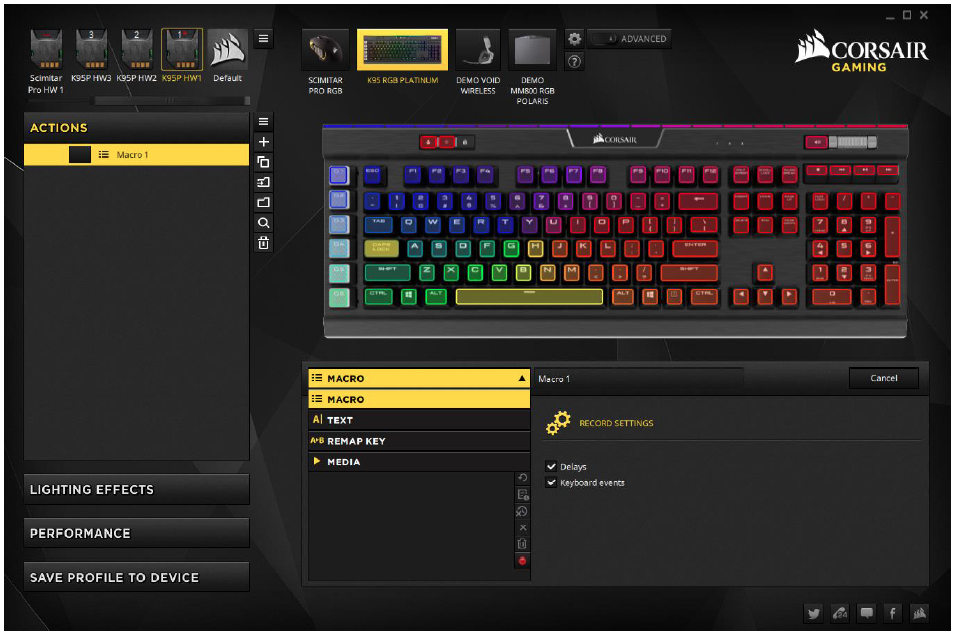 Programmable MACROS
As with many other Corsair products, the K95 RGB allows users to fully customize every single key on the board — from the six macro-specific G-keys along the left side of the board to the numeric keypad on the far right. Really, you have complete control of what each key does and how it performs.
Using CUE, you're able to:
Remap keys to perform specific mouse functions like "left-click" or wheel scrolling
Disable specific keys, such as the pesky "Windows" key
Set keys and macros to initiate at a specific clock interval via the Timer Countdown function
Remap keys to open shortcuts to your favorite game or app or email client using respective .exe file commands
Set media controls
Map keystrokes, such as CTRL+ALT+Delete to a single key
Insert bodies of text into word processing documents or chat windows with a single key
Whew, that's a lot.
But there's one more really (really) cool feature that the K95's macros are capable of. Unlike other keyboards that simply allow you to record keystrokes to a single key, the K95 allows you to trigger multiple macros with a single key press. It takes a little getting used to (I flubbed up a few SMITE matches trying it out), but you're able to program macros to trigger on key press, as well as key release, giving you even more choices per key.
And lastly, you're also provided increased macro control through the K95's enhanced termination options. This makes sure macros don't repeat before completely playing out.
Cords (Plural)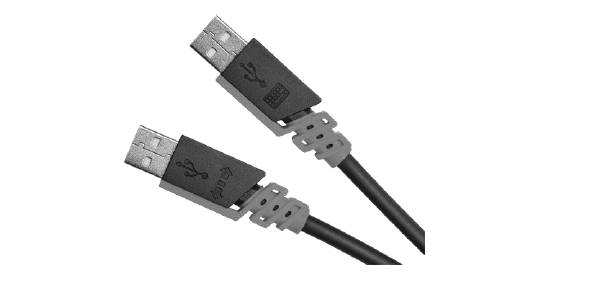 When we reviewed the Corsair K65 RGB last year, we mentioned how the braided USB cable was sturdy, but rigid and difficult to maneuver on certain desks and in certain play areas. This made positioning the keyboard cumbersome and honestly, not all that fun.
But it seems that Corsair was paying attention (I mean probably not to us, per se, but the gaming community at large) and have mostly rectified the issue with the K95. Only twice did I have issues positioning the keyboard on my myriad gaming surfaces. But if your desk is even a bit cluttered, you're still going to have a few issues navigating around the high-quality cord — because while it's much more flexible than the K65's cord, it's still got some rigidity to it.
Oh, and before I forget, I did say cords plural, didn't I? Yeah, the K95's got a really cool pass-through feature, which gives you a convenient way to charge your phone while playing or easily hook up your headset. The main port for this type of hookup is conveniently located where the cord escapes the keyboard chassis.
The K95 Has All Ze Comforts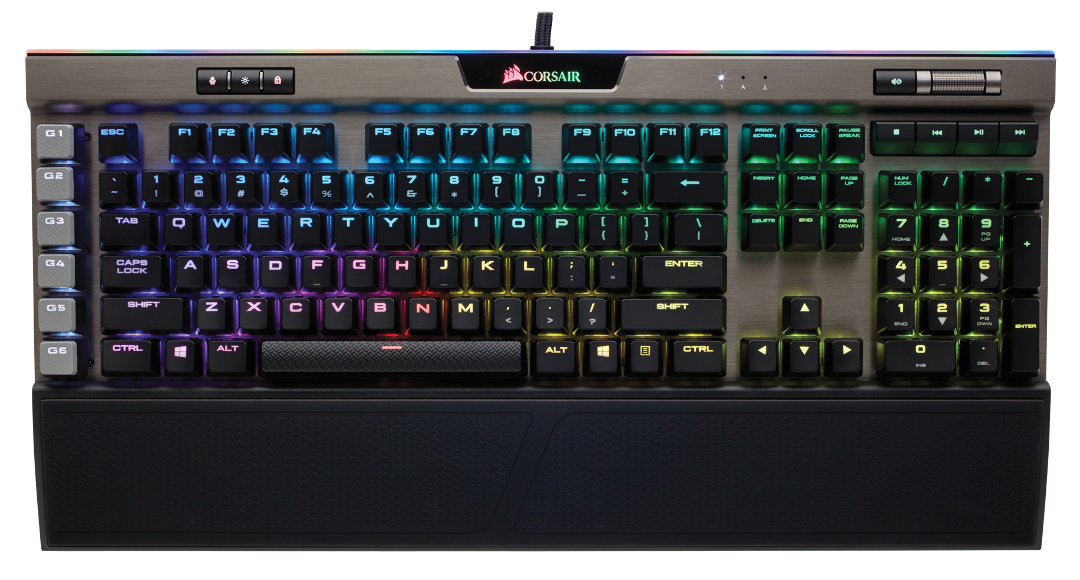 Having a comfortable keyboard — while sometimes secondary to macros and key performance — is still a very important part of the overall gaming experience. And I'll be honest: The K95 isn't terribly comfortable right out of the box.
Saying that, however, Corsair smartly included a dual-sided wrist rest – which works complete wonders. I'm not a fan of the hard side (although I know some will be). But damn, the soft, ergonomically angled backside of the wrist rest is probably the most comfortable rest I've ever used. It immediately relieved the wrist fatigue I was experiencing using the out-of-box K95.
Putting It All Together
At $199.99, the K95 is a relatively expensive peripheral compared to other models and brands. But when you dig down into the near-limitless possibilities the keyboard offers, the durability it provides, and the nigh unbeatable aesthetic lighting features, it's worth your pretty penny.
Whether you're looking to up your game by being able to issue keystrokes at Flash-like speeds or a keyboard that's ergonomic, highly configurable, and comfortable, then at least checking out the K95 is something you're going to want to do.
It's not perfect. Without the wrist rest, it can definitely make your hands sore. And even though there IS space between key quadrants, the keys within those sectors (especially the letter keys that make up the body) can be a bit cramped at times. But overall, the Corsair K95 RGB Platinum is a keyboard leagues above much of the competition and a well-crafted flagship that signals the company is most definitely keeping its players in mind.
—
[Note: A K95 RGB Platinum review unit was provided by Corsair for the purpose of this review.]
9
Review: The Corsair K95 RGB Platinum is Stunning, Classy, and Leagues Above the Rest
The K95 is futuristic and innovative, but altogether practical and logical. It's a hardcore gamer's dream keyboard.
What Our Ratings Mean
About the author