The XQUISIT LZ380 wireless headset is not technically a "gaming" headset, but the difference is only a semantic one. It's versatile and portable, but still packs a nice aural punch. There are probably better choices for PC gamers, but mobile gamers might want to give it consideration.
Unboxing Held No Surprises
The LZ380 looks like pretty much every other "chic" headset on the market. The brushed silver body and minimal white logo screams "Apple imitator," but it's pretty to look at anyway. There's an inconspicuous power/pairing button nestled just above the right ear pad.
The headset uses Bluetooth, but it also comes with a 3.5 mm cord for devices that aren't Bluetooth compatible. A USB charging cable is included as well. Both the headphone jack and the micro-USB port are discreetly placed on the bottom of the set. Everything comes folded in a nice black carrying case – a little bonus for gamers on the go.
Set-up followed the usual steps for Bluetooth pairing, so it didn't take me long at all. Though there is an LED light to indicate power on/off and pairing scans; activating them didn't always work the first try, but this was little more than a mild annoyance.
Nice and Soft, but Maybe Too Compact
This headset is more comfortable than some I've tried in the same price range. The ear pieces have lots of nice padding that stayed fairly cool during use, and the headband is padded as well for a little extra comfort. As cozy at it is, its size is worth consideration before you buy.
The LZ380 is on the smaller side, and it'll be too compact for some gamers. The ear pads, for example, are just large enough to cover my ears comfortably and block our surrounding sound. But when I asked my significant other to try them on, it was a different story. He agreed that they were comfortable, then commented that he wished the ear pads were larger, as they weren't covering his whole ear (which was causing some extra sound to leak through.)
There's also a very limited range as to how much you can adjust the length of the headband, so if you're the sort who usually has to extend yours pretty far to get them comfortable, this headset may not work for you.
Full Sound and a Little Something Extra
For its size, the LZ380 has an impressive sound. It didn't quite deliver with the same impact as my usual headset (HyperX), but it performed much better than I expected. I was most surprised by how encompassing the sound was. While playing Skyrim, dragon screeches came from behind me. Creaks and bumps in Amnesia were intensely audible. The sound remains fairly well-balanced until you're inching on max volume, then there's some noticeable distortion.
XQUISIT doesn't call this a noise-cancelling headset, but it feels like one. The shape and padding of the ear pieces muffles out a considerable amount of noise. Strangely, though, the headset doesn't quite keep sound in. When using the headset at mid-range volume, it's possible for those around you to hear some of your audio. In other headsets I've used, this only happens at higher volumes.
Ideal for Mobile Gamers… Just Not for PC Gamers
The LZ380 is compatible with Windows, Android, and iOS devices. I'll be blunt here – if you're a PC gamer who doesn't need wireless/Bluetooth capability, there are headsets out there with a better sound at a similar price point.
That said, mobile gamers (and those who really, really want wireless capability) should take a second look at this headset. Because it isn't pigeon-holed as a "gaming" headset, it's a little less bulky and well-suited to other types of media as well. Whether you're playing XCOM or just listening to Spotify, it'll do the job.
The headset hardly slips around while moving, so it's great for being on the go. (The handy carrying case makes it even more portable.) Plus, its 10-hour battery life will keep it going long after your phone has died.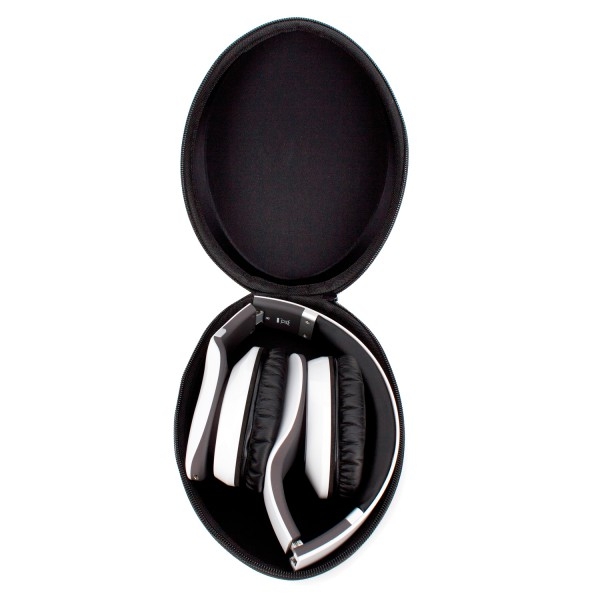 Overall
I was impressed with the performance of the LZ380. It had a much fuller sound than I expected, and I never had any trouble with Bluetooth connectivity. It's easy to set up and use, and even easier to carry around.
The only thing that keeps me from recommending it is the price point. It goes for $69.99 on Amazon, which is on the lower end of the normal price range for quality headsets. I've paid more for sets that I've gotten less satisfying sound from. If you're not set on having wireless capability, there are better options around the same price point. Though there are a few highly-rated products at a marginally lower price point, as far as Bluetooth headsets go, the LZ380 is certainly a competitor.
6
XQUISIT LZ380 Wireless Headset Review
The XQUISIT may not be specifically designed for gaming, but it boasts some pretty impressive sound and a lot of versatility. If only the price were right.
What Our Ratings Mean
About the author