World of What-Now? The Curious Decline of the World's Most Successful MMO, WoW
What could have caused the curious decline of World of Warcraft?
A recent report on IGN says that the world's most successful MMORPG has declined to a (sarcastically) pathetic 7.7 million subscribers.
Yes, they're upset about this.
I'm aware that to most of us without pants made of 20-dollar-bills would find this to be a pretty unnecessary gripe. But given the game's former numbers, I can understand why the Souron-esque rulers on the Activision Blizzard throne are displeased. So let's put this into context.
Context
World of Warcraft launched in 2005, and according to a press release made by Blizzard soon became the best selling PC game on the market. It was a cultural phenomenon the likes of parachute pants and MC Hammer.
Unlike parachute pants, WoW continued to grow, and by 2007 had amassed somewhere in the area of 8.5 million subscribers at $15 per month. For those of you keeping track, that's $127.5 million per month.
By 2011 the subscription base skyrocketed to 12 million netting what was by then Activision Blizzard something in the area of a bazillion dollars per month (I'm aware that's not real, but they were making so much money I doubt they even counted it anymore). This was the peak of the juggernaut that is, or perhaps was WoW.
**The most recent expansion allowed players to step into the shoes of the Sexual Harassment Panda from 'South Park'**

Uh Oh
Over time the subscriptions began to dip, and eventually hemorrhage. Sometimes it was because of other games, such as BioWare's Star Wars: The Old Republic, being released to solid reviews, and other times I'd imagine it was due to player boredom. One that that is certain is it is a consistent rend with WoW that subscription numbers always get a spike right after the release of an expansion, meaning players are still waiting to adventure through Azeroth; maybe they're just looking for something new.
As of now, just under a year after the most recent expansion The Mists of Panderia (September 2012), the game has hit it's lowest subscription base since launch at 7.7 million people.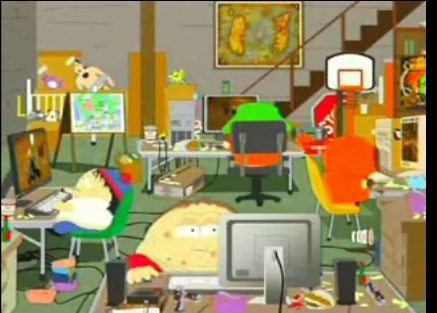 **This is actually me in High School.**
What Happened?
If I had to venture a guess: People got bored.
WoW was a revolution when it was released. Sure, the industry had several MMOs; it was by no means a pioneer. Yet WoW seemed to have an engaging world and alluring polish that many other games on the market at the time lacked. For me, WoW was the first MMO I had ever played, and until recently the only one (Dragon's Prophet is really cool guys – dragons).
To say that WoW was a revolution is not saying it didn't have its problems. I mean, for people that can't get enough fetch quests it was great! But for those of us that didn't want to feel like an Alfred to a Bruce Wayne it got supremely obnoxious. On top of that it was really hard to solo in that game, let alone take on more than one similarly leveled mob at a time. I realize that a core component of raiding and the game as a whole is reliant on teamwork, but sometime people just want to relax and tackle some meaningful quests on their own. And I hate to bring it up, but WoW was the most grind heavy game ever, and I'm including all JRPGs in this proclamation.
Still though, WoW was almost always a good time, and very often an addicting experience.
Blizzard's problem in this scenario is that they went by the "if-it-isn't-broke-don't-fix-it," when they probably should have been going by the tried and true formula within video games: "More, but better," for each expansion. Blizzard mixed it up from time to time, but it was always an uncomfortably familiar formula: You'd quest, you'd kill stuff, you'd have some cool distractions here and there, but all in all it was kind of the same thing. This kind of production does not work in most facets this industry; the fans clamor for innovation and, for better or for worse, if we don't get it developers are made aware.
**Kind of wondering how many times I can reference this episode.**
Blizzard's Next Steps
What can they do to fix this? In my mind no matter what they do, they're just putting a Band-Aid on enormous festering wound. Yet the first thing that I can readily think of is to give up. Keep supporting WoW, sure, but the game is running on infrastructure that was established in 2005. It's mind-boggling to me that they don't realize that it is time to release their next big project; we all know they're working on it.
Blizzard has just about run this well dry. Keep issuing patches, make it more playable, as they have been doing for the better part of a decade, but they need to do more. Especially with developers coming out with new MMOs every day, and WildStar just around the corner (which looks really cool by the way), Blizzard needs to up their game.
The ladies and gentlemen a Blizzard are talented visionaries that have reinvented a couple of genres with the deepest fan base in the world. I have fair confidence that they can bring their fans back again with a new game.
**Seriously guys - go watch it. It's amazing and shockingly accurate.**
What do you, my lovely readers, think? Can Blizzard bring it back with a new, innovative game, or are their MMO wheels destined to forever spin in the mud. Also, how many of you are or were WoW players? Are you still playing, and if not, why did you stop? What can Blizzard do to bring you back? Sound off in the comments down below and maybe we can go slay 12,000 boars together and if we're lucky, gain a single level!
Published Jul. 26th 2013