Interview with Mass Effect Lead Writer Mac Walters
Bioware's Mac Walters joins us at NY Comic Con to talk about the Mass Effect trilogy!
Ever since its release in 2007, BioWare's Mass Effect trilogy has set the standard for deep, evocative storylines and helped to change the way we view video games as storytelling medium. Since then, the universe has expanded to include new stories in a new medium.
This weekend, I and fellow GameSkinny columnist Stephanie Tang, got the opportunity to sit down with Mass Effect series' lead writer Mac Walters at New York Comic-Con. There to promote the Mass Effect comic series by Dark Horse Comics, he was gracious enough to answer some questions for us, not only about the Mass Effect games themselves, but what it takes to be a writer for video games.
How did you get into this line of work?
I always loved writing, but when I was younger I played a game made by Brian Fargo, and I remember reading a little blurb he wrote about creating the game, and that sparked something in me.
I was working as a consultant when I met Ray Muzyka and Greg Zeschuk at a convention. When they talked to me about their company, it was apparent they had more than video game knowledge, they had a strong understanding and plan for a business. From there it is history.
What inspirations did you have when writing Mass Effect?
I believe the sci-fi genre is used to reflect society's fears and hopes for the future. But I also feel like the stories we tell should be able to be relatable for today. I take a lot of inspiration from the news, classic science fiction stories, and even snippets of shows like House or Sons of Anarchy.
The Mass Effect 3 ending seemed to gain a lot of controversy. What made it worth changing it with a DLC ending?
From my experience, only a vocal minority were unsatisfied. At the time, I received hundreds of emails, and the overwhelming majority were supportive of how we decided to end the series.
We listened to the fans, but the decision was based on peer reviews of the game. We didn't change anything, but rather improved upon what we had already created.
What is it like working with other artists or writers in making interesting stories including the comics? What do you think of the growing importance of spinoff media to the original series?
The comic, for example, is interesting because it is still considered canon, so you have to pay real close attention to details that already have been established in the series and expanded universe.
Me and the seven other guys working on these comics, collaborate to create these stories with that (previous question) detail in mind, besides creating a compelling story of course.
The others have worked on Garrus, Tali, and Liara's stories, but my main work were on James' story and the Foundation series. It is a lot of fun, and a different challenge than the video game. It is a more precise way of storytelling and expanding on characters in ways we could not in the game.
Who is your favorite character and why?
My favorite? Oh that's tough. I would say Garrus since he was one of the first characters I worked on heavily. When we started on him, we wanted to use him to expand on the universe we were creating. He was not only a compelling character, but a tool for the story.
But the characters I liked working on the best were Aria and The Illusive Man. They are morally ambiguous characters that are often found in grey areas. They are much more intricate and therefore much more interesting. I've had fans come up to me after they have beaten the game and say "oh I wanted to join the Illusive Man, he had the right idea!" or "I was so happy when that son of a b*tch died!"
For me, creating characters that are able to bring out such a range of emotions with their complexity was such a pleasure.
There have been a lot of big names in the industry such as Ken Levine, who started writing in movies before transitioning to video games. Do you think that skill gives them an advantage when creating stories?
You know, I would say not necessarily. For example, we've had writers who come in specializing in one thing, such as screenplays, but end up drowning when they are asked for something different. Games such as the Mass Effect series or Dragon's Age, have stories that branch out so much, and it's not even close to what a screen play writer is used to
What do you believe gives you an advantage in creating stories?
When I went to college I majored in psychology with a minor in writing. I feel like having the ability to get into characters' minds and figure out their lives and motivations, really helps me create believable stories.
What advice would you give to beginning writers or people who want to get into the industry?
Play games you want to write about. If you love creating huge overlapping sagas, play Mass Effect or Dragon's Age. If you like finite, clean-cut stories, play similar games. There is no downside in playing what you love. You have to know and understand the games and genres to write about them.
If you want it, then you have to go for it. Create your own game or find someone who programs and work with them to create something incredible. Find like-minded people who share the same ideas. You have to start somewhere, but if you show a drive, it will come to you.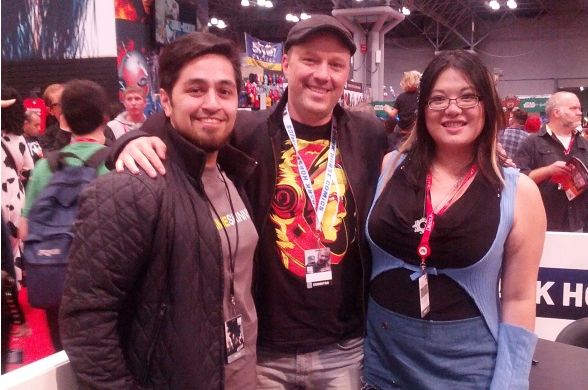 For those of you interested in checking out some of Mac Walters's recent work, your first stop should definitely be right from the source at Dark Horse. They carry a whole host of Mass Effect goodies, not limited to comics and replica figurines.
Many thanks to both Mac Walters and the people at Dark Horse! It was great talking to you!
Published Oct. 18th 2013