Your journey in Bright Falls and the Dark Place will soon come to a climactic conclusion. Our guide discusses the campaign ending in Alan Wake 2 to explain the events that transpired. Be forewarned that this article contains major spoilers.
What Happens During the Ending of Alan Wake 2?
The Alan Wake 2 ending involves a meeting between Alan and Saga in the Dark Place, whereupon the eponymous character is shot dead just as he's being possessed by Mr. Scratch. Here's a quick summary:
After going past the points of no return in both protagonist arcs, you'll reach a chapter called Initiation 9 — Gone. There, Alan attempts to rewrite the ending to Return, a manuscript that tells of the investigation and challenges involving Saga.
Saga manages to vanquish "Alan Wake" in the real world (who's actually Scratch in the guise of Wake).
Saga herself will need to free her mind by resisting the Dark Place, using various objects in the Mind Palace that remind her of who she is.
The Ending: The Fates of Saga and Casey
Saga and Alan finally meet in the Writer's Room. She explains that she has both the Clicker and the Bullet of Light, which she can use to defeat the Dark Place version of Scratch. Just when she mentions her plan, Casey barges in, slowly being possessed by a great evil.
Saga uses the Clicker to force Scratch out of Casey's body. In doing so, Scratch attempts to possess Alan. With no other choice left, Saga shoots Alan in the head.
This Alan Wake 2 ending definitely shocked me since I wasn't expecting the game's namesake character to meet his untimely end. Moreover, as Casey recovers, Saga starts to call her daughter Logan on her phone. I genuinely found this part nail-biting as the phone kept ringing.
In a moment that's reminiscent of Christopher Nolan's Inception, the credits suddenly play, leaving Logan's fate ambiguous. In fact, this conclusion is open-ended — we can't truly say if Saga has managed to "escape the story" or if her memories were actually real before Wake's interference.
The Mid-Credits Scene: The Fates of Alice and Alan
Just when you thought things can't get any weirder, the Alan Wake 2 ending tosses another surprise during the mid-credits scene. Alan's wife, Alice, appears during a video recording. She claims that she had gone to an organization asking for their help — one can only surmise that this might be the Federal Bureau of Control.
Alice also notes that the loops that Alan keeps experiencing are part of a cycle: destruction or ascension. She then urges Alan to keep going, as she shows him more images that he needs to see.
Alan then wakes up in the Writer's Room, still very much alive. This implies that he's entered yet another loop. He then utters "It's not a loop, it's a spiral," before the rest of the credits play.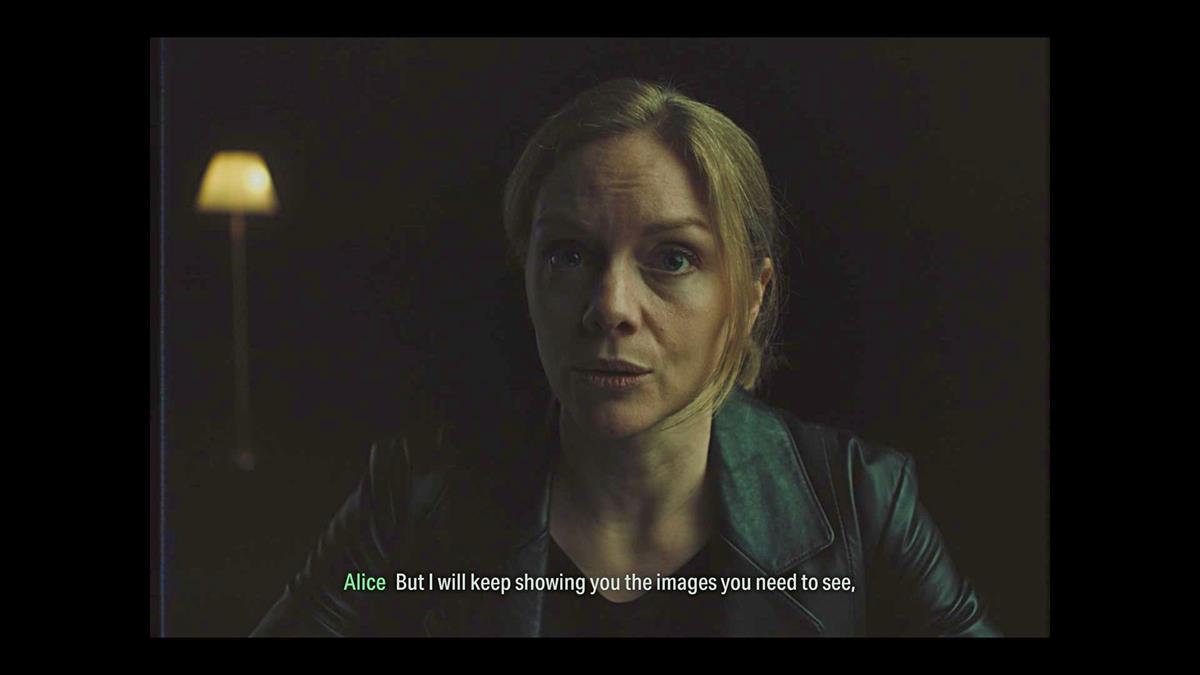 One can only guess what this statement means, though I thought it's a neat way to conclude the campaign. After all, the first game ended with: "It's not a lake, it's an ocean." Perhaps the "spiral" itself means that we'll go deeper into the Dark Place, down to the very center where things get even stranger. We'll likely know more in upcoming story DLCs, or maybe even the third Alan Wake game and Remedy Entertainment's next offerings.
In any case, that's everything you need to know about the ending in Alan Wake 2. If you're keen on other theories, you can learn about the significance of the spiral symbol, too. For other tips and tactics, you can visit our AW2 guides hub.
About the author