Animal Crossing: New Horizons has released to fanfare across the world, as we all sorely need a vacation on a deserted island, pronto. But what if you want to change your appearance in this cozy little small-town island sim? One of the most useful DIY recipes you can find early on will unlock a mirror, with which you can change your appearance at any time for no cost!
But you don't have to craft a mirror to get your hands on one. Here's how to get and use your first mirror in Animal Crossing: New Horizons.
How to Get a Mirror and Change Your Appearance in Animal Crossing: New Horizons
There are three major ways that you can obtain a mirror in New Horizons early on.
Receive a mirror as a gift from a villager
Find the DIY recipe as a gift, or in an abandoned bottle, or by any other means, then craft it at the workstation
Hit a present-balloon with a slingshot, which may drop a mirror
The most straightforward way to get your first mirror in Animal Crossing: New Horizons is through crafting. Here is the crafting recipe for a full-length wooden mirror: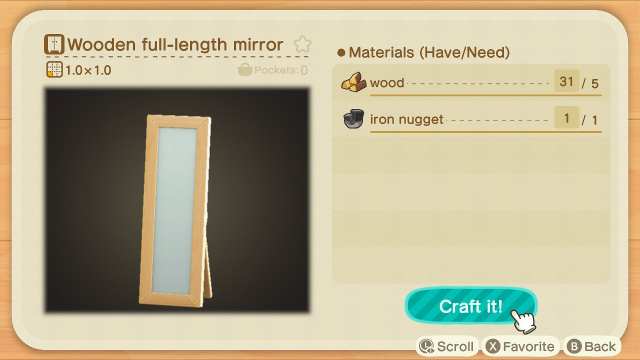 Once you actually have the mirror in your possession, place it down wherever you'd like to use it, then tap the "A" button to begin changing up your look with your new mirror.
What can you actually change about your appearance? Just about anything. Any option for customization that you were shown during the first character customization screen of Animal Crossing: New Horizons will be shown in the mirror menu.
If you want to completely redesign your New Horizons villager, go right on ahead!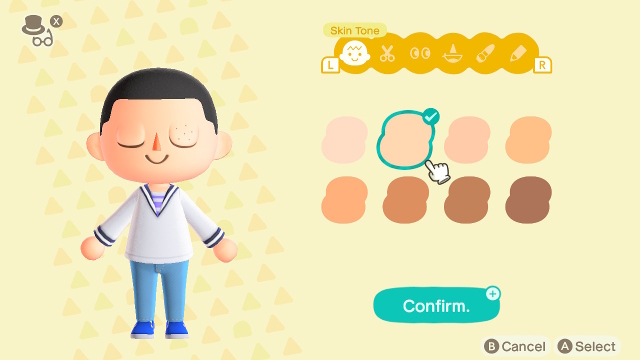 That's our guide on how to get your first mirror and change your appearance with it. Check out some of our other Animal Crossing: New Horizons guides if you're looking to make the most out of your new home. We wish you luck with your new island life!
About the author