Mech combat fans have been waiting many years for a proper turn-based tabletop representation of the BattleTech universe, and unfortunately, some players will have to wait longer for a bug-free experience.
From overloaded servers to janky camera angles and outright crashes, there have been plenty of BattleTech glitches to overcome before you can destroy your enemy's lance with a hail of LRM fire.
For those who gave up on multiplayer skirmishes to explore the single-player story campaign, the biggest issue right now is save games just up and disappearing. Don't lose hope — your BattleTech save files aren't gone forever! They just aren't being read by the game properly, and there is a workaround to get them working again.
BattleTech Save Game Location Bug Fix
First up, you want to verify that your save game file is in fact still there and that it hasn't been deleted for some reason. To check if the data remains intact, navigate to these locations and look for a save game file:
Steam: C:Steamuserdata637090remoteC0SGS1
GOG: C:UsersYourUserNameAppDataLocalGOG.comGalaxyApplications50593543263669699StorageSharedFilesC0SGS1
If there are any files in this folder, in most cases you only need to shut down the game, then restart either Steam or GOG Galaxy, and wait a few minutes. The Steam or GOG game client should correctly locate and read your BattleTech save game info when you boot up the game again.
In some cases you may still not be able to read your save game file after restarting, so it's time to move onto three possible other troubleshooting options.
Verify Game Files
Some players have a missing or corrupted file that is messing with the save game system. You can get this file replaced in either the Steam or GOG version with a few simple steps.
To fix this problem with Steam, right-click BattleTech in your library and choose Properties, then navigate to the Local Files tab. Just click the Verify Integrity Of Game Files button, and then follow the prompts to see if this is causing your problem.
To fix this problem with GOG, navigate to the BattleTech entry in your list of games, and click the "More" option next to the Play button. Go to the Manage Installation entry and then click Verify/Repair and follow the prompts.
Verifying file integrity with GOG Galaxy
Turn Off Steam Cloud Saves
A few players are reporting the issue can be resolved by turning off the Steam cloud save games, as this seems to force the game to find the local folder with the save data.
Right-click BattleTech in your library and choose Properties, then navigate to the Updates tab. At the bottom of the menu, uncheck the box labeled "Enabled Steam Cloud Synchronization for BattleTech."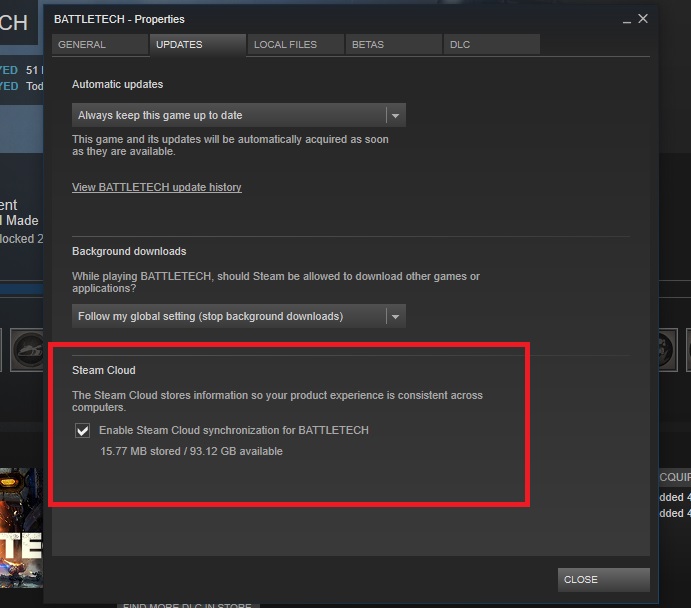 Turning off Steam cloud synchronization
Create/Verify Paradox Account
If none of the above options work, then you may be dealing with an issue with the Paradox servers.
Be sure to choose the option to create an account on the game's main menu if you haven't already, then verify your Paradox account in your email and log in (this isn't the only Paradox account glitch, as many players are still stuck at the multiplayer callsign creation screen due to the "Already Have A Paradox Account" glitch).
No matter what resolves the issue (or if you find that your saves are entirely deleted and can't be recovered), make sure to log the bug in the BattleTech bug report forum here with as much information as you can provide! The more data that Harebrained Schemes has, the quicker this save game bug can be patched out.
—
Having trouble taking out pirate lances or surviving assassination and escort missions after getting your save game bug fixed? Check out our full Battletech beginner's guide here to understand how to outfit mechs and to learn the best movement and firing strategies!
About the author