The flying city of Columbia has plenty of secrets to uncover if you're delving into Bioshock The Collection's PS4, Xbox One, or Steam editions. With all of the extra content pre-installed, the Collection features even more goodies to discover than in the original version of Infinite — like golden guns! Here, we're going to talk about how to find them and how to get rid of them.
Golden Gun Locations
There is no Bioshock Infinite golden pistol location or golden machine gun location to find. The skins appear automatically when you first get the starter guns towards the beginning of the story.
If, for some reason, you don't see the golden gun skins when equipped, just restart and play through the lighthouse segment until you get the shield. At that point, your golden machine gun should be active, as the DLC included in the Collection forces them to activate.
They won't appear gold when lying on the ground or equipped by enemies. The Bioshock Infinite golden gun upgrade only applies when Booker has the pistol or machine gun equipped in his hands.
How to Turn off the Bioshock Infinite Golden Guns
While the automatic golden gun upgrade gives you a slight damage boost over the original versions, plenty of players don't actually like the look of the gold skin, as it clashes with some of the environments.
Wondering how to get rid of golden guns entirely? Unfortunately, they are automatically included in the season pass. Since Bioshock The Collection includes all the season pass DLC, it means you can't turn off the golden guns.
The only way to get rid of the skins is to play the base game without the season pass, which isn't possible with the version in the Collection.
If the Bioshock golden guns bother you enough, the only real option is to switch to a different weapon that doesn't have the DLC gold plating. Just swap out to the carbine or shotgun, which frankly are better weapons for most of Bioshock Infinite anyway.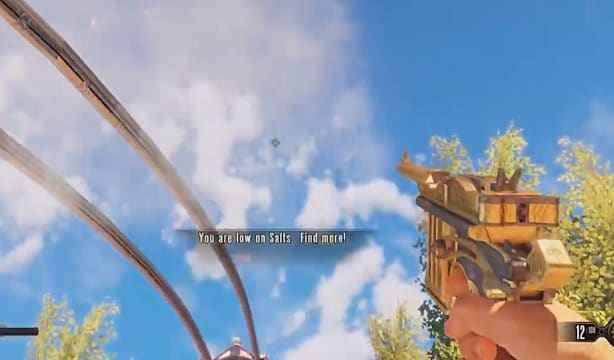 The Infinite gold plated pistol
Need help with Bioshock Infinite Burial At Sea or any other part of the Collection? Drop us a comment if you're having trouble with any particular level, and then check out the rest of our Bioshock guides for all three games:
About the author