Dead Island 2 fast travel helps you get around the regions of Hell-A faster than you otherwise would. Though the game isn't open world like previous installments, it's still large. Exploration is important for items, Master Keys, and collectibles. To make the most of your trip to zombie-infested Los Angeles, here's how to unlock DI2 fast travel.
How to Unlock Dead Island 2 Fast Travel
To unlock fast travel in Dead Island 2, complete the main story mission, O' Michael, Where Art Though. Here are the key points.
During the quest, Emma Jaunt will force you to leave her home. Continue until you reach Venice Beach, where you'll see a large building with a "Help!" sign hanging from the roof. Clear the zombies and close the gate. The survivors inside will let you enter the Blue Crab Grill, which is one of the safehouses in this zone.
Inside, talk to the survivors until you get a call from Emma. She'll admit that she was wrong when she sent you away, and she'll tell you that you're welcome to return.
Next, interact with the map on the table to reveal all the zones and safehouses you've visited previously. Other zone maps can be found within other safehouses across the game, and some areas may have multiple fast travel points. Simply interact with these maps to initiate fast travel.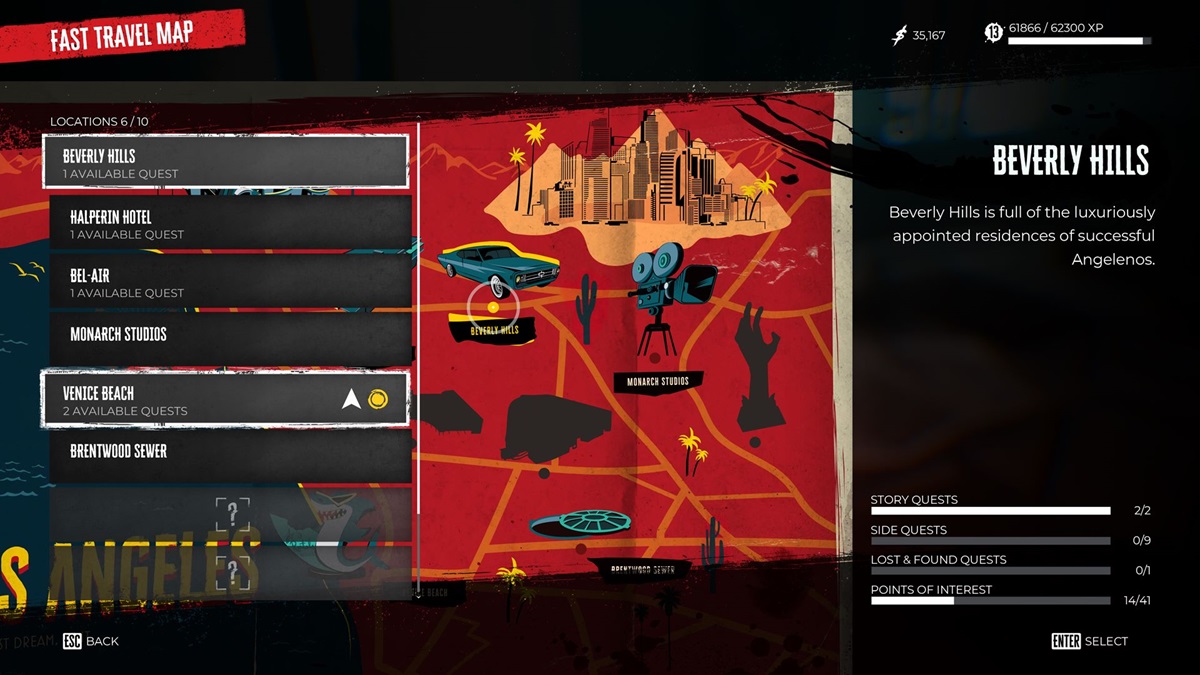 Screenshot by GameSkinny
Critically, you can't fast travel whenever you want. You can only fast travel by interacting with zone maps. Teleporting from one Dead Island 2 location to another isn't available while exploring or while in combat.
When selecting a zone to fast travel to, you may also choose to arrive there during the day or at night. This helps when exploring for things like lock boxes, supplies, or Legendary weapons. Of course, each zone has a list of main story missions, sidequests, points of interest, and Lost & Found quests, so they're worth revisiting.
And that's how to unlock the Dead Island 2 fast travel system. To learn more about the game, you can visit our DI2 guides hub.
Featured image by GameSkinny.
About the author