Diablo 4 Strongholds are akin to overworld dungeons. Clearing them can unlock new landmarks, including additional fast travel points and dungeons that reward Aspects. With that in mind, you may be wondering where to find all of them in the game's overworld. Our guide lists all D4 Stronghold locations to help you locate them — and ultimately complete them — faster.
All Stronghold Locations in Diablo 4
I've organized our Diablo 4 Stronghold locations guide into several sections based on the game's regions. Likewise, given that we're discussing various areas and zones, some entries may contain minor spoilers. I've kept some details light to help avoid any surprises.
All Diablo 4 Fractured Peaks Strongholds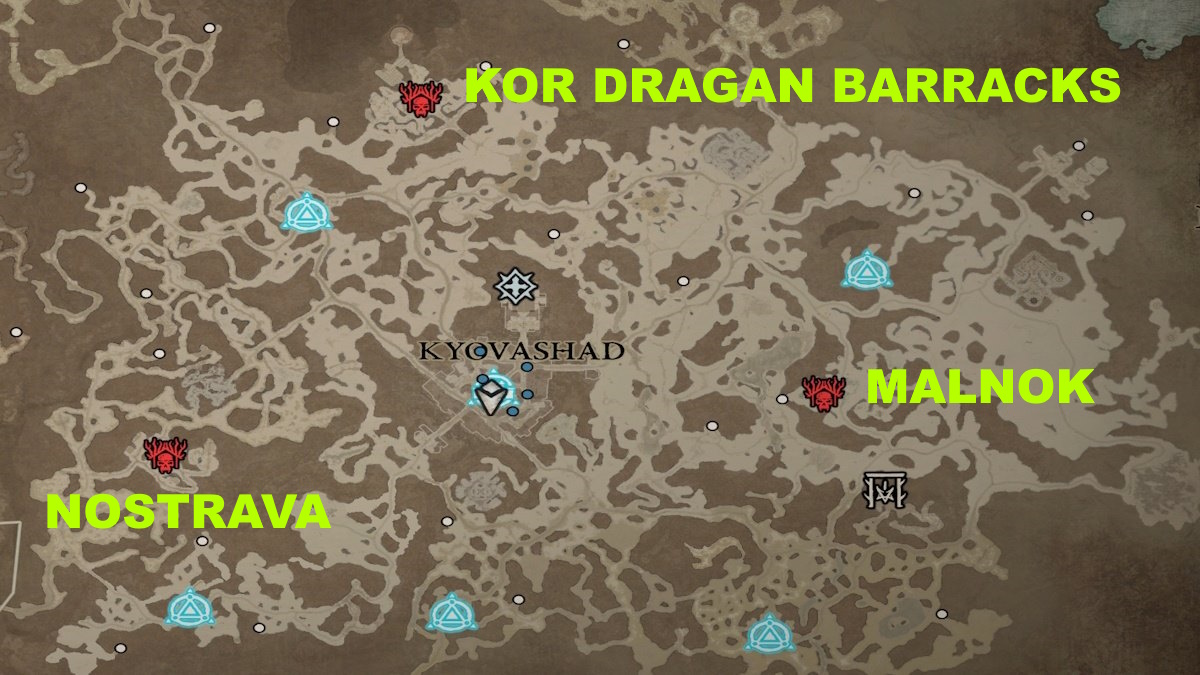 The first region you'll explore in Sanctuary is Fractured Peaks. This frozen wasteland, much like other zones, has three Strongholds.
Kor Dragan — Found in the northwestern portion of the zone, this place holds an Aspect for the Barbarian.
Nostrava — This peaceful village has been ransacked, and you might find something for your Sorcerer here.
Malnok — The frozen tundra has rewards for brave Druids and Necromancers.
All D4 Scosglen Strongholds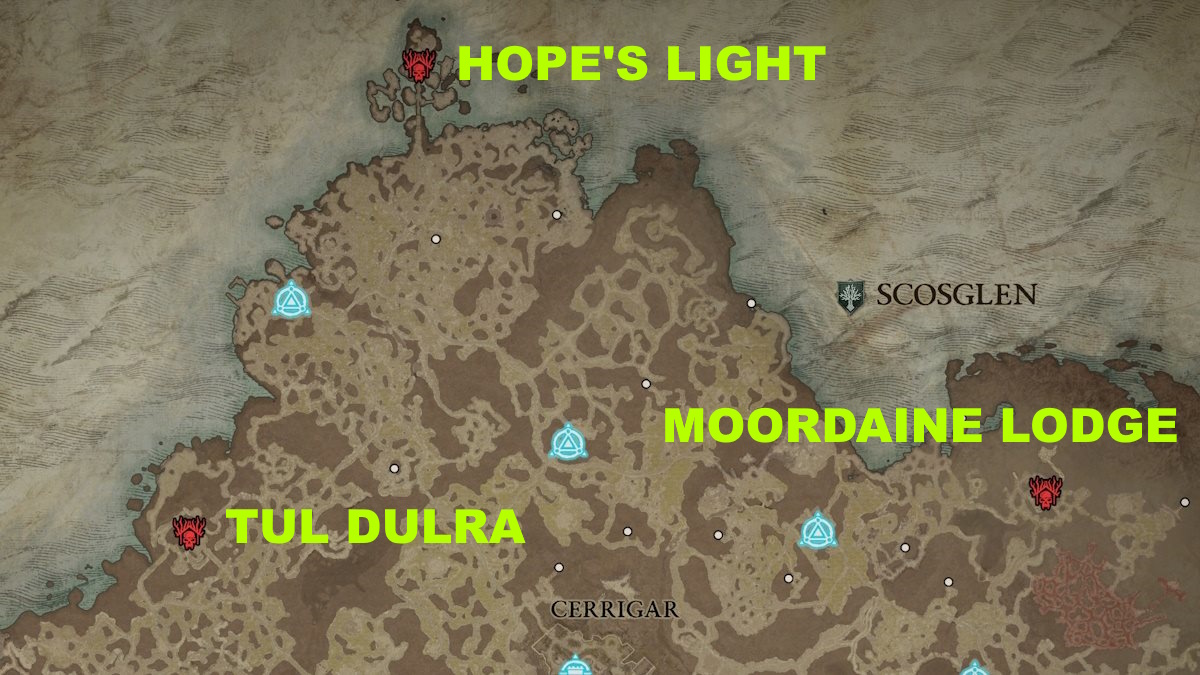 You'll eventually reach the lands of Scosglen. With a theme steeped in Celtic folklore, you'll encounter more Diablo 4 Stronghold locations here.
Hope's Light — There's a lone lighthouse on the frigid coast to the north, which happens to have something for the Necromancer.
Tul Dulra — Once a serene spot for practitioners of the mystic arts, clearing this location unlocks one dungeon with a Sorcerer Aspect and another that has something usable by all classes.
Moordaine Lodge — This building might seem abandoned, until you discover its secrets. You'll want to visit its dungeons if you're a Druid or a Rogue.
All Dry Steppes Strongholds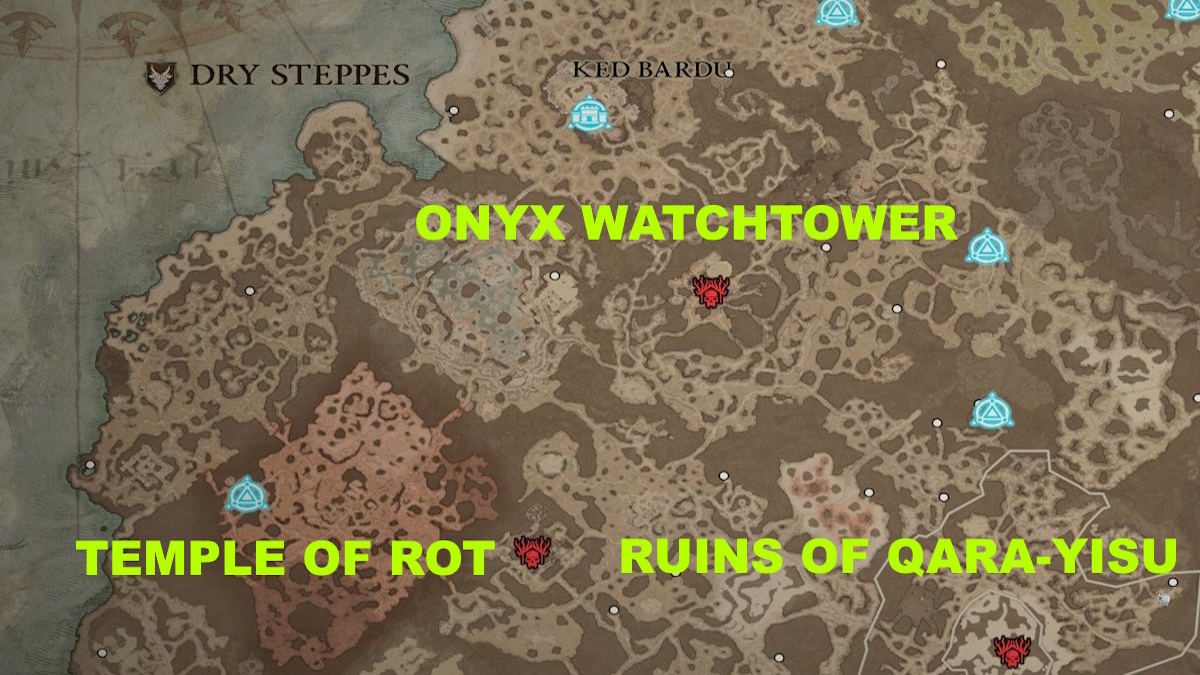 The Dry Steppes, close to the heartland of the Barbarian tribes, has rolling hills and steep gullies. And, of course, additional Diablo 4 Strongholds that unlock dungeons.
The Onyx Watchtower — This bastion in the center of the region has a dungeon with a Sorcerer reward.
Temple of Rot — Once a place of worship, it's now filled with carcasses and fetid wastes.
Ruins of Qara-Yisu — This forgotten city near the border with Kehjistan isn't quite abandoned as it seems. Its dungeons have something for the Rogue and Sorcerer.
All Kehjistan Strongholds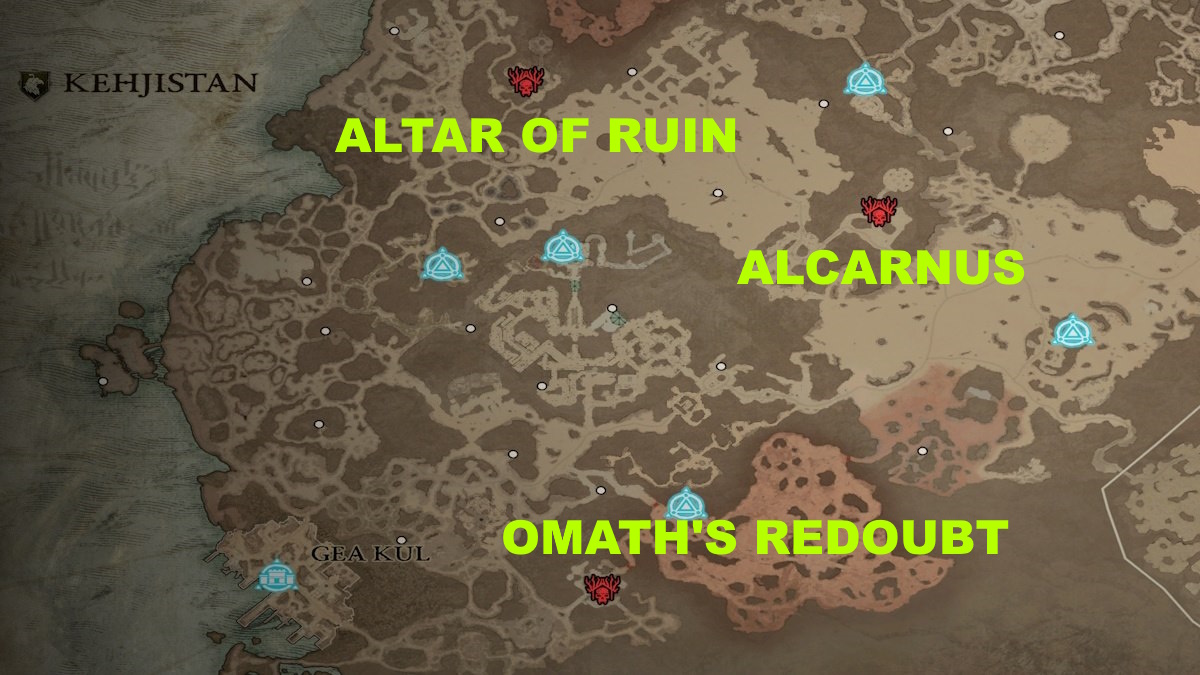 Kehjistan is a region known for its vast deserts and endless dunes. Without spoiling too much, there's a section where you have to get past a sandstorm that I felt dragged on a bit too long (so be prepared). But once you're in the clear, you'll arrive at the southwestern reaches of the continent.
Altar of Ruin — You're not welcome in this temple. Still, you'll probably want to delve further if you're a Necromancer.
Alcarnus — The ruins of this proud city were previously visited during Diablo 3's campaign. It's still crawling with the denizens of hell.
Omath's Redoubt — This base can be found in the southern edge of the region, close to the port city of Geakul.
All Hawezar Strongholds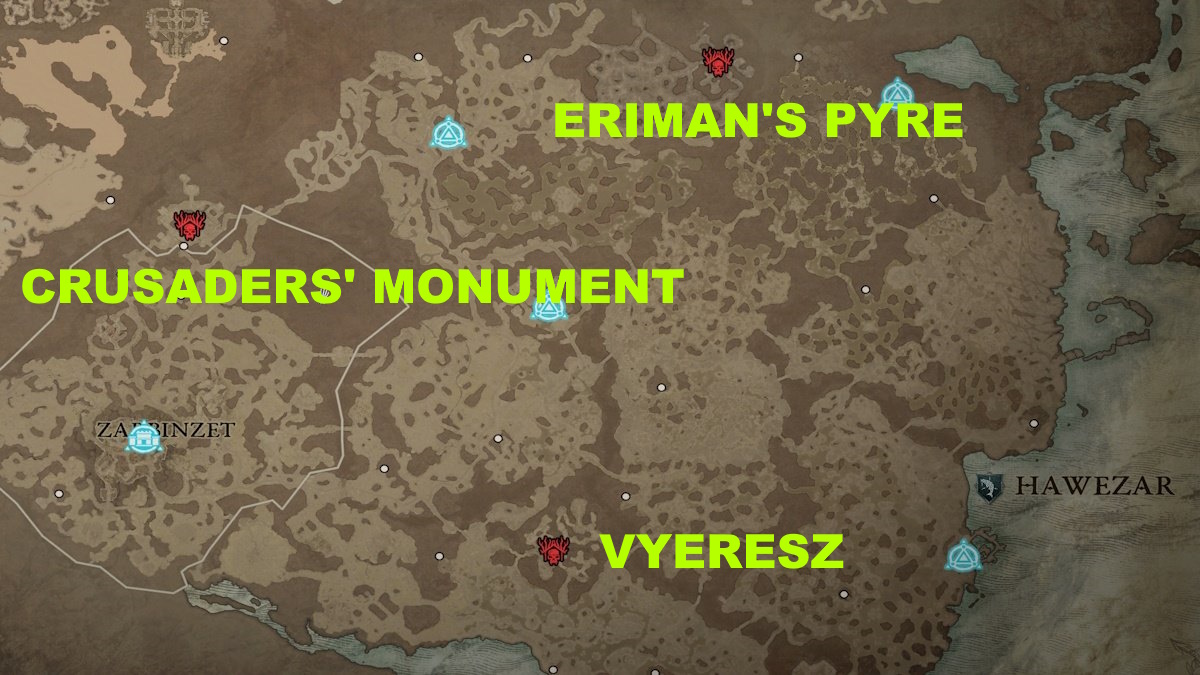 Hawezar is found in the southeastern corner of the map. From marshes and swampy jungles, expect new Diablo 4 Strongholds in the vicinity.
Eriman's Pyre — In the northern edge of this zone, close to the border with the Fractured Peaks, there's a woodland that's engulfed in flames. The dungeon reward here can be used by all classes.
Crusaders' Monument — Formerly held by the faithful, it's now home to numerous foes.
Vyeresz — Journey south from the jungles and swamps, and you'll stumble upon this base.
That's where to find all Diablo 4 strongholds. There's plenty more to do in Blizzard's latest ARPG. For more tips, walkthroughs, and location guides, head over to our D4 guides hub here.
About the author