The Diablo 4 Blacksmith offers several important mechanics and functions that you'll want to use consistently throughout your journey. Indeed, this is an important NPC to seek out regularly. Most will aid in improving your gear or making special use of certain items. Our guide details the Blacksmith's functions and tells you how to salvage (dismantle), repair, and upgrade items in Diablo 4.
How to Salvage, Repair, and Upgrade Items at the Diablo 4 Blacksmith
Diablo 4 Blacksmith NPCs are found in almost every town (i.e., hubs with fast travel points) throughout Sanctuary. They are represented by an anvil icon. The most important of these, at least in the early game, is the one in Kyovashad. The vendor here has a fairly short side quest that teaches you about item upgrades. But there's much more to the Blacksmith than that.
How to Salvage and Dismantle Items in Diablo 4
The first tab in the Blacksmith menu allows you to salvage or dismantle gear pieces so you can receive crafting materials. You can dismantle a single item or choose all of those in your inventory based on a particular rarity. One key facet about salvaging items is that items with a hammer icon are considered "new looks/designs." As such, you'll want to salvage them eventually to gain new transmog options.
Here are some materials to take note of during this process:
Iron Chunks and Rawhide — These are basic components that come from low-tier items.
Veiled Crystals — These come from rare-quality gear pieces.
Baleful Fragments — These are salvaged from and used to improve legendary weapons.
Coiling Wards — These are salvaged from and used to improve legendary armor sets.
Some of these materials are also used by other NPCs. The most important is the Occultist, which provides Legendary Aspect extraction and imprinting. Keep that in mind when spending these items.
How to Repair Gear and Items in D4
The Blacksmith's second tab lets you repair your gear. This is a simple process that costs materials depending on the item. It's not dissimilar to other repair functions in other games. You can repair either the items you have equipped or any in your inventory. The latter is a nice touch that makes this mechanic useful and efficient.
How to Upgrade Items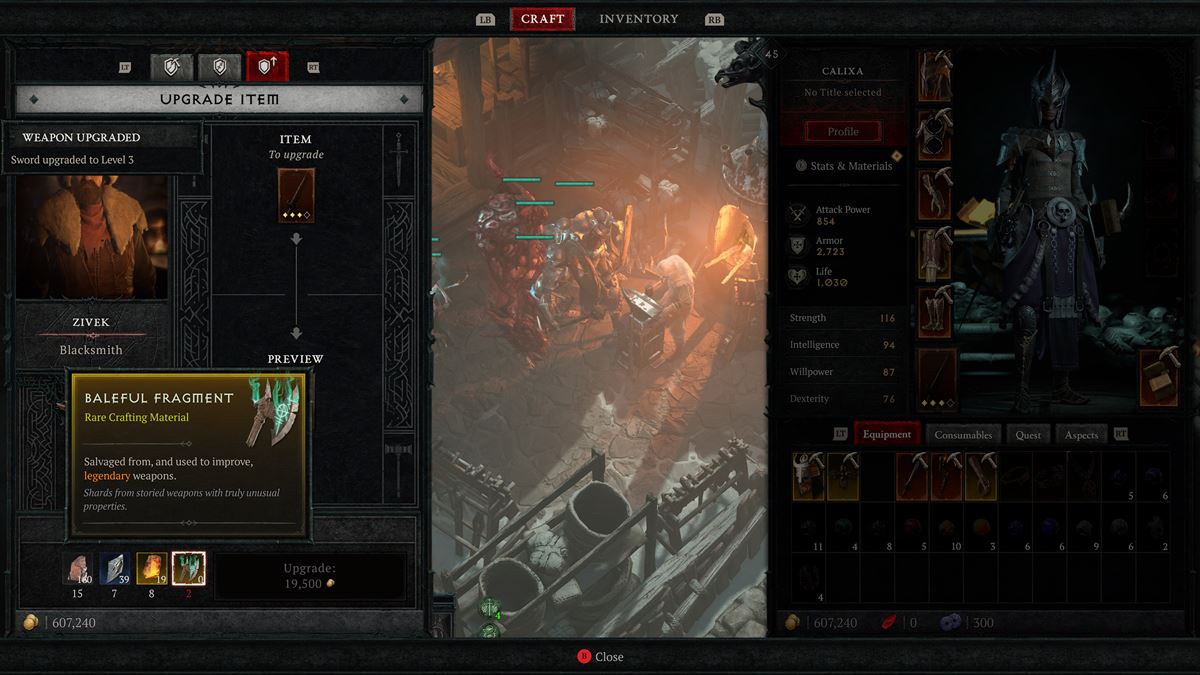 The last Blacksmith tab is where you can upgrade items in Diablo 4. Remember the materials and components I listed earlier? Those are what we'll need for this mechanic. Here's how it works:
Gear pieces have small diamond pips representing each upgrade level. As you continue to improve it, you'll see power levels and stats increase.
Each upgrade level has different costs in gold and materials. For instance, trying to get a Rank 4 upgrade would mean spending either Baleful Raiments or Coiling Wards.
You can make use of this function for armaments that you want to keep for a longer period, especially once you've leveled enough. However, I suggest only doing this later in the game, if at all. It's almost pointless to try this early on, given how often you acquire loot.
Alternatively, you can simply wait until you have a really good gear piece, then imprint a particular Legendary Aspect that you prefer. This is better than spending a lot of components just for power upgrades.
The Blacksmith item upgrade mechanic applies to weapons, offhand frills, and armor. However, if you need to upgrade accessories like amulets and rings, you'll have to interact with a Jeweler NPC.
Now you know how the Diablo 4 Blacksmith works, including how to salvage, repair, and upgrade items. You'll use that knowledge regularly in this massive game. For more tips, tricks, and walkthroughs, head over to our D4 guides page.
About the author