You'll want to know how to respec skills in Diablo 4 since the game allows you to select from various classes, such as the brutal Barbarian, element-infused Sorcerer, agile Rogue, shapeshifting Druid, and undead-raising Necromancer. Each one has its own unique capabilities and kit, making for some dazzling builds and combinations. Here's what you need to know about resetting skills.
Related: Diablo 4: Best Necromancer Golems Ranked
Diablo 4 Skill Respec (Skill Reset) Explained
The Diablo 4 skill respec system is very straightforward. All you need to do is open your abilities/skills panel and select the prompt to refund your skill points. There are two methods:
If you click on the "Refund All" button, all your points will be reset, and you can allocate them freely once more.

However, if you mouse over any skill and right-click on it, it will simply refund that point. As such, you won't need to redo your entire build.
Likewise, it should be noted that the Diablo 4 skill respec system is free only until Level 15. You'll be able to change your character's abilities often, without any costs, early in the game. However, once you reach Level 15, respeccing and resetting skills will cost gold. The more points you refund, the higher the cost.
For instance, when refunding everything on a Level 25 character during the open beta, this process would cost 2,860 gold.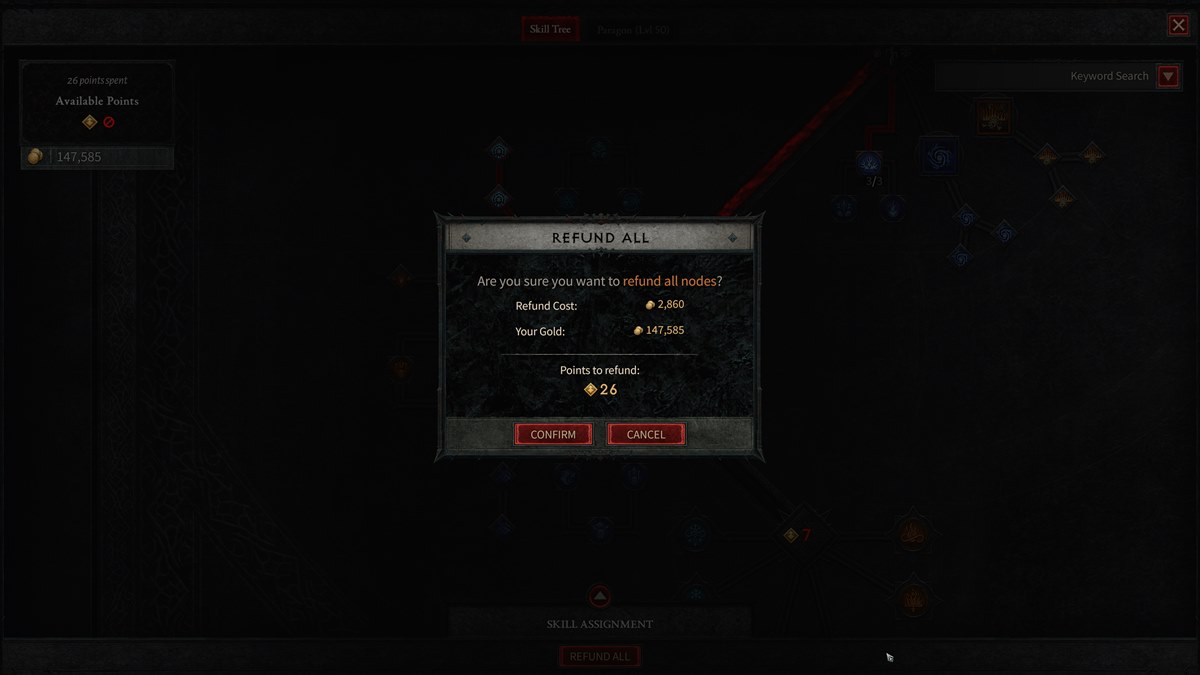 Screenshot by GameSkinny
Last but not least, it bears mentioning that you earn one skill point per level up, enough to mix and match abilities that would suit your playstyle until you hit the level cap. However, there are also challenges that can be completed while you're playing, such as earning more renown. These and others will also reward you with an extra skill point, one that's account-bound and active on all succeeding characters that you create.
But that's how Diablo 4 respec works. Now that you know how to reset skills, you can try some of the best builds in the game. For more, our Diablo 4 tips hub has you covered.
Featured image by GameSkinny.
About the author