Nightmare Dungeons are a big part of Diablo 4's endgame. They're much harder versions of the game's regular dungeons that provide tons of loot, XP, and Glyphs. You'll want to make them part of your regular rotation if you're looking to squeeze every last drop of power from your build. Here's how to unlock Nightmare Dungeons in Diablo 4.
How to Unlock Diablo 4 Nightmare Dungeons
Here are the steps for unlocking Diablo 4 Nightmare Dungeons:
You'll need to be at least Level 50 and have completed the main game.

That means all six Acts. I got to Level 50 long before I finished the campaign, so you shouldn't have much trouble unless you skip all the side content.

Once that's done, you'll need to complete the Cathedral of Light Capstone Dungeon. Doing that unlocks World Tier 3: Nightmare.
Once you have World Tier 3 unlocked, you can start doing Nightmare Dungeons. Now you just need some Nightmare Sigils.
How to Get Nightmare Sigils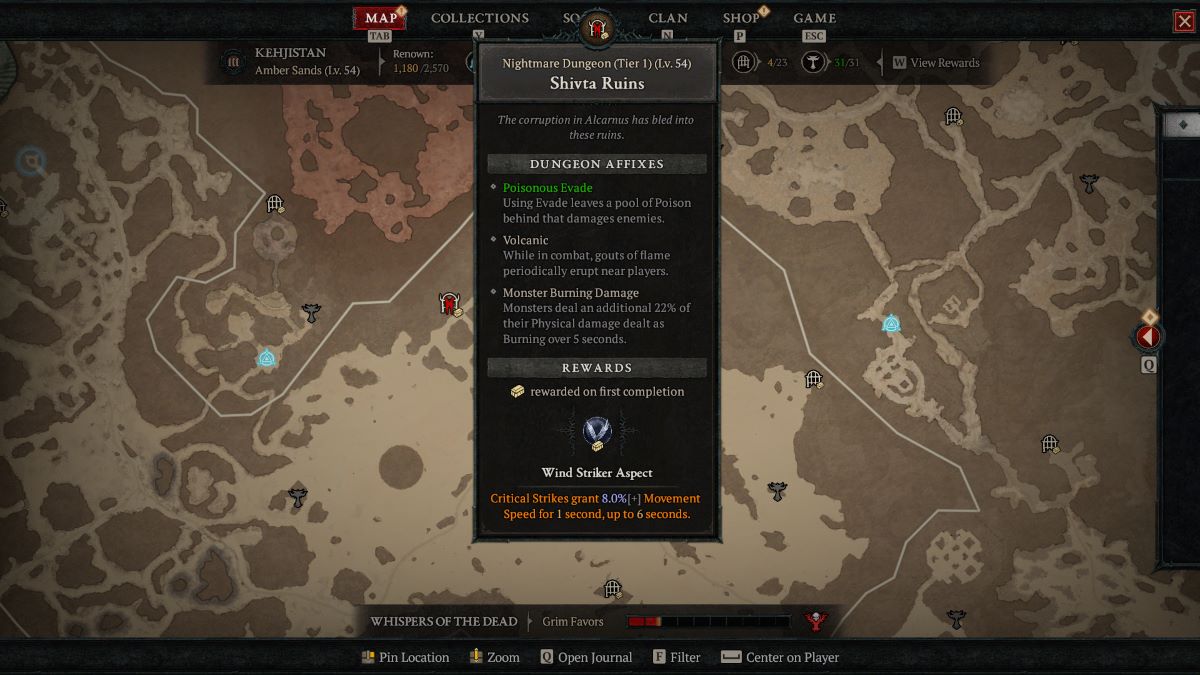 Once you're in World Tier 3, Nightmare Sigils have a chance to drop from the following:
Tree of Whispers caches
World bosses
Helltide events
Dungeons
Nightmare Sigils are blue in color and go into your Consumables tab when picked up. They come in different tiers: the higher the tier, the harder the Nightmare Dungeon, and the better the rewards. Nightmare Sigils are tied to dungeons, so you have no way to decide where you want to use your Sigil when it drops.
You can craft Nightmare Sigils at the Occultist, but you'll need to have completed a Nightmare Dungeon to do so. Once you do, you'll unlock a priority quest at the occultist that allows you to craft them. You can choose which tier of Sigil you want to craft at the Occultist, but there's no way to choose which dungeon you'll craft it for. Luckily, once you have access to Nightmare Dungeons, you'll see Sigils drop pretty frequently. I tend to have around five in my inventory at any given time just from playing the game.
How to Use Nightmare Sigils
To activate a Nightmare Dungeon, use the Nightmare Sigil you want to activate from your inventory. The dungeon you unlock will pulse on your map so you can find it, and anyone in your party will be asked to accept the invitation to the dungeon.
In addition to increasing the difficulty, Nightmare Dungeons also add random buffs to both you and the enemies you'll be fighting. They can also add environmental hazards you might want to stay away from. You have limited lives on Nightmare Dungeons, but it hasn't been an issue for me so far. Still, I'd recommend you be careful all the same. In addition, Nightmare Sigils are lost when used and dungeons reset if you log out or are disconnected. Plan accordingly.
Completing Nightmare Dungeons rewards you with a Glyph upgrade, as well as two powerful items that are often Legendary or Unique quality. Nightmare Dungeons can be tough, especially at high tiers, but they're more than worth it if you can do them. In addition to getting items and Glyphs necessary to round out your build, I think they're also pretty fun.
And that's how to unlock Nightmare Dungeons in Diablo 4. For more tips, tricks, and guides, check out our Diablo 4 guides hub.
About the author