The Diablo 4 Malady of the Soul quest is one of the many side quests available in Fractured Peaks. It's found in Act 1 and is the start of a three-part chain. Here's our complete walkthrough guide for Diablo 4's Malady of the Soul quest.
How to Complete The Malady of the Soul Quest in Diablo 4
Here's the skinny on how to finish this quest:
Talk to Sister Octavia.
Enter the Frigid Cellar.
Talk to Sister Octavia again.
Place her chalice near the boy.
Talk to Sister Octavia a third time.
Defeat the Carver demons.
Slay Xul'goth.
Exit the Frigid Cellar and speak to Sister Octavia.
Quest Complete
How to Start the Malady of the Soul Quest
To start Malady of the Soul, you'll need to talk to Sister Octavia. She's standing outside a house talking to a man named Petr. Both are directly southeast of Kyovashad's Waypoint.
Petr's son Vata has been possessed by a demon, and Petr would really like it if he wasn't. Enter Sister Octavia, who actually performs exorcisms instead of doing things the Church's way and (checks notes) setting people on fire and calling it a day. Sounds like Petr picked the right person. But Sister Octavia needs your help. I was down to save a small child from a demon, and hopefully, you are too. Get ready to perform your first exorcism.
How to Perform (and Survive) Vata's Exorcism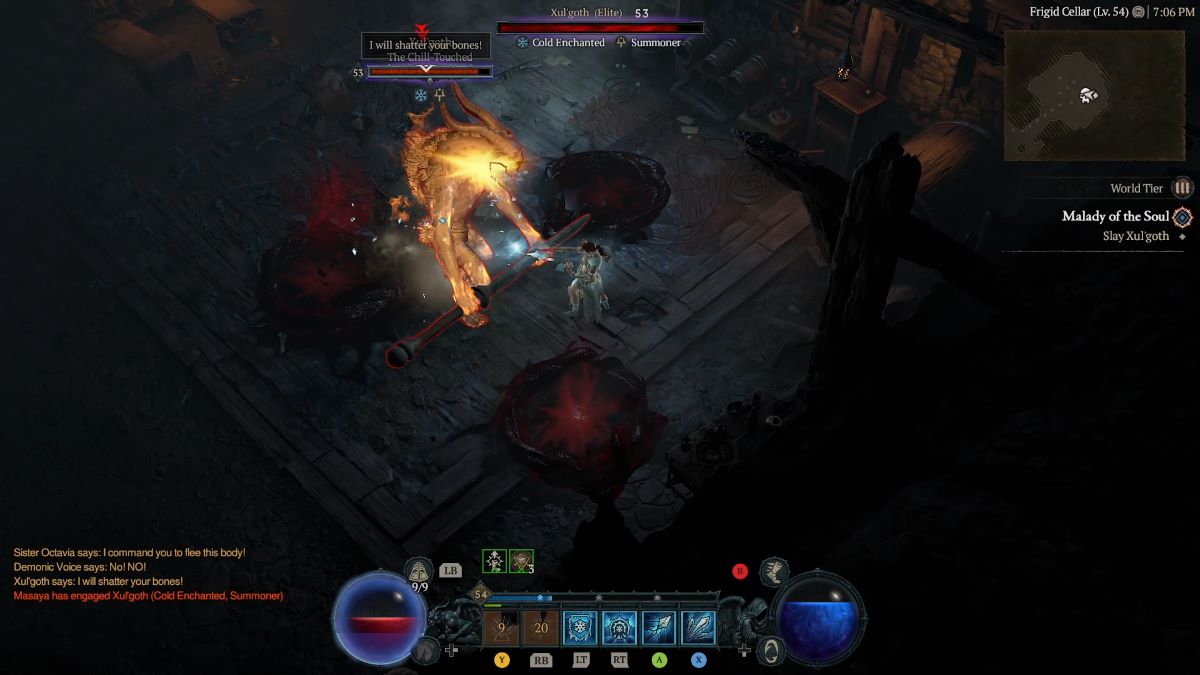 Follow Petr and Sister Octavia into the Frigid Cellar's cellar, which opens up after you finish the conversation. Speak to Sister Octavia inside the cellar, and you can progress the quest. I did this quest after I'd finished Diablo 4's campaign, so I had some unique dialogue here if you want to hold off for it. Sister Octavia will ask you to set her holy chalice in front of the boy. Do so. Once the chalice and Sister Octavia are in position, speak to her again.
Sister Octavia will start the exorcism. The demon inside Vata isn't happy about that and will send some Carver demons to kill you. Kill them first. Sister Octavia will then cast the demon, Xul'goth, out of Vata. He's Cold Enhanced and can summon more Carver demons. He also hits quite hard. Luckily, he's also very easy to kill. I downed him in just a few seconds. Focus on Xul'goth. Any Carver demons he summons will go down when he goes down.
Once Xul'goth buys the farm, Vata will wake up; for now, at least, all is well. Mission accomplished. Follow Sister Octavia out of the cellar and speak to her one final time. This completes the quest. You'll receive 20 Fractured Peaks Renown, an item cache, and some money for your trouble. Sister Octavia mentions she'll need your help in the future, so keep an eye out for her the next time you're in Kyovashad.
And that's how to complete the Malady of the Soul Quest in Diablo 4. For more tips, tricks, and guides, check out our Diablo 4 guides hub.
About the author