The Diablo 4 PvP player-versus-player system is an activity that you can access once you feel that you're ready to take on the competition. In it, you'll battle both monsters and other players to achieve supremacy, earn rewards, and collect Seeds of Hatred. If you're wondering how it all works, our guide details the ins and outs of Diablo 4 PvP, including Seeds of Hatred, Red Dust, vendors, and more.
How the PvP Seeds of Hatred System Works in Diablo 4
The Diablo 4 PvP system isn't necessarily an endgame activity, as you can access the zone as you progress later in the campaign. However, I suggest holding off if you want to perfect your build and grind for better gear. If you're ready for a fight, though, then we've got all the information for you.
Diablo 4: The Fields of Hatred
To get started with the game's PvP mechanics, you'll want to head to the Fields of Hatred in Diablo 4. It's located in the western portion of the world map in the Dry Steppes region. You'll notice that the terrain has a different color scheme, as it's rust red or blood red in color, compared to the sandy and muted tones of other zones.
Once there, talk to an NPC named Erol. Several notifications will appear, letting you know about the mechanics, which we detail in the next sections.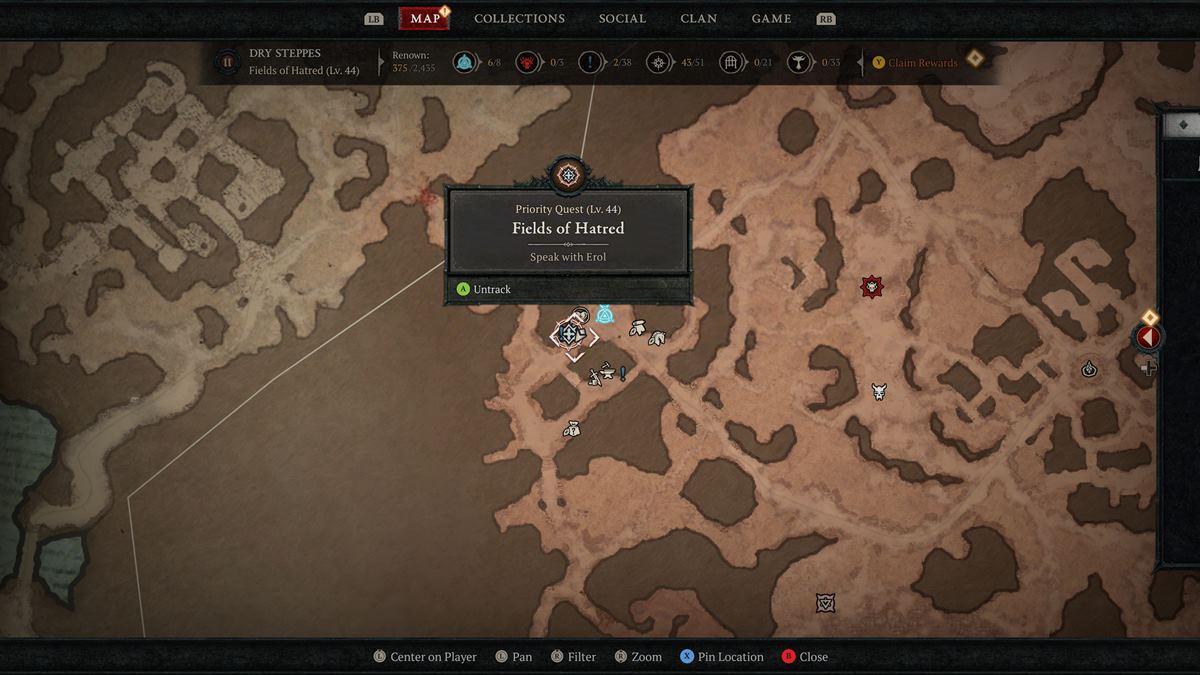 Seeds of Hatred, Altars of Purification, and PvP Bounties Explained
The whole concept here is more PvPvE than just pure player-versus-player. Basically, in the Fields of Hatred, you'll gather motes known as Seeds of Hatred through the following means:
Defeating enemies.
Defeating elites and bosses.
Opening chests.
Completing world events.
Tackling PvP bounties from the Tree of Whispers. This also nets you Grim Favors, an entirely different mechanic/currency for another endgame activity.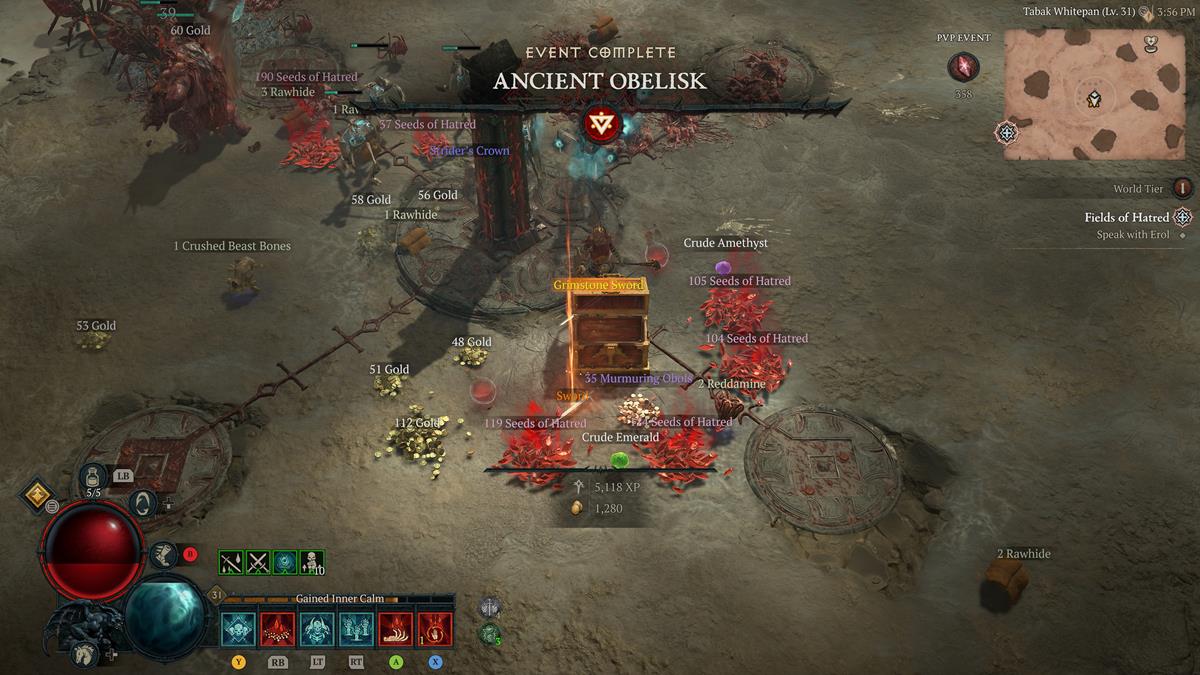 The Diablo 4 Seeds of Hatred currency is quite special and worth picking up. However, there are few key points to note:
Seeds of Hatred only exist while you're in the Fields of Hatred sub-zone. If you leave, everything you have amassed will disappear.
Moreover, dying while in the sub-zone will cause you to drop your Seeds. As such, any player in the vicinity will be able to pick them up if you can't get back in time.
To keep your currency, you'll need to go to an Altar of Extraction. As seen in the image on the right below, these are statues that carry red crystals/motes.
Interacting with a statue begins a Purification Ritual. You'll need to stay in place for roughly 30 seconds until it's completed. If you succeed, your Seeds of Hatred will be converted into Red Dust.
How to Use Red Dust and Red Dust Vendors
Unlike Seeds of Hatred, the amount of Diablo 4 Red Dust you have will be stored in your inventory for later use. You won't drop the currency on death, and you can keep as much as you need while exploring other areas.
You can then exchange Red Dust for various items with an Unsavory Oddities vendor. Think of these NPCs as Purveyor of Curiosities merchants, only they're in PvP zones. Moreover, there are also other PvP areas in the game world. Just look for sectors with the same blood-red/rust-red hue.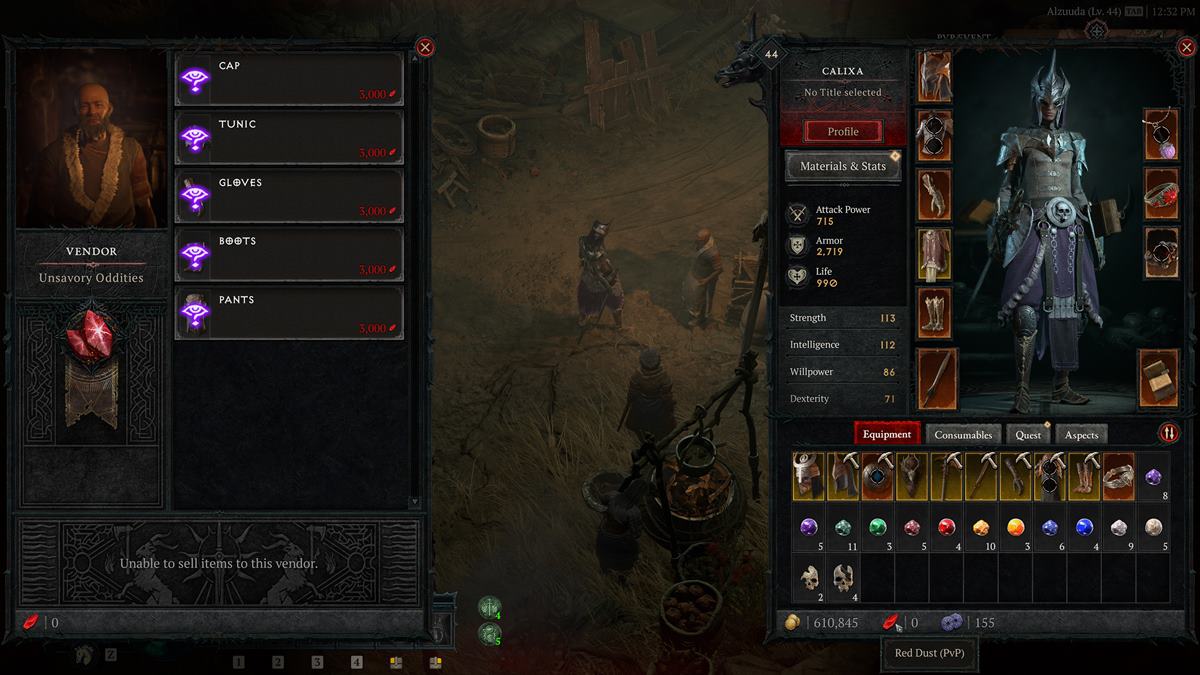 Mark for Blood and Bloodmark: How to Flag Yourself for PvP
And finally, the Diablo 4 PvP system won't be complete without actual hostilities between players. To flag yourself for PvP, you'll need to open your emotes wheel and choose the Mark for Blood command. This will allow you to attack other players in the area.
Moreover, defeating another player will cause you to become Hatred's Chosen, revealing your location to others in the vicinity. The goal is to stay alive while you're Hatred's Chosen, which will let you earn more rewards. Here are some things to keep in mind:
Since your position will be revealed, be prepared for others to track you down and attack you when you least expect it.
Being Hatred's Chosen will prevent you from using Altars of Extraction. That means you won't be able to convert Seeds of Hatred into Red Dust immediately.
You won't be able to remove the Bloodmark/Hatred's Chosen status on a whim or via the emote wheel. Instead, you'll need to leave the PvP area so you can interact with an Altar of Cleansing in a town.
While playing the review build, I've heard of players that were instantly taken out by regular class abilities. Though I think that might be relegated to the game's early access period prior to launch, it's still possible to show up in the launch build.
Given all the legendaries, uniques, aspects, and Paragon boosts you can acquire throughout your journey, the Diablo 4 PvP activity might be something you'll want to save for later until you feel that you're ready. We're bound to see just what's in store once more players are duking it out for rewards.
In any case, that's how Diablo 4 PvP and Seeds of Hatred work. For more tips, tricks, and walkthroughs for this massive game, you can visit our D4 guides hub.
About the author