Near the end of The Raid main story quest in Dying Light 2, you'll be forced to make a choice that has some impact on the main storyline. Well, more impact than other choices in the game. Regardless, if you're here, you're wondering if you should go to Aitor or Sophie when presented with the choice at the Tango Motel.
This quick guide won't walk you through the entire story quest but will instead tell you the difference between choosing Aitor or Sophie so you can decide which is best for you. Obviously, there are significant spoilers ahead.
The Raid Choices: Should You Choose Aitor or Sophie in Dying Light 2?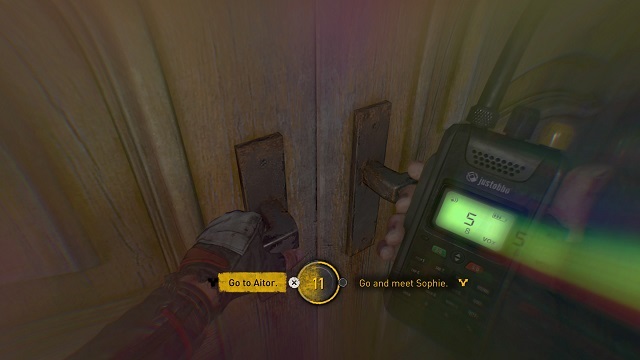 Go to Aitor
If you choose to go to Aitor, you'll have to go all of the way to the Peacekeepers base in Quarry End. However, The Raid story quest will end after speaking with him at the Metro Station, making this the easier of the two choices.
Go to Sophie
If you choose to go to Sophie, you'll go into the Tango Motel. As you search the hotel, you'll find PK bodies everywhere indicating there was a fight. Eventually, you'll come to a locked door and have to venture outside. Use the bridges and scaffolding to reach a door one story above you, then follow the path back outside to a rooftop garden area.
Despite choosing to side with Sophie, Barney catches you speaking with Aitor over the radio and sends goons after you. Defeat them. When you interact with the door for the objective marker, you'll initiate a boss fight with Hermann.
The area in which you fight is small, so use dodge liberally and only attack in short bursts.
Use the ladder to climb out of the pit and go back into the Tango Motel. Be sure to grab the Inhibitor outside of Barney's and Sophie's room.
Interact with the gate barring the entrance to the room to start a cutscene. Here, you'll be presented with two more choices:
We can help each other.
Try me!
Choose "We can help each other" if you want to help Sophie and push the story in that direction. Choose "Try me!" if you want to change your mind and help Aitor.
If you chose "We can help each other," you'll make another choice that doesn't have any consequences, and then you'll be faced with a final choice of "I'll help" and "No way. I won't help you." Choose "I'll help" if you want to go with Sophie. Choose "No way. I won't help you" if you want to change your choice to Aitor.
Helping Aitor or Sophie ultimately leads to a few ripple effects in the overall Dying Light 2 story. Choosing Aitor leads to Barney's arrest for the death of Lucas. Choosing Sophie keeps Barney out of the Peacekeepers' clutches. A few other story quests have slightly different paths and outcomes, as well, primarily that you'll be helping the Survivors or Peacekeepers against the other Faction.
Along the way, you'll fight Barney or Aitor, and either the Bazaar or PK Main Terminal will be abandoned, cutting off access to vendors there (but not collectibles). No matter the choices you make, though, it doesn't impact your decision at the Water Tower, and you will get to the Central Loop eventually.
Hopefully, this quick guide helped you decide to go to Aitor or Sophie in The Raid story quest in Dying Light 2. For more tips, consider heading over to our DL2 guides page.
About the author