Ashes of War are some of the most powerful abilities in Elden Ring, and when you equip the best of them to the game's strongest weapons, your damage output skyrockets.
Giant Hunt is a top-tier choice for Colossal Swords and certain Halberds, dishing out massive damage and sending smaller opponents flying into the air. Best used on high Strength builds, Giant Hunt can carry you through some of Elden Ring's toughest challenges, provided you use it well. Here's how to get it.
How to Get the Giant Hunt Ash of War in Elden Ring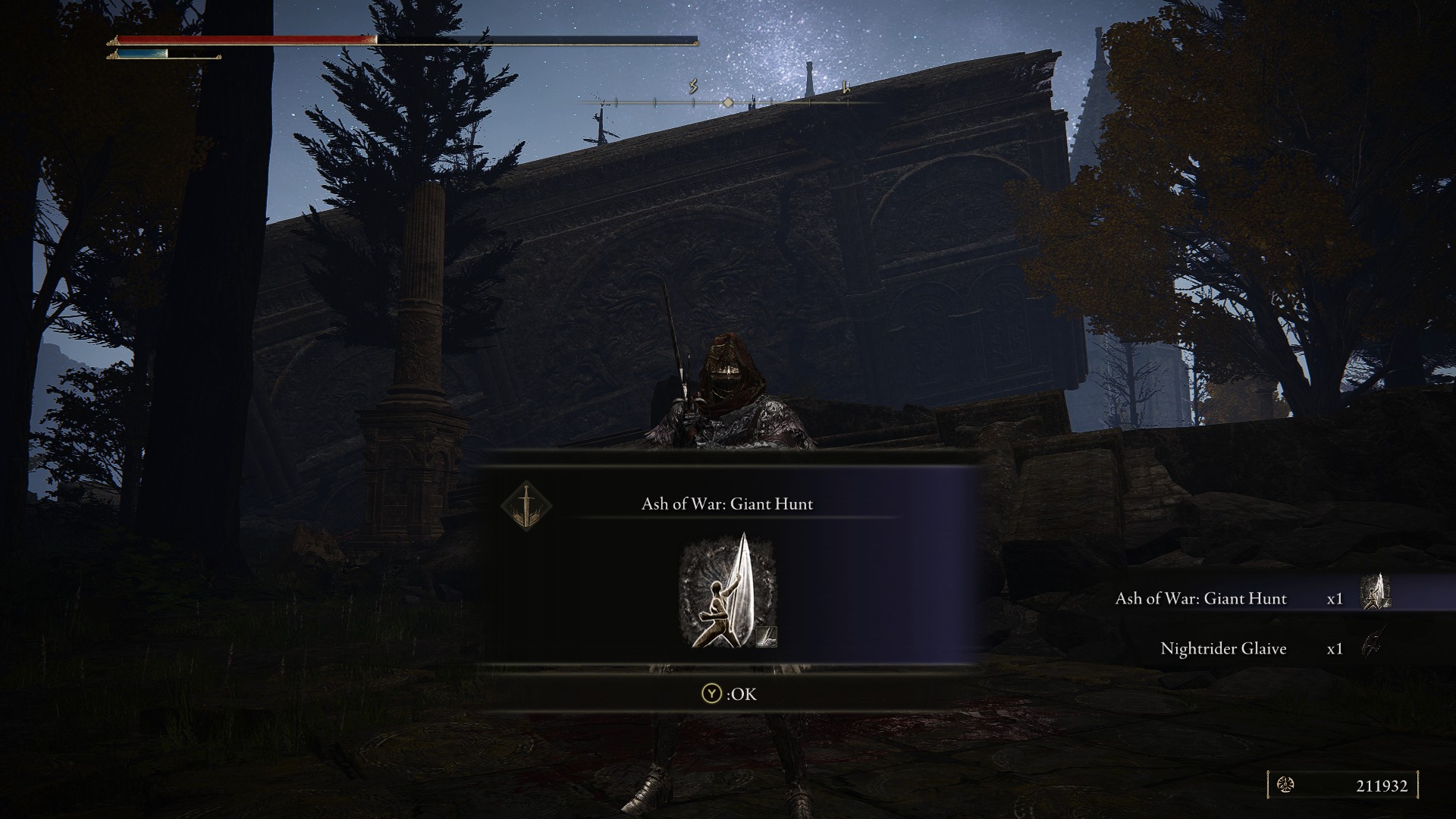 Giant Hunt is a guaranteed drop from a Night's Cavalry wandering world boss in northeast Liurnia of the Lakes.
The best way to reach it is to start from the Academy Main Gate Site of Grace and travel north. You'll quickly discover a small forested area and, if it's nighttime, you'll see the Night's Cavalry on the wood's southern end.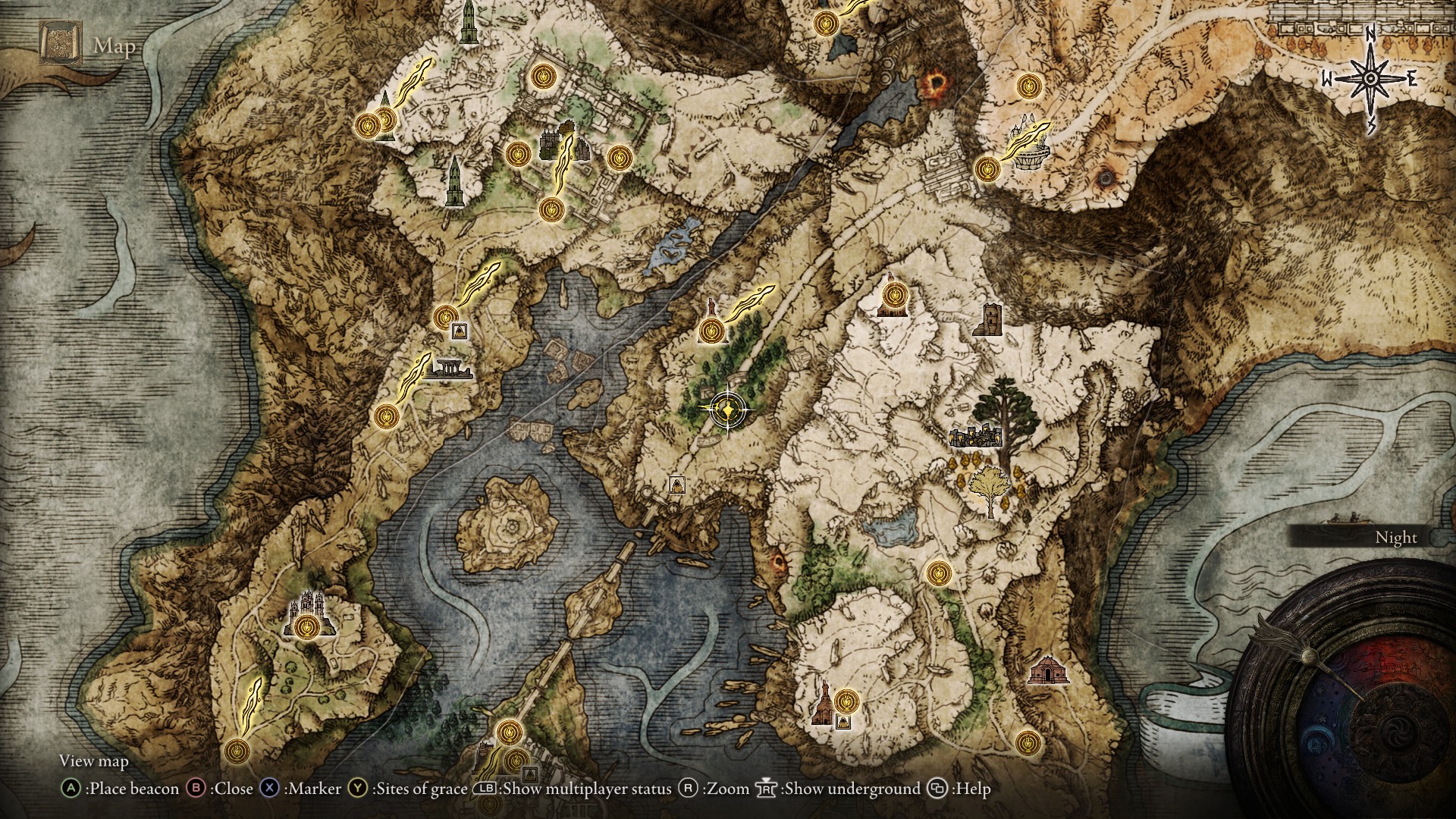 If it's not nighttime, head north of the forest to the Bellum Church, grab the Site of Grace there, and Pass Time till night.
Defeating the Night's Cavalry here is easier than in other locations it haunts, as the enclosed nature of the forest limits how far it can ride around. Most of its attacks are highly telegraphed, and the best way to avoid them is to wait until the boss is charging you and watch how raised its weapon is.
When the boss is just about to reach you during a charge, it will raise its weapon and, after a half-second pause, bring it down in a slam. Dodge either to the side or into the boss to ensure you are within range to punish. If you end up right next to the horse's shoulder and the Night's Calvary uses a particularly fast attack, you'll want to dodge a second time, as the horse will try to shoulder-check you.
Don't stand directly in front of or behind the boss, as the horse will either rear and stomp you with its front hooves or buck and strike you with its rear hooves. Always try to stay perpendicular to the human portion of the Night's Cavalry boss, as this will keep it attacking with just its glaive.
Remember to attack even if you don't think you can hit the rider, as well, as its horse also has a health bar. If you manage to slay the horse, the rider will be knocked to the ground and be vulnerable to a critical attack after a second or so on the ground. Attacking the rider while it's on its back almost always guarantees a kill, but if it doesn't die, it has a few slow glaive attacks.
If you take too long to kill the rider, it will eventually resummon its horse, and that phase of the fight resumes. If the rider stands straight up and raises its glaive, you'll need to dodge backward as the summon spell has a small AoE that will still knock you down if it connects.
Once you take out this unit of Night's Cavalry, you'll receive the Giant Hunt Ash of War, a powerful upward stab with larger bladed weapons. You'll also earn the Nightrider Glaive, which can equip Giant Hunt to make it an even better weapon than it already was.
That's how you get Giant Hunt in Elden Ring. If you're already rocking a Strength-focused build, only a few comparable options are available, and fewer still pack as much of a punch in PvP. We've covered tons of other Elden Ring topics here, including how to get the Dark Moon Greatsword, beat Malenia, Blade of Miquella, and find the Moonveil katana. Our Elden Ring Guides hub has even more.
About the author