In addition to player-driven vending machines where anyone can sell their items (and a 10% sales tax that the player base isn't exactly stoked about), the newly-launched Wild Appalachia Patch 9 includes some new quest content for Fallout 76.
The Order Of The Tadpole quest lets you show off your proud, patriotic spirit and learn proper scouting techniques to stave off the commie threat! Below we cover how to initiate the quest and complete each stage.
Important note: If you disconnect in the middle of this quest, it may entirely disappear from your journal and all your progress will be lost. Some players have been able to fix this issue by changing servers, as it appears your quest completion data is still there to be retrieved, it just isn't visible if you log back into the same server.
Hopefully, you won't get disconnected for lacking the required entitlements.
Order Of The Tadpole Quest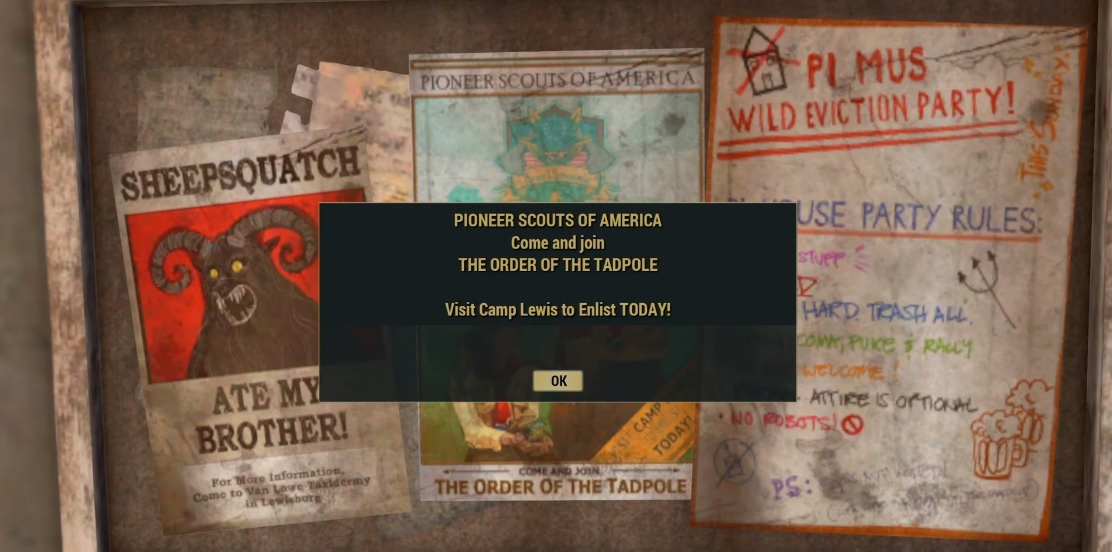 To start the quest, head inside any train station and read the Pioneer Scouts recruiting poster found on the wall to find out about The Order of the Tadpole.
With the quest initiated, travel to the Scouts camp location on your map and talk to Scout Leader Jaggy (a Mr. Handy robot) found floating around between the cabins.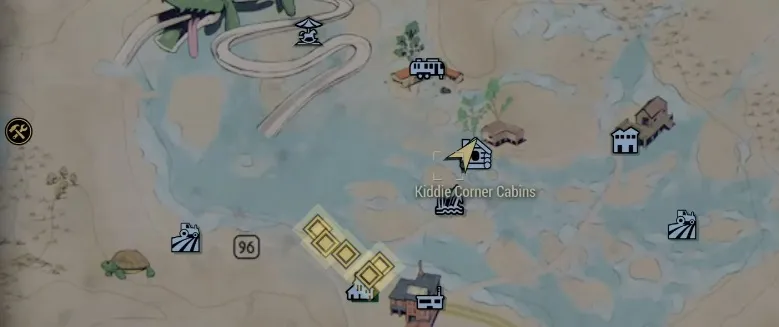 To become a full-fledged Possum Scout, you need to go around exemplifying proper Scout values:
Kindness: Revive an ally
Helpfulness: Travel to the Kiddie Corner cabins and clean them
Bravery: Control pests at Dolly Sods
Growth: Earn 3 scout world challenge badges
The kindness virtue is pretty self-explanatory. Just wait for a buddy to get hurt and help them out with a stimpak. This will probably happen naturally during the course of combat, but if you really want to get it done quick, just have someone jump off a tall tree or ledge, then quickly run up and heal them.
For the helpfulness value, complete the Repeatable: Operation Tidy quest by traveling around the Kiddie Corner cabins area and looking for the yellow toxic mutagenic waste clumps on the ground, which are usually near water. They can appear in different locations, however, and sometimes are even directly west of the scout leader in this area. After collecting them all, drop them off in the blue containment barrel found near Scout Leader Pompy.
For the bravery value, complete the Repeatable: Stings and Things quest and acquire parts for an insect repellent. After acquiring all the parts, take them to Scout Leader Treadly at Dolly Sod's wilderness. You can gather the parts by killing the corresponding creatures at these locations:
Bloodbug Proboscis: Southampton Estate (north of Dolly Sods wilderness)
Bloatfly Gland: Northern Mire (note that these drop infrequently, so you may need to kill a bunch of bloatflies)
Radroach Meat: East Mire
Stingwing Barb: Bleeding Kate's Grindhouse
Tick Blood Sac: South of Harper's Ferry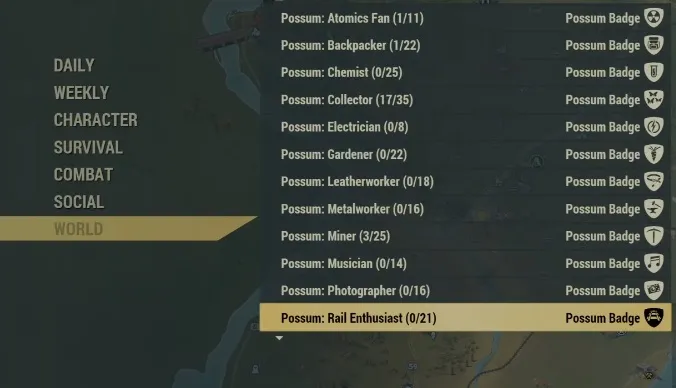 Finally, for the growth virtue, you need to earn three scout world challenge badges. You can see these by opening the map, going to the challenges menu, selecting world challenges, and then scrolling through the options to the badge entries at the bottom.
Selecting any of the entries will track the challenge and show you what to do. There are a huge number of options here, covering topics like archer, athlete, entomologist, herpetologist, and mammalogist.
Which task you take will depend on your current character build and how you like to play. "Athlete" for instance requires you to get your strength and agility stats to 5 or higher, in addition to completing athletic checkpoint races at the campsites.
Each badge includes several steps to complete (like taking pictures of animals, crafting specific items, and so on) and is capped by an exam that tests your knowledge. You can complete multiple choice tests on the Pioneer exam terminals found inside the camp.
Wondering about the answers for the exams? There are a ton of them, and we've got them all listed out already. Check out out our full guide to getting the scout world guide badges over here.
With the four virtues properly exemplified and three badges acquired, go back talk to one of the Mr. Handy Scout Leader Jaggy at camp to become a full-fledged Possum and complete the quest little Tadpole!
For more tips and walkthroughs, including how to find Pemmican, how to find the Purveyor legendary vendor, and where to find ballistic fiber, head over to our Fallout 76 guides page.
About the author