The FFXIV Stormblood expansion introduces two new jobs: Samurai and Red Mage. They are quite different in approach and mechanics — as one mostly relies on the mastery of katana, while the other one primarily focuses on casting spells.
This guide will help you understand how to play Red Mage and use all of his abilities in the most efficient ways. (But of course, you'll want to make sure you've unlocked the Red Mage job for Stormblood first.)
How to Use Mana as Red Mage in FFXIV Stormblood
Red Mage is a unique blend of White Mage and Black Mage that uses both black and white mana to cast spells. He can also deal melee damage supported by some great magic abilities, but it is important to keep your distance in combat and focus on casting core spells.
Every time you cast a certain spell as Red Mage, whether it's black (Verthunder, Verfire, Verflare) or white (Veraero, Verstone, Verholy) magic, it will increase the corresponding mana gauge. However, some spells don't affect the mana gauge, such as Vercure and Verraise. There are also special red spells (Jolt, Impact, Fleche, Contre Sixte) that increase both black and white mana gauges in equal measure.
It is important to keep both gauges as high as possible, and if you see that there is an imbalance, then feed the starving gauge by casting spells of the corresponding color. For example, if your white mana is low, then be sure to cast more white spells. And if your black mana is low, then cast more black spells in order to balance out the mana deficiency.
If you manage to maintain your mana balance well, you will be able to cast powerful combos at any time during combat.
How to Cast Spells as Red Mage in FFXIV Stormblood
As soon as you start casting spells as Red Mage, you will gain one of his most impactful abilities — Dualcast, which you should definitely prioritize when playing this job.
Dualcast allows you to cast two spells in quick succession. You can cast the first spell as usually, but the second one will play as an instant, so you don't need to wait for its casting cost to resolve. The best way to use this ability is to cast a short spell first, then use a longer and heavier type of spell for the second instant cast.
Ideal Spell Casting Sequence
Here is the proper sequence of casting spells that will increase your mana gauges to their peak levels and maintain them in relative balance:
Typically, you want to start casting with the Jolt spell that will proc the Dualcast ability.
Then, consider casting either Verthunder for black mana or Veraero for white mana.
If you've chosen Verthunder, then your next logical step would be either Verfire or Impact. Either way, you will need to finish the combo with Veraero in order to balance out the gauges.
In the same manner, if you've cast Veraero after Jolt, then you need to cast Verstone or Impact, and finish off with Verthunder.
In this way you will gain full advantage of your black, white, and red spells by casting them instantly with the help of Dualcast, and managing your mana gauges in balance.
How to Melee as Red Mage in FFXIV Stormblood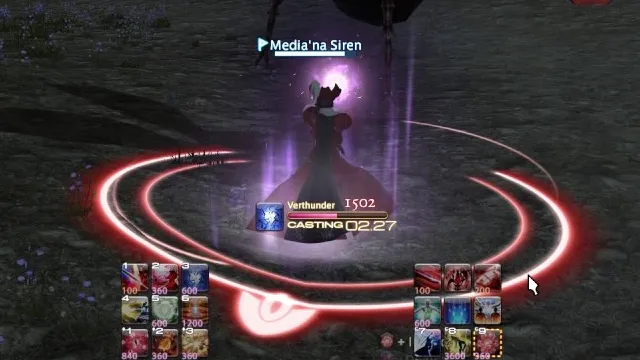 Since melee is not the primary combat mechanic of Red Mage, it is harder to execute the right kind of combos for your weapon. In fact, there are only two of them: enchanted and non-enchanted. There are also different weapon skills that can be activated during the combo.
The enchanted type of combo requires you to have your mana gauges filled up to at least 80%. Then you can start executing the combo:
Start with the Corps-a-Corps ability that will get you closer to the target.
When you are in range, and your mana is ready, you can start activating your weapon skills.
After the combo is resolved, return to your initial position with the help of Diplacement ability, and start casting your magic spells in order to refill your mana gauges.
—
If you follow these simple instructions your Red Mage will always have full and balanced mana gauges, and you won't leave a single enemy undefeated. Also, check below for more FFXIV Stormblood guides at GameSkinny:
About the author