Much like in the main series, Fire Emblem Warriors asks players to Class Change their characters in order to unlock their full potential. In order to Class Change a character, you need to level the warrior up to 15 and use a Master Seal to make their Surge Crest.
However, Master Seals are no easy thing to find. You really have to comb through the Story and History Modes skillfully if you hope to get them all. Knowing where to look is only half the battle, though — you must also make sure to fulfill the requirements.
How to Find Master Seals in Fire Emblem Warriors
There are 6 Master Seals hiding in Story Mode while the other 17 are scattered about History Mode. The Master Seals in Story Mode are comparably rather easy to get, but you still have to be sure you don't miss them.
Any Chapter with a Master Seal in it will have a white icon in its respective box on the Scenario Select screen. While some of these Chapters will just award you with the Master Seal upon defeating the final boss of the level, many require you to open a Treasure Chest to get it. You'll need to find and kill the commander with the key to do so, too.
As far as History Mode goes, the Master Seals are scattered all over the place and require that you not only unlock the maps that they're hidden on but also achieve an S-rank for the levels they're in.
How to Unlock More History Mode Maps
The actual Maps for History Mode are unlocked in a couple of ways. Seeing the Story Mode through to the end nets you a total of 5 maps, You'll earn your first map when you complete Chapter 5, the second after Chapter 13, the next with Chapter 15, and the last two for beating the Final Chapter.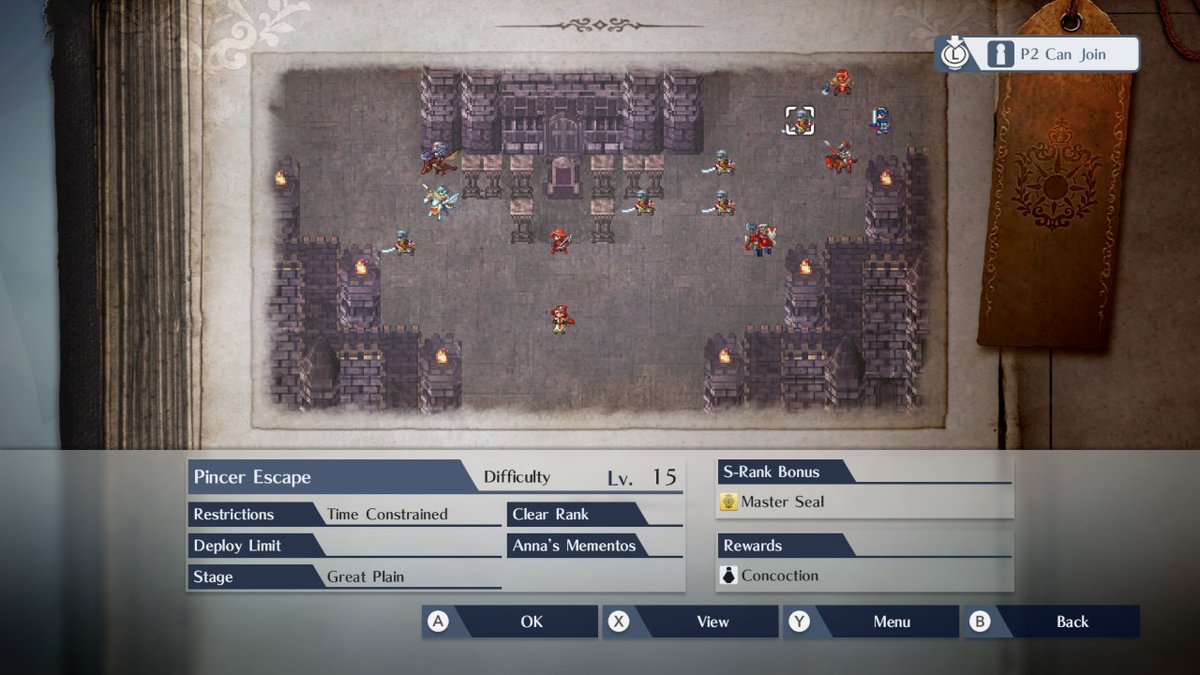 Additional History Mode events are unlocked by collecting Anna's Mementos and completing pictures. Any stage that gives a Memento should give two, though you'll need to unlock the ability to earn the second one.
In the case of Story Mode chapters, you have to complete the story once and play the level on Hard or Lunatic to receive the second Memento. On top of that, you must always earn the first Memento and beat the level with it before you can go for the second.
How to Attain an S-Rank in History Mode
In order to actually get the Master Seals from their respective History Mode levels, you need to get an S-rank. To achieve an S-rank, you must meet three specific conditions when finishing a level:
Get 2000 total kills.
Don't sustain 80% or more of your health in damage.
Complete the mission in 20 minutes or less.
Note that any kills that the uncontrolled members of your team get counts towards your total kills. To check it, just bring up the Map screen by pressing '+' and move your cursor to an empty square.
Also, to be clear, you may take about 79% of your health in damage and still be safe for getting an S-rank, just make sure not to take 80% or more. Note that this is the total damage dealt to you over the course of the battle and healing will not reset it.
Once you meet the 2000 kill requirement without getting hit too much, carefully rush to the boss to finish the level within the time limit and earn yourself that Master Seal. Make sure not to be reckless, though, by taking too much damage during the final fight.
And that's everything you need to know to earn all 23 Master Seals — just enough to Class Change the entire cast of characters. Be sure to keep your eyes peeled on GameSkinny for more Fire Emblem Warriors guides coming soon.
About the author