Fortnite's Season 4 is inevitably nearing its end. But there are still a few challenges to be completed before we all can venture into the next season. This week, you need to locate seven chests in Salty Springs, which is a slightly easier task than last week.
Besides the few well-known locations for treasure chests in Salty Springs, there are a few secret spots as well, which you can find by following the map and quick guide below.
All Chest Locations in Salty Springs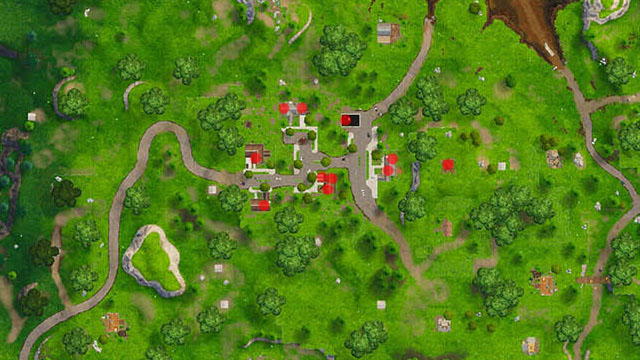 One of the easiest chests to get in Salty Springs is located on the top level of the watchtower to the east. Most players think this chest doesn't count, but it actually does, so go ahead and grab it.
The rest of the chests are scattered all around the houses in the area. Most of these chests are easy to spot, since they're all residing in the attics of the houses. This makes it really easy to loot them when you land on top of the houses. Just break the roof and get all the chests you can find.
However, there are a couple of houses that have several chests hidden inside secret basements. For example, a house with a blue roof has such a basement. So go to the ground floor and break it down. You will land inside an underground room with more chests to loot.
Another such hidden basement can be found inside the house with a broken roof in the northern part of Salty Springs. Just do the same as before: go to the ground floor, break it down and claim your chests.
—
That's it for all loot chest locations in Salty Springs for this Week 8 Challenge. For other Fortnite guides here at GameSkinny, check the links below:
About the author