Highcard is a Boss in Fortnite that you'll need to defeat for the Week 4 quests for Season 2, Chapter 4. Highcard can be found in a few specific locations across the island, but not immediately. We'll tell you where to find the boss and how to deal with his posse in this guide.
Where to Find the Highcard Boss in Fortnite
The Highcard Boss will spawn after the first storm cycle. Once he spawns, a Point of Interest notification will pop up on your mini-map and alert you to your metered distance to Highcard. If you're nearby, you'll hear a portal open up, too.
Highcard can only be found in three locations:
Brutal Bastion
Shattered Slabs
Mega City
He is identified by his black suit and a black and red face mask. His two guards are dressed in all white, with a bit of red on their face masks.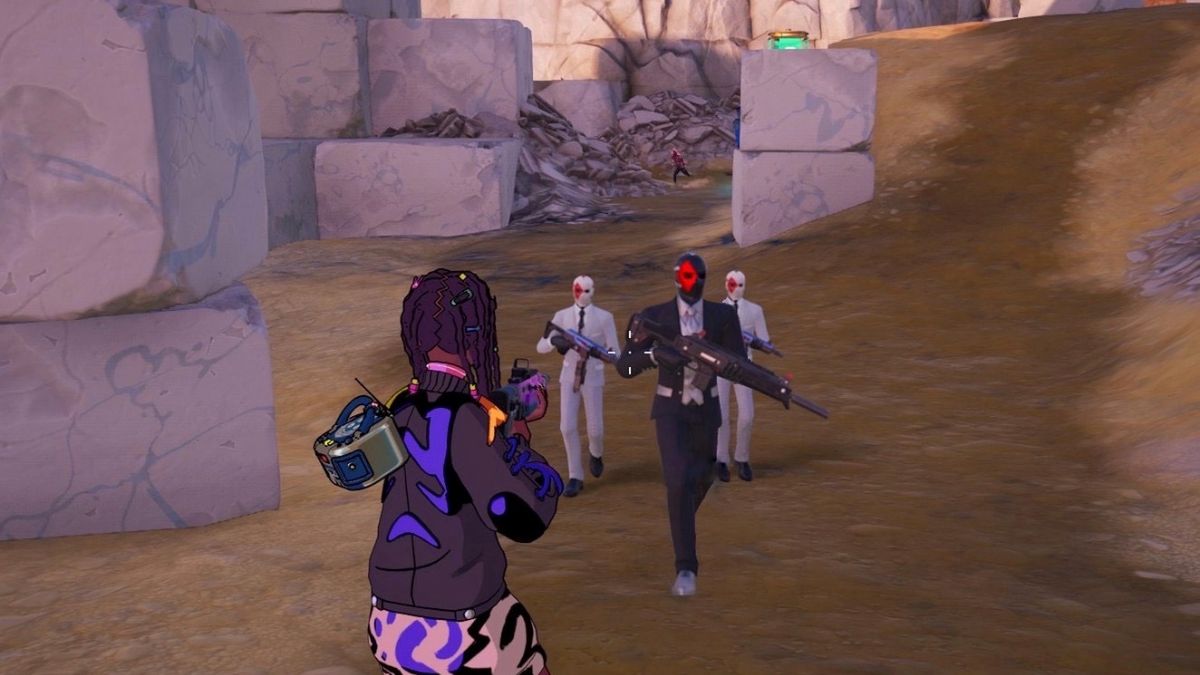 Screenshot by GameSkinny
How to Beat the Highcard Boss
Highcard travels in an entourage of three, so you'll need to be prepared to battle more than one enemy at once, but don't worry: we've got you covered when it comes to the best weapons to take them down.
Highcard has a Mythic Havoc Suppressed Assault Rifle equipped, and it can definitely chip away at your health quickly, so make sure you have full shields and health before the fight.
There's likely to be other players after him, too, so be sure to watch your back as you approach. Thankfully, the gang will not engage unless you fire first, so you have a chance to decide your best plan of attack.

Best Weapons Against Highcard Boss
We found that the Kinetic Blade is especially useful because the NPCs are not very good at dodging it. The Kinetic Blades are easily found in Kenjutsu Crossing, which is right by one of Highcard's locations, Mega City.

Here are the best alternatives:
Heisted Blink Mag SMG
Heisted Run N' Gun SMG
Enhanced Havoc Pump Shotgun
Red-Eye Assault Rifle
You can also attempt to take down his minions or deal some damage to Highcard from afar with the Cobra DMR or a Sniper Rifle. We've found the Cobra DMR to be really effective this season in dealing some efficient damage with little effort.
After defeating Highcard Boss, he'll drop a Vault Keycard that you need for another Week 4 quest. You can find the vaults in the same location as Highcard, and they'll be underground and accessible by their own entrance.

That's it for how to find and defeat Highcard Boss. If you found this guide helpful, be sure to check out our Fortnite guides hub.
Feature screenshot by GameSkinny.
About the author