Season 5 of Fortnite is officially here, and you better believe things are getting weird, with bizarre crossovers happening between realms.
On top of weapon nerfs and zany temporal rifts, we also got a whole new desert biome in the southeastern corner of the map, featuring Paradise Palms, while Lazy Links was added to the northern end at what used to be Anarchy Acres. We also know that certain new areas aren't marked, so we'll have to wait and see what those are.
Epic has made it clear that big changes are in store for the king of battle royal games, and not just in the wacky new world-colliding mechanics for Season 5.
If you look at (some) message boards around the web, it seems the end game is getting a bit stale with "just build lol" being the prevailing mantra right now. The devs want to see that change.
A series of staggered updates with big changes is coming to Fortnite, with the first being a host of weapon nerfs to spice up how you use the shotgun — and to force players to try out new strategies.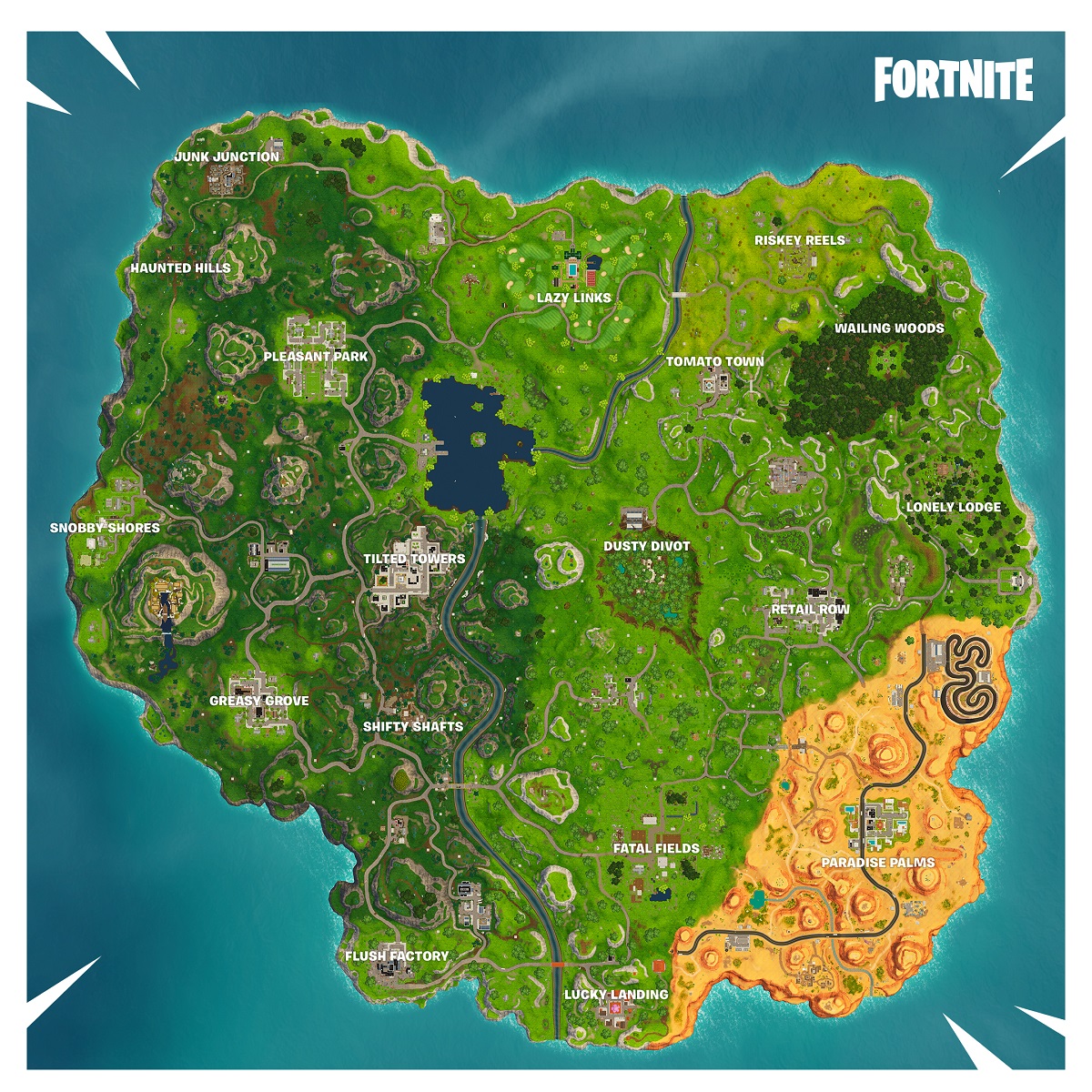 It's a brand new Fortnite map with all new landing locations to learn!
Shotgun Nerfs (And a Few Others You Might Not Know About)
Since most players end up peeping out from behind walls to get off a shotgun blast, the basic gameplay mechanics for shottys have been totally redesigned.
Expect further fine tuning and nerfing of shotgun mechanics during the rest of Season 5 as Epic gauges community feedback — but here's what you need to know about shotgun nerfs right now:
Shotguns will now indicate how many pellets hit an enemy; this will be visible within the weapon reticle
Shotgun spread patterns have been adjusted to be consistent; there are no more random variations
The heavy shotgun now fires 10 pellets rather than 5 (although the maximum damage for the heavy shotgun remains unchanged)
After firing a shotgun, another shotgun cannot be fired for a very short time (meaning no switching between multiple shotguns in your inventory for rapid shots without reloading)
Shotguns are just where it starts, though, with a bunch of other nerfs appearing that may change how you play.
Explosives (like grenades) and the rocket launcher now have reduced vehicle knockback for shopping carts or the new All Terrain Karts (ATKs).
Additionally, the suppressed SMG has been tweaked so its damage drop off is in line with other SMGs — damage is reduced to 80% at 35 meters and then down to 65% at 50+ meters.
Finally, the hunting rifle's aim assist has been reduced to be in line with other sniper rifles, so it won't be quite as accurate anymore.
Where to Find Flintlock Weapons
Thankfully, the Epic crew hasn't forgotten about those of us who still prefer the original Save The World mode. Now, a whole new class of old-timey weapons has appeared to put a wrinkle in Season 5.
Here's what you can now discover in missions, pick up in the event store, or acquire randomly through loot llama cards:
| Weapon Name | Rarity | DPS |
| --- | --- | --- |
| Duelist | Epic Pistol | 645.8 |
| Duelist | Legendary Pistol | 708.5 |
| Dragoon | Epic Shotgun | 2586.4 |
| Dragoon | Legendary Shotgun | 2812.5 |
| Ol' Betsy | Elite Sniper | 711.6 |
| Ol' Betsy | Legendary Sniper | 777.5 |
| Sir Hootie | Epic Melee Club | 292.2 |
| Sir Hootie | Legendary Melee Club | 323.2 |
| Fishing Hook | Epic Melee Scythe | 292.2 |
| Fishing Hook | Legendary Melee Scythe | 344.5 |
What do you think of the shotgun nerfs and new flintlock weapons for Save The World mode? Sound off in the comments below, and be sure to check out our other Fortnite guides here:
About the author