Fortnite's Season 5 has introduced a couple of unanswered mysteries that may be soon revealed. One of them is part of the Week 6 Battle Star challenge, which is a nice change of pace.
So, if you've ever wondered what the secret meaning behind the giant stone heads in Fortnite is, which were just added in Season 5, then follow our quick guide below for a complete answer and a map to this week's Battle Star.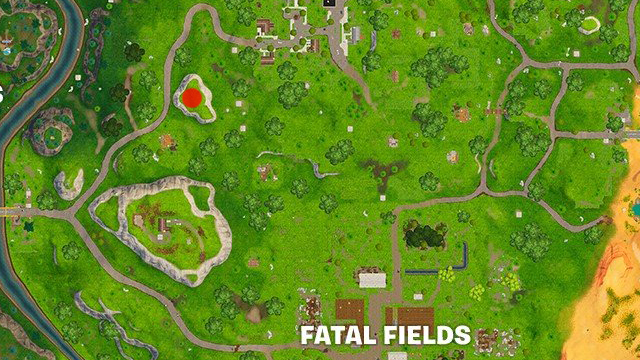 The stone heads in question are evenly spread out all around the island, but they don't really carry any meaningful function. However, they all look in a certain direction. If you draw straight lines from each of the heads, you will find the point of intersection northwest of Fatal Fields near Salty Springs
This point is exactly what the developers want you to find, since this is where you will get this week's Battle Star. But if you don't want to waste time and do the drawing, then just take a look at the map above for the exact location of the star.
You will notice that the stone heads all look at the small hill northwest of Fatal Fields. Just land on top of that hill and interact with the Battle Star. As a result, you will complete one of the hardest challenges in mere seconds.
Fun fact: Fortnite's stone heads are ancient relics that originate from Easter Island in the Pacific Ocean near Chile. This is a nice little homage from the developers to "Easter eggs", with a huge pun written all over it.
—
In any case, this should be sufficient enough for you to finish Week 6 Battle Star challenge, and for other Fortnite guides at GameSkinny, please visit the links below:
About the author