Getting the best chests in Moisty Mire can be a bit of a hassle in this Week 9 challenge for Fortnite. The entire movie set area is filled with chests, but you can easily get eliminated by other players, who will want to take those chests for themselves.
So, if you don't want to take too much damage and just quickly get your seven chests, you can take a look at the guide below and see for yourself which spots are the safest to loot.
All Chest Locations in Moisty Mire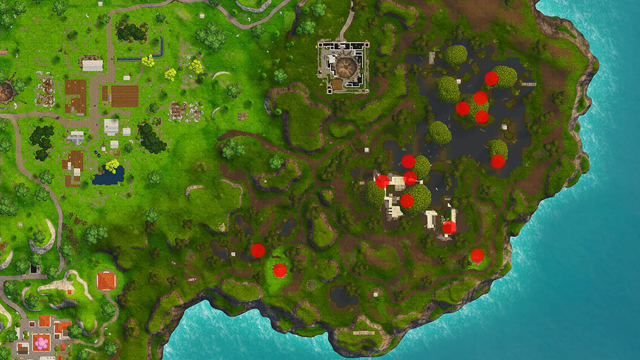 While everybody else will try and snatch the chests at the movie set near Moisty Mire, you can just go north and west and grab four chests at the two big trees. One of them hides three chests, while the other one, which is located a bit to the south, has another chest for you to loot.
Also, check out the ice-cream truck in that same area — you may get your fifth chest there. Then go to the opposite side of the mire to the east and check the old shack that should be holding another chest under the stairs.
However, if you still want to get the chests from the movie set, then at least try not to get too close to the big tree, where all the action is concentrated. Instead check out the boats and the trucks surrounding the set, and that's where you can get a few more chests without getting killed on spot.
—
That's it for all loot chest locations in Moisty Mire for this Week 9 Challenge. For other Fortnite guides here at GameSkinny, check the links below:
About the author