Minecraft took the world by storm when it showed us that Legos can be fun in video game form too!
To this day hundreds and thousands of people still play Minecraft, and the best part of Minecraft is that anyone can enjoy it!
Some schools are even using Minecraft to teach students creativity and team building skills. It's pretty easy to see why the game is so popular with kids!
If you know any kids who are big fans of Minecraft and you need some gift ideas, look no further.
---
Minecraft Paper Construction Set
Rating: 4/5 (99 reviews)
Price: $19.99
Buy it: ToysRus
Now, you can bring Minecraft from out of the T.V. and onto your coffee table! A cool gift for creative kids that lets them build their own worlds even when the t.v. is off. And on the bright side, if your child leaves little pieces of papercraft laying around, it's a whole lot less painful to accidentally step on, unlike Legos.
---
Minecraft Creeper Backpack
Rating: Not available
Price: $39.99
Buy it: ThinkGeek
The Minecraft creeper backpack is the latest in explosive fashion that will make your kid the bomb. The classic creeper is probably the most recognizable Minecraft enemy, and if you don't know why, have your child explain it to you!
---
Minecraft Sock Pack
Rating: Not available
Price: $9.99
Buy it: FortressGeek
Socks! Who doesn't need socks! When I was young I used to hate getting socks for Christmas, but I never got cool socks like these. Get your kids some socks like these to teach them the importance of new socks!
For anyone who wants them in a different color, you can find a navy pack on FortressGeek as well.
---
Minecraft: The Complete Handbook Collection
Rating: 5/5
Price: $24.18
Buy it: Amazon
It's crazy to think how kids a quarter of my age are amazing at Minecraft. The game can be really complex, and while I encourage people to explore and discover how the game works by themselves, there is a TON of stuff that the average player might not ever find out. These handbook guides go over all the important stuff someone might have missed.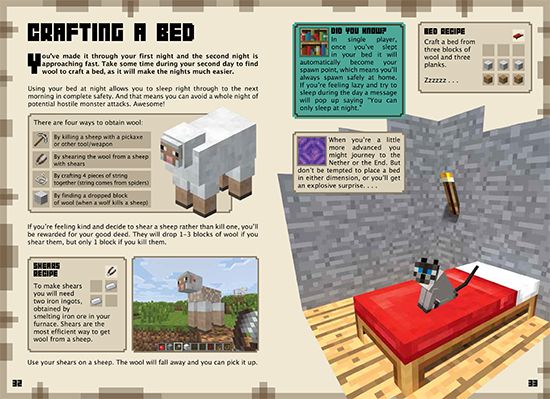 ---
Minecraft Lego
Rating: 4.5-5/5
Price: $20-90
Buy it: Amazon
Minecraft and Lego... Makes sense when you think about it. If the papercrafts are a little too soft, maybe these awesome Lego sets are what you need. While it is quite expensive compared to the papercrafts, I've never met a kid that didn't love Legos. Plus they come in different sets so you can collect them all.
In addition to the "mine" set pictured above, there is a dungeon set, a desert outpost set, a snow hideout set, and finally a nether fortress set.
---
Minecraft Foam Sword and Pickaxe combo
Rating: 5/5
Price: $19.85
Buy it: Amazon
These tools might look pixelated, but there's no mistaking these classic icons of the Minecraft universe. The sword and the pickaxe might be two of the most useful items in the game, and both of them can do some damage. Although in real life they won't do any damage at all because they're made from foam!
There is also a diamond version of the sword/pickaxe combo here at Amazon.
---
Minecraft Baby Pig Plushie
Rating: 4.5/5
Price: $7.24
Buy it: Amazon
Anyone who loves cuddly things, and also loves Minecraft, is sure to adore this cute little baby pig plushie. If Minecraft Story Mode taught us anything, it's that anyone can be more than just be cute: they can be heroes.
There are also baby ocelot plushies and creeper plushies, similarly priced to the baby pig.
---
Minecraft Creeper Hat
Rating: Not Available
Price: $22.49
Buy it: Amazon
Hats are an underrated Christmas gift. It's super cold outside, what better time for warm hats?? This creeper beanie is sure to keep anyone's head warm, in explosive style.
---
Minecraft Cookie Cutters
Rating: Not Available
Price: $19.99
Buy it: ThinkGeek
Cookies were always one of my favourite things about Christmas. I'm sure most people would agree, cookies are awesome! How do you think the Dark Side gets so many recruits? They need to replace a lot of storm troopers, you know.
Add some Minecraft spirit to your cookies this Christmas.
---
Minecraft Light up Redstone Lamp
Rating: Not available
Price: $19.99
Buy it: ThinkGeek
This light up redstone ore works perfectly as a night light to help keep the monsters away. With three different lighting settings, this lamp is guaranteed to keep the creepers away!