You'll need to find all of God of War's Niflheim Cipher locations if you want to access the optional realm of Niflheim. Though it's a bit of work, you definitely want to find your way to this new area because the treasures that await you are well worth the trouble.
This God of War guide tells you everything there is to know about the Niflheim Ciphers, and where to find the pieces hidden around Midgard. While there are several of them strewn about, you only need four of them to unlock the realm.
God of War Niflheim Cipher Locations
Niflheim is a late-game area, mostly because you can't access the Ciphers until after you complete most of the main story. Here's where each of the Niflheim Ciphers can be found.
The Mountain Niflheim Cipher
You'll revisit The Mountain during the Return to the Summit quest, and the game forces you to take a new route this time. It tunnels through the mountain and lets you out along the cliffside. There's a Realm Tear in front of you and a Niflheim Cipher on the other side of it.
Ruins of the Ancient Niflheim Cipher
The Ruins of the Ancient unlock later in the story, after the water level drops in the Lake of Nine for the second time. Sail over to the Ruins, and you'll see a Stone Ancient patrolling the area.
You can defeat it or sneak past it, but whatever your choice, the chest with the Niflheim Cipher is hidden at the other end of the open area.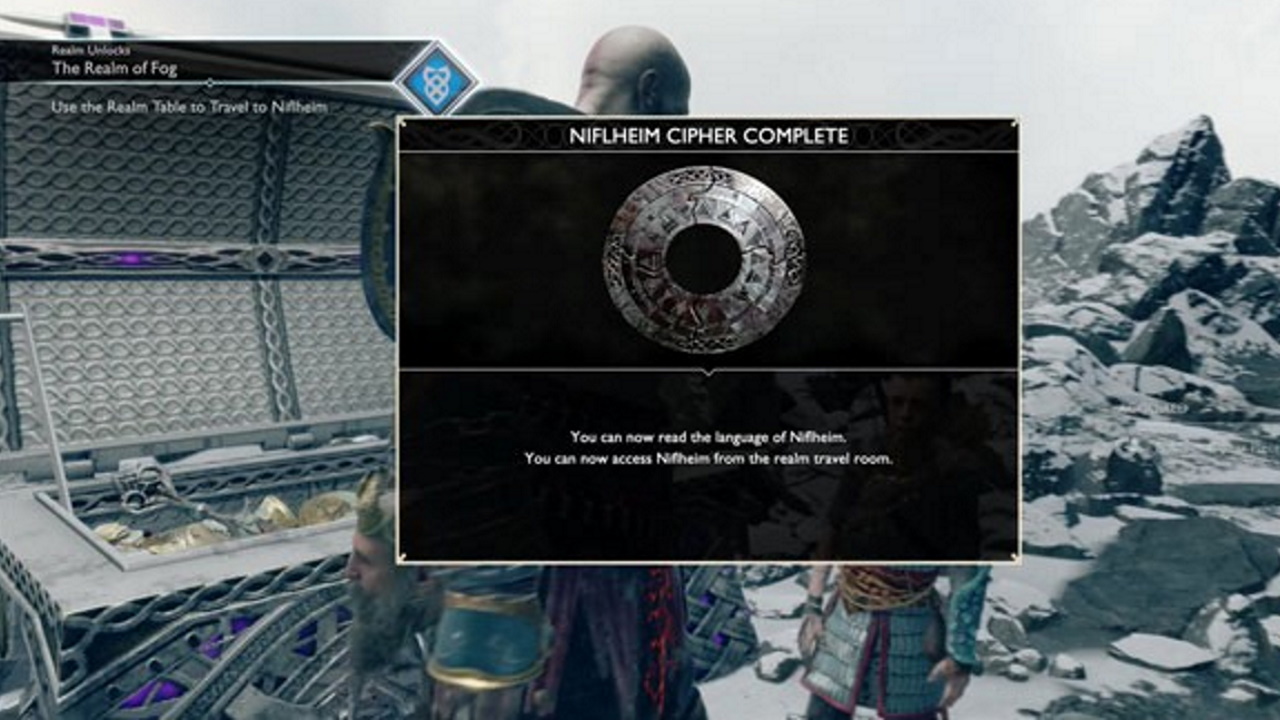 Tyr's Temple Niflheim Ciphers
You'll descend through Tyr's Temple late in the game, and you can find the last two Ciphers here. The first one is in the area with the two chains that flip the temple. Check the space next to the Runes before dealing with the chain, and you'll see a chest with one of the Niflheim Ciphers.
The second one is in the room with the other chain, past the hall of blades. Grab the Niflheim Cipher out of the chest, and you're good to go.
Once you've got your four pieces, head to the top of Tyr's Temple and the Bifrost relic to access Niflheim. It's a difficult challenge, so make sure you're well equipped with the right gear, including the Gauntlet of Ages Talisman.
Related guides
That's all you need to know about the God of War Niflheim Cipher locations, but make sure to check out our other God of War guides for more tips and tricks.
About the author