The wizarding world of Harry Potter: Wizards Unite holds many mysteries. To go with that, there are a lot of resources to help you save the world, some of which are Greenhouses to grow your own ingredients.
They can be a little confusing, though, so we thought we'd put together a guide to help you get the most of them.
What Are Greenhouses?
They are one most important features in Harry Potter: Wizards Unite. In much the same way you can find Inns as you wander around the world, you can also come across Greenhouses.
The key difference is that while Inns help you recharge Spell Energy, Greenhouses are essential to more than just that spell energy; they are incredibly important for potion brewing. Greenhouses allow you to get new ingredients, and better yet, even grow your own.
They aren't actually green, though, instead showing up as blue houses covered in glass. They also have a 5-minute cooldown after use.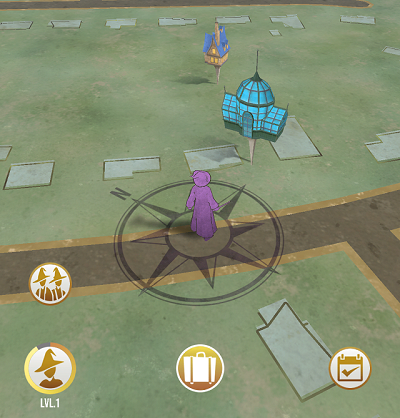 How to Gather Ingredients
To use a Greenhouse, you need to walk within range of it and simply tap on it. You'll then be given the choice of pulling up one of several plants, which will, in turn, give you some ingredients.
Swipe up to collect the ingredient from the chosen plant.
Plants are usually based on what other players have planted there recently. That means plants are random; there's no guarantee what you'll find inside.
Unless you plant them yourself.
How To Grow Plants
If you want to grow your own ingredients, tap the button at the bottom right of the screen while in a Greenhouse. The option will say "Growing" and have a small leaf and seed as an icon (re: to the right of the pot in the screen above).
This will take you to a list of the seeds you have in your inventory, and you'll be able to choose which one you want to plant. The grow button will turn green, meaning you can plant the seed.
You can find seeds as you play the game and defeat dark forces. Each has its own watering requirements, and each has a specific grow time.
Below is a list of the seeds you'll come across in the world as of this writing:
Name
Wormwood
Wolfsbane
Valerian
Sopophorous
Snowdrop
Sneezewort
Scurvygrass
Peppermint
Lovage
Leaping Toadstool
Ginger
Flitter Bloom
Bitter Root
Baneberry
Angel's Trumpet
Alihotsy
Here's another list, which lists what plants you can grow, the time it takes for each to grow, what ingredients you'll need to grow them, and what they're used for.
Plant
Grow Time
Ingredients
Used in
Bitter Root
7 hours
Bitter Root Seed x1
Water x15
Exstimulo Potions
(Regular, Strong, Potent)
Ginger Root
7 hours
Ginger Seed x1
Water x12
Wit-Sharpening Potion
Leaping
Toadstool
24 hours
Leaping Toadstool Spore x1
Water x12
Baruffio's Brain Elixir
Lovage
7 hours
Lovage Seed x1
Water x9
Invigoration Drought
(Regular)
Scurvygrass
7 hours
Scurvygrass Seed x1
Water x7
Invigoration Draught
(Regular, Strong)
Sneezewort
7 hours
Sneezewort Seed x1
Water x1
Invigoration Drought
(Strong)
Snowdrop
1 hour
Snowdrop Seed X1
Water x15
Exstimulo Potions
(Regular, Strong, Potent)
Sopophorous Bean
7 hours
Sopophorous Bean Seed x1
Water x1
Dawdle Draught
Valerian Root
7 hours
Valerian Seed x1
Water x7
Dawdle Draught
Wormwood
1 hour
Wormwood Seed x1
Water x7
Healing Potion
How to Speed Up Growing
You can't speed up growing, but you can make it more worth your while. You can choose to cast Herbivicus on a growing plant, which will increase the number of ingredients that the plant will then produce.
Better yet, other people can cast Herbivicus on your plants, too, which will further increase the yield.
Once the plant is fully grown, you have to harvest it within 30 minutes, otherwise, it disappears. The good news is that everyone who harvests that plant will get the full amount of ingredients, so you'll never be wasting your time casting Herbivicus on a plant you know you want.
—
That's everything there is to know about Greenhouses in Harry Potter: Wizards Unite. The best way to approach growing ingredients is with friends and teammates because you can all benefit from a little bit of combined effort.
Make sure to check out our Harry Potter: Wizards Unite guide hub for all sorts of other tips, including:
About the author