Mandrake is an iconic magical plant from the Harry Potter universe that appears in Hogwarts Legacy. First heard in Professor Garlick's herbology class, the plant is a potent weapon against enemies. Here's how to get Mandrake.
How to Get Mandrake in Hogwarts Legacy
There are three main ways to get Mandrake in Hogwarts Legacy.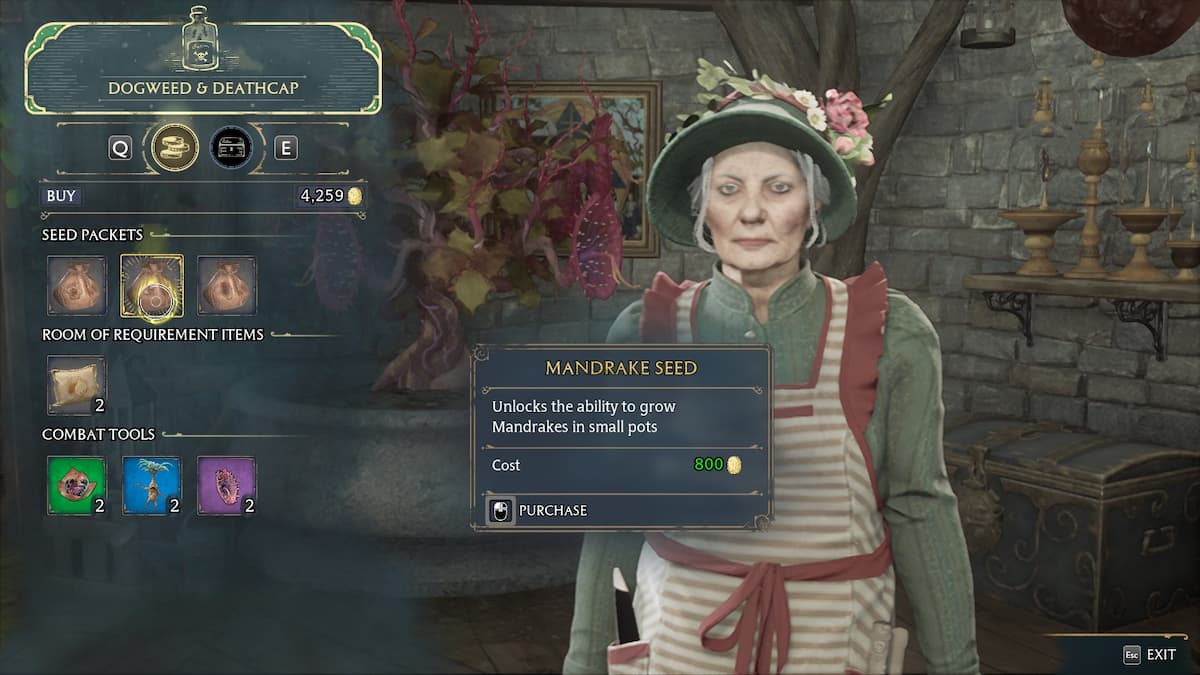 Screenshot by GameSkinny
Buy it: There are a variety of shops that will outright sell mandrake. The easiest of these, and the first the player will come across, is Dogweed & Deathcap in the northern area of Hogsmeade. Mandrake costs 500 gold galleons to purchase.
Grow it: Seeds are available for purchase from Dogweed & Deathcap, as well as from other vendors. A bit more pricey than the actual plant, the investment will yield more returns in the long run as the one time purchase can seed as many mandrakes as wanted.

In addition to the seeds, all the player needs to grow mandrake is a small potting table, such as the one in the herbology classroom. 15 minutes later, a fully grown mandrake is available for harvest. If given fertiliser, two mandrakes will be harvested. Once the player has access to the Room of Requirement, additional potting tables can be planted with mandrake.

Find in the wild: While mandrake can be found in the wild, it is not in the easiest location to get to. Located in the northern part of the Forbidden Forest, mandrake can be found by a random abandoned shack infested with Inferi. After dispatching the Inferi, the player will find mandrake next to a dead body along with a note.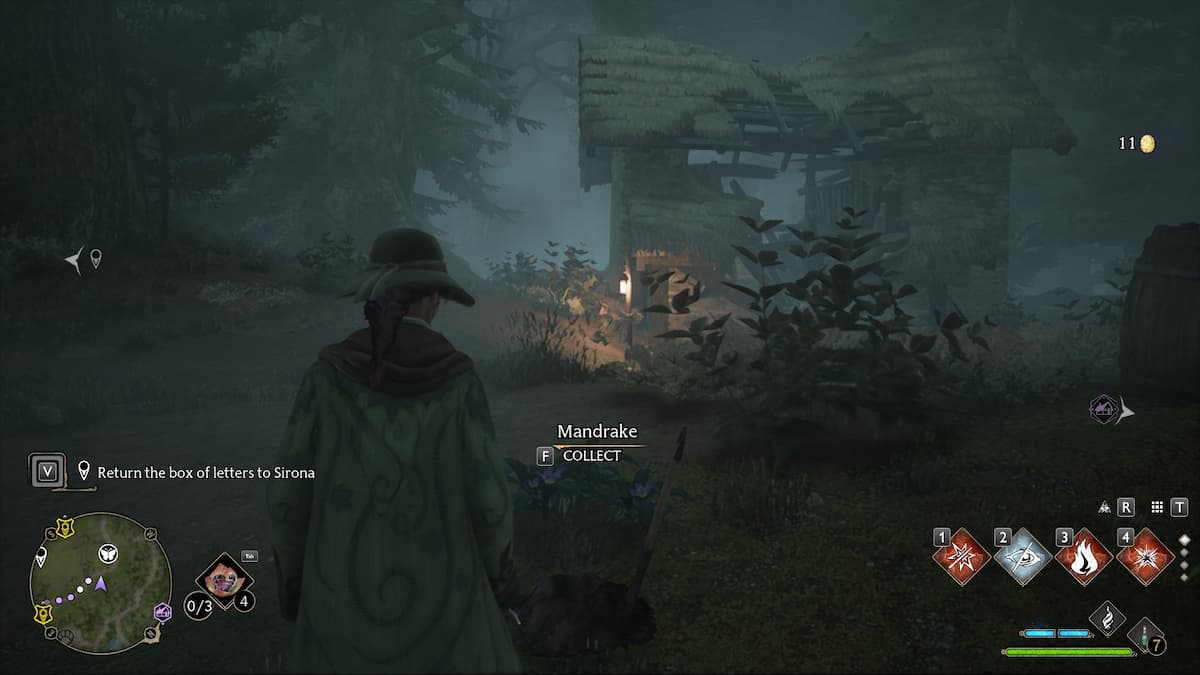 Screenshot by GameSkinny
How to Use Mandrake in Battle
In Hogwarts Legacy, mandrake has been weaponized to inflict damage as well as stun enemies during combat.
Equip mandrake via the Tool Wheel and activate to unleash the piercing crying plant. Mandrake can be upgraded to last longer with increased damage via the Headache talent under the Room of Requirement category. For more on how to unlock talents check out our guide.
Which Quests Require Mandrake?
Not all players will find using mandrake during battle to their taste. However, obtaining mandrake is necessary to complete Professor Garlick's assignment 1 where you will need to "Acquire and use a Mandrake on multiple enemies simultaneously."
Mandrake is also required for Professor Garlick's assignment 2: "Acquire all three combat plants and use them simultaneously."
Buying fully grown mandrake outright is the fastest way to get the battle aid in Hogwarts Legacy. It can also be grown from seed or found in the wild in the Forbidden Forest. Don't forget your earplugs! Take a look at some of our other Hogwarts Legacy guides, such as how to get large pots, here on GameSkinny.
Feature image by GameSkinny
About the author