Hogwarts Legacy has given players the ability to brew their own potions with ingredients they collect, including Shrivelfig fruit, which is a vital ingredient in brewing Thunderbrew Potion, which creates a storm around you that stuns and inflicts damage on enemies. This is how to get shrivelfig fruit in Hogwarts Legacy.
How to Get Shrivelfig Fruit in Hogwarts Legacy
There are three main ways in the game to obtain shrivelfig fruit.
Buy It: The most direct way to obtain shrivelfig fruit is to outright buy it from a vendor. The first vendor players will meet is Timothy Teasdale, owner of The Magic Neep in Hogsmeade.

Shrivelfig can be bought during players first excursion to Hogsmeade if they have enough, as it costs 150 gold galleons.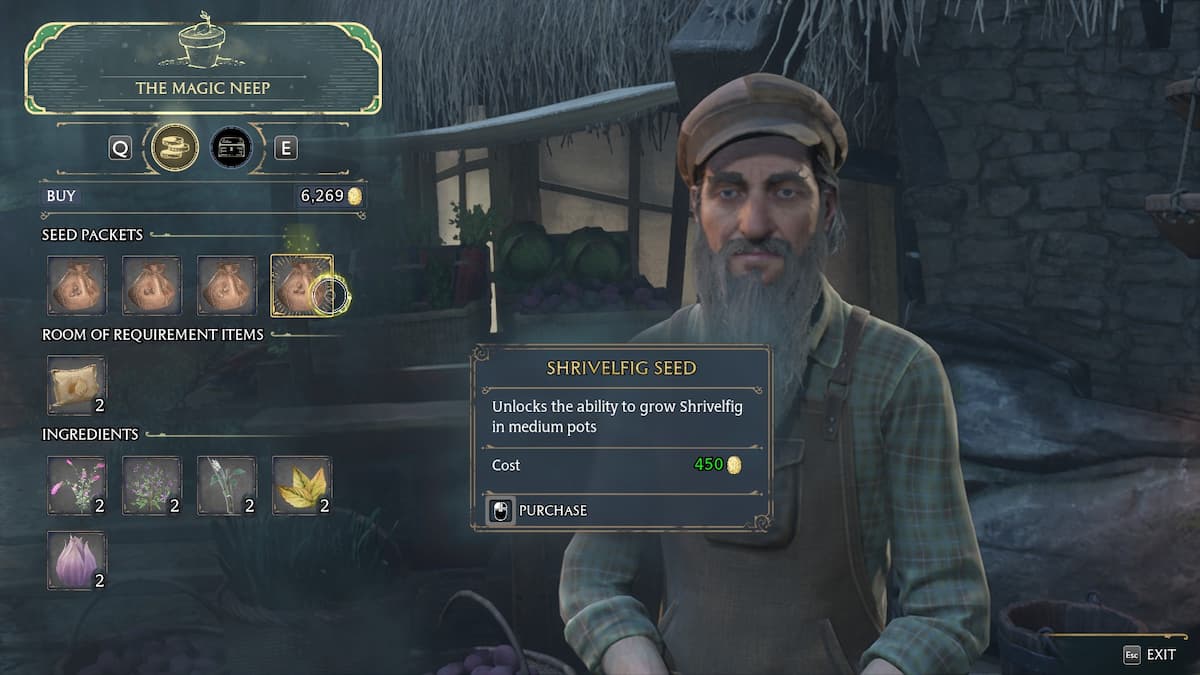 Screenshot by GameSkinny
Grow It: This method is more costly, but creates a constant supply of shrivelfig fruit. Purchase seeds from a vendor, such as The Magic Neep for 450 galleons.

Shrivelfig needs to be grown in medium pots so the spellcraft for the medium pots herbology table will need to be bought from Tomes & Scrolls, which costs 750 galleons. The player will need to have the Room of Requirement unlocked so they can place the medium potting table. Plant the seeds and wait 15 minutes until the shrivelfig is ready for harvest.

Find in the Wild: Shrivelfig plants are rare to find in the wild. They can, however, be found in Horklump Hollow. Located near the small water area, two shrivelfig plants can be harvested for their fruit.
Shrivelfig Fruit Use
As mentioned above, shrivelfig fruit is an ingredient in Thunderbrew Potion. Each potion requires one fruit to craft, along with one Stench of the Dead, and one Leech Juice.
Thunderbrew Potion is a requirement for completing Professor Sharp's assignment 2: "Acquire and use a "Thunderbrew" Potion against enemies." The potion can be purchased from J. Pippin's Potions for 500 galleons, which is a hefty investment.
Whether you are looking to completed Professor Sharp's assignment, use combat potions or just want to record that you made a Thunderbrew potion, you will need some shrivelfig fruit. Need more help in Hogwarts Legacy? Check out our other Hogwarts Legacy guides, lists and more.
Featured image via Warner Bros. Games

About the author